SANTA CLARA, CA - JANUARY 19: San Francisco 49ers' Raheem Mostert (31) breaks a tackle by Green Bay Packers' Adrian Amos (31) in the second quarter of their NFC Championship game at Levi's Stadium in Santa Clara, Calif., on Sunday, Jan. 19, 2020 (Jose Carlos Fajardo/Bay Area News Group)
After being cut by six different teams over the course of two seasons and not even having a rushing attempt until he landed with his seventh team, Raheem Mostert has exploded onto the scene with the San Francisco 49ers. With 772 yards, 5.65 yards per attempt, and a solid 2.2 yards after contact, Mostert has made himself an essential part of the 49ers offense. In their biggest game of the season yet against the Packers in the NFC Championship game, Mostert reeled off 220 yards on 29 carries for 7.59 yards per attempt and four touchdowns.
Mostert's one-cut style of running and elite 4.34 40 yard dash speed makes him a perfect fit for Kyle Shanahan's zone-based offense. Raheem Mostert does an exceptional job of getting North and South and has the speed to stress defenses laterally. With Shanahan's pre-snap motions, blocking schemes, and play-action passing game, Mostert has been absolutely lethal. While he does benefit from an exceptional offensive line and gains an average of 3.5 yards before he's even contacted, Mostert also helps create some of that space himself.
            We'll take a look here at how Raheem Mostert fits in Shanahan's scheme, what his strengths are, and how, after six different teams, he has appeared to have found his home in San Francisco.
Let's start off by highlighting some of the basic schemes that Shanahan runs in his offense. If you want to check out a little more you can look at his play-action stuff here or how he uses Deebo Samuel here. Everything in Kyle Shanahan's offense is based off of outside zone. Outside zone asks running backs to read outside in as the offensive linemen all take a step more lateral than vertical towards the playside. The goal of every outside zone is to get to the outside and down the sideline – forcing defenders to take good angles, scrape over blocks, and make tackles in the open field. Linemen stretch and double team if possible before working up to the second level and blocking a linebacker or forcing them to flow over the top of the double team. Kittle is a huge blocking weapon for the offense and routinely takes defensive ends or outside linebackers who are typically left for linemen and washes them completely out of the play. Below you can see the basic concept of outside zone with Mostert pushing outside before planting and immediately getting up-field as soon as #56 Dante Fowler gets outside leverage. He then follows his linemen who are climbing up to the second level linebackers and gets into the endzone.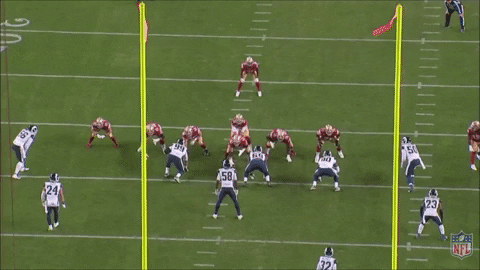 When outside zone is run really well, linemen can end up five or six yards downfield like here against the Vikings. This then walls off the linebackers from scraping over to make the tackle at the sideline because there is too much traffic in the middle of the field.
From there, Shanahan continues to add wrinkles to the outside zone base blocking scheme. The simplest and one of the most common is to simply put a fullback in as a lead blocker on outside zone. This can help neutralize the playside man-advantage of the defense especially if the fullback is lined up directly behind center. It can help create additional flow of the defense because they now have to track two backs in the backfield. The fullback will try to follow the blocking scheme as if he were a running back and block the first defender to appear but that doesn't mean the running back will always follow through that same hole – especially if a lineman loses his block before he can get there. So now additional defenders may flow to the fullback like in the clips below and allow for other creases to open up because they are worried about him eating up the first defender to fill. In the second clip, the Packers lose outside contain because two separate players choose to fill the inside gap where Jusczyk is leading through and Raheem Mostert is able to bounce outside and into the open field.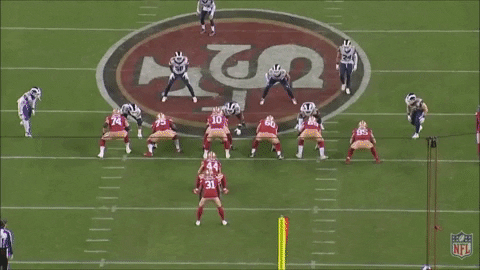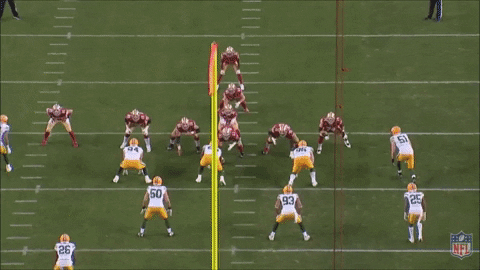 They'll also occasionally do a quick pitch to help Raheem Mostert get to the edge a little faster with blockers in front or to force the defense pursue hard and open up gaps underneath. You can see the number of defenders that are out of position to make the tackle in the second gif below.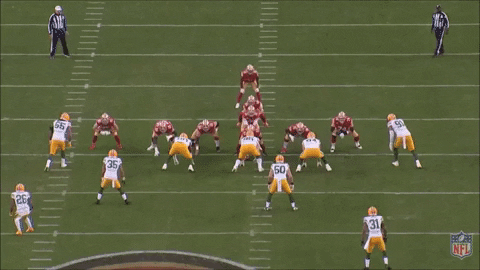 One of the most common wrinkles to the fullback lead outside zone is to run split zone. Where outside zone typically leaves the backside defender unblocked, split zone will crunch a fullback or H back across the formation to now pin and kick that unblocked player out. This can help create huge cutback lanes as the original blocking scheme and track of the running back forces the defense to respect the playside of the outside zone but now if the defense over-pursues that way, the offense can create a huge lane underneath them. Here Juscyzk takes his original track like he is running the full back lead before countering back across the formation and kicking out the unblocked defensive end or outside linebacker. You can even see the right inside linebacker track with the fullback as he crunches across which pulls the linebacker away from the playside and stops him from being involved in the tackle.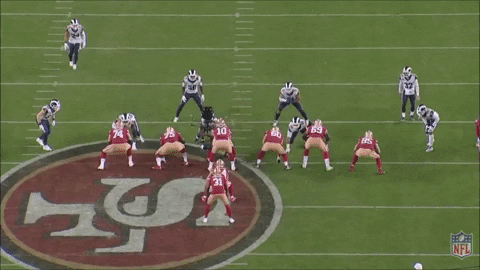 Here is another very small wrinkle to the split zone where the 49ers are leaving the defensive tackle, Aaron Donald, unblocked instead of the end. You can see the lane created by the kick-out from the fullback.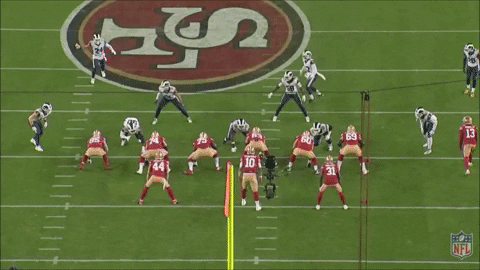 The flow of the defense and ability to cutback is all made more possible by speed, of which Mostert has plenty of. If he can't threaten the outside, the defense doesn't have to pursue as hard, and can remain more solid in their gap integrity towards the inside of the field.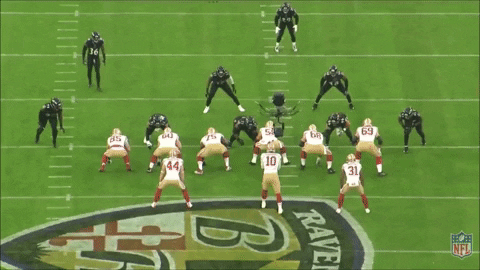 Now add in a multitude of pre-snap motions and shifts which forces defenses to adjust and communicate and process. Additionally, Shanahan has begun to throw in more and more power schemes with pulling guards and some pin and pull action on the outside. Mostert who is extremely disciplined to the scheme is an excellent fit and does a great job staying tight to holes, following his blocks and linemen, and exploding for chunk yardage.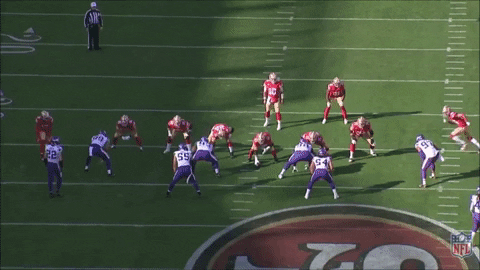 This is one of the best examples of Mostert's discipline and how tight he stays to the blocking scheme, pulling linemen, and his fullback who is acting as the lead blocker.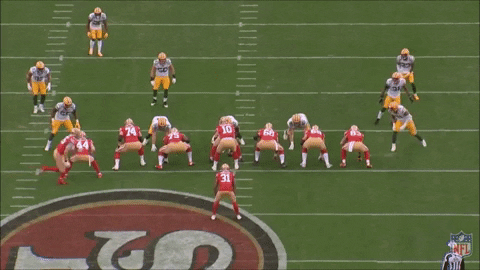 Mostert's cuts are extremely fluid, decisive, and efficient. You can see below how few wasted steps there are on this run especially as he is getting to the line of scrimmage and getting vertical on another power concept with pre-snap motion from the Niners.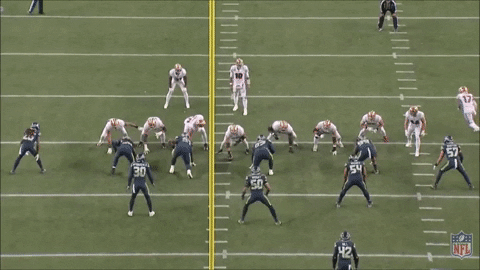 Mostert's jump cuts are extremely impressive and fit the power scheme perfectly and allow him to make people miss in the hole. Combine this with his slashing style of running which meshes with the outside zone concepts, and he can be an extremely versatile and dynamic back. Here are a couple of his jump cuts that help him get lateral and then explode upfield.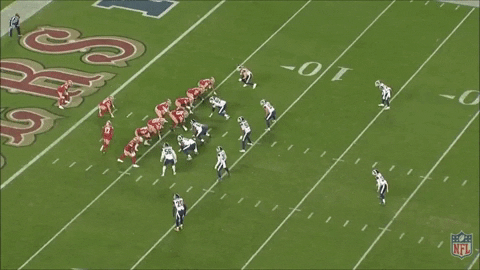 Mostert also has displayed the power to break tackles and enough elusiveness in the open-field to gain considerable yards after contact.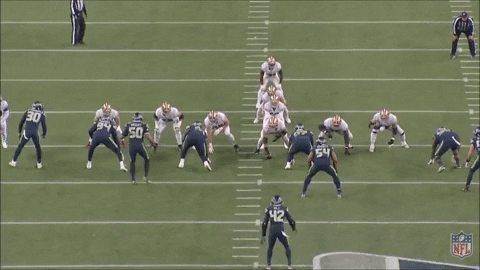 While the 49ers offensive line, George Kittle, and Kyle Jusczyk deserve a ton of credit for the success of their run game, Mostert's mix of power, explosion, and one cut style of running fits perfectly with the system. He's incredibly disciplined and rarely if ever misses a hole, tries to bounce outside unnecessarily, or takes bad initial tracks. He runs the plays exactly as they are meant to be run and has all the physical tools to be successful. As we've seen with other players like Ryan Tannehill, sometimes it's all about the scheme and system that players are in and finding ways to maximize their abilities. That's exactly what Shanahan and the 49ers have done with Mostert and now that he's finally gotten his chance, he looks every bit the part of a future star in the NFL.
If you liked this post make sure to subscribe here and let us know what you think. If you feel like donating to help us keep things running, you can visit our Patreon page here. Make sure to follow us on Instagram @weekly_spiral and twitter @weeklyspiral for updates when we post and release our podcasts and blog. You can find the Weekly Spiral podcast on Spotify or anywhere you listen.