Despite an NFC Championship appearance and a 13-3 regular season record, the 2019 Packers were largely dismissed. The feeling was that Aaron Rodgers wasn't his old self and as a result, the offense was struggling despite having perhaps the best run game in the Aaron Rodgers era. Was it his unfamiliarity with LaFleur's new system? Was he aging? Was there a lack of receiving options? Let's take a look and see if Aaron Rodgers' demise is for real or if the offense and Rodgers will improve in year two of the Matt LaFleur regime.
Rodgers had 4,002 passing yards, 26 touchdowns, and just 4 interceptions on the year. When combing through his stats, perhaps the numbers most indicative of Rodgers facing all the issues listed above is the amount of plays in which he held the ball for 2.5 seconds or longer. A constant issue for Rodgers during his career is taking unnecessary sacks and holding the ball too long. When it develops into a scramble drill for a play, it's great, but when it doesn't, it puts the offense in a big hole and way behind the chains. On 51% of his passing attempts, Aaron Rodgers held the ball for more than 2.5 seconds. On these plays his passing completion dropped from 71.79% to just 52.60%. He also, as one may predict, sustained the bulk of his sacks when he held the ball longer than 2.5 seconds. Clearly, when Rodgers throws in rhythm, he can be incredibly effective.
However, even on designed quick passes, Rodgers had a particularly difficult time throwing to boundary when going to his left and would routinely throw to the back hip or behind the receiver, limiting their ability to gain yards after the catch. He was also hesitant on some pretty simple flat defender reads, especially on double slant concepts. While Rodgers has made a career of throwing off platform and has gotten away with it because of his unreal arm talent, it has started to make him a little less consistent especially on deep balls. All that being said, he can absolutely make all the throws still. Arm strength and accuracy are still there and he is incredibly good at moving defenses with his eyes and manipulating defenders to open up windows. When he can set his feet, his deep ball is one of the best in the league and as he becomes more accustomed to the reads, timing, and rhythm throws of the new offense, I'd expect to see the ball get out of his hands faster. The time where he can throw off platform consistently and effectively may be coming to an end but there's no denying he still has all of the tools necessary to play at and MVP level.
            Let's start with putting one thing to bed. Aaron Rodgers still has it. As mentioned before, Aaron Rodgers' ability to move defenses with his eyes and create space for his receivers is next level. Here he looks off the safety #29 in the middle of the field on a 2 high safety robber look from the 49ers. #20 robs the middle of the field and doesn't actually have responsibility for a deep zone here. #29 Jaquiski Tartt rotates back to the middle of the field but is held with Rodgers' eyes while he looks to the left. You can see below how Aaron peeks to the left to see what #20 Jimmy Ward is doing. If the 49ers were actually in cover 2 here like they're showing, the ball needs to come out relatively quickly to the dig route across the middle before he enters into the flat defenders zone. As soon as he sees Ward flat footed and sitting on the middle field route, he quickly moves his eyes to the backside to influence the safety, before launching the ball 50 yards in the air to Davante Adams. You may also notice the difficulty of the other receivers, Geronimo Allison and Allen Lazard, to get any separation or create space for themselves.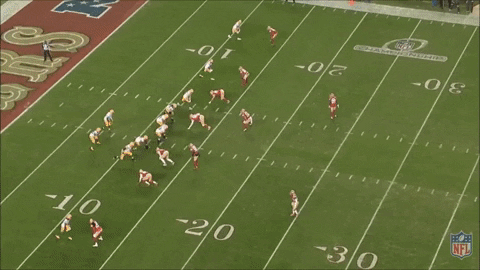 Again here you can see Rodgers' look off to the top of the field, moving the safety just a few yards and opening up space to put a little more air on the ball to Davante Adams down the sideline.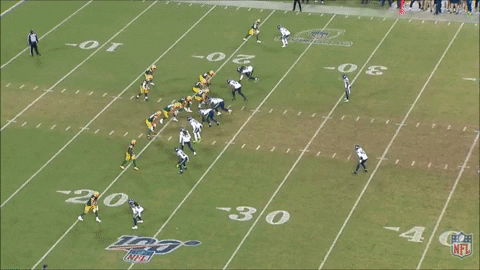 Rodgers is also unreal when running to his left. He is able to create an incredible amount of torque with his hips and because of his penchant for throwing off platform, he's able to generate power without getting his feet totally set.
You can see that the arm talent is clearly still there. We'll go into the inconsistencies of his mechanics in a moment, but when Rodger is on, he can make absolutely any throw.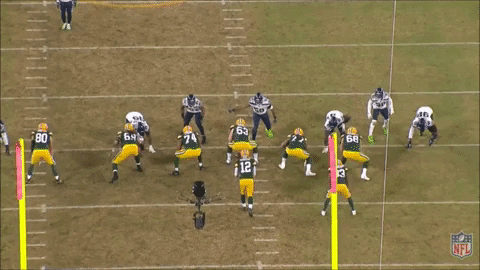 Part of getting Rodgers in a groove and at his best is finding ways to get him in rhythm and throwing on time. His ball placement when he has all of his cleats in the ground, can get his feet set, and can step into throws can be absolutely lethal. When he can take his first read or hitch and find his second, he's incredibly more accurate and efficient with his throwing motion. Part of this is having good play design early and part of it is Rodgers understanding the timing, trusting his receivers to be where they need to be. As a result, a lot of the throws Rodgers makes on rhythm tend to be to receivers he trusts – mainly Davante Adams with a little bit of Geronimo Allison and Allen Lazard mixed in. You can see particularly in the last gif how almost every receiver, including Davante, isn't get a whole lot of separation with the Lions running man coverage – this is a common theme when the Packers encountered man defense.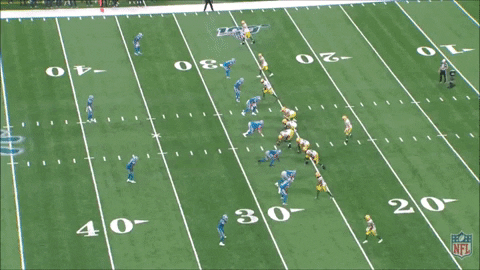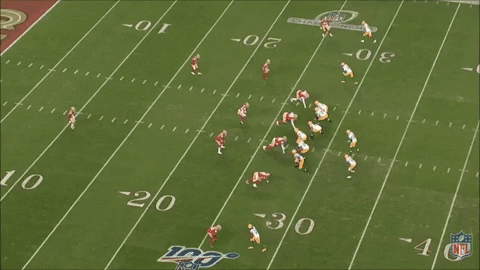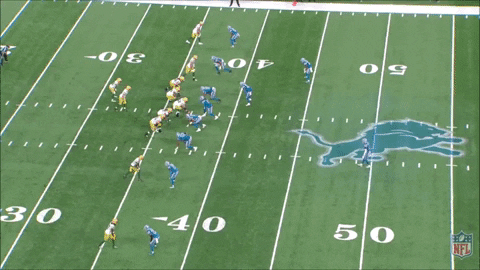 Even if they're schemed up or he's given simple reads though, he can tend to hold onto the ball. He's especially had trouble the last few games of the year with double slant concepts against two high safeties. When given a two high look, the read is to check the playside linebacker or slot defender. If he drops under the first slant from the #2 slot receiver, the window is open on the second slant. If the linebacker gets more depth and out to the outside slant, you throw the inside slant. Here you can see the linebacker, while showing blitz, drops under the first slant from the slot receiver #81. As a result, this leaves Davante Adams outside wide open – especially with a corner who is bailing at the snap. Aaron is looking right at it and decides not to throw it, eventually scrambling and throwing the ball away.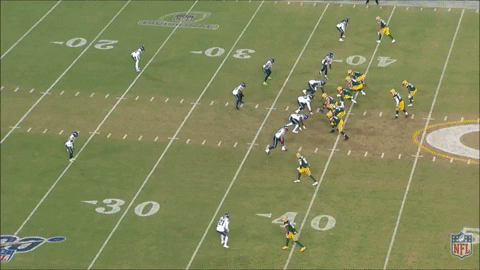 Here again is this same concept with double slants at the top of the screen. The slot defender stays with the inside slant, and the #1 receiver is open on rhythm. Aaron holds it and takes a sack.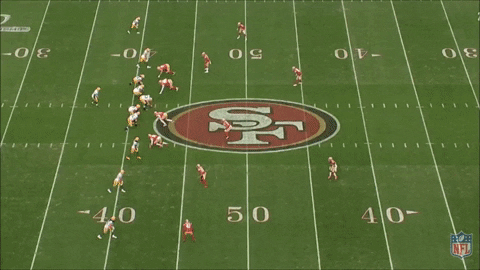 A super simple variation of the double slant is the slant / flat. This is better versus cover 3 and a one high safety. The defender key is the flat defender. If the flat (in this case the defender over the slot receiver) defender flies to the flats, it opens a window for the slant right behind him. Again Rodgers looks right at it, and doesn't throw on rhythm to an open Davante Adams.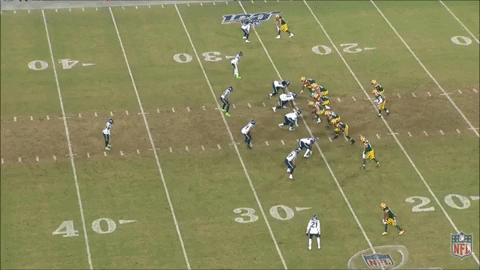 Same concept but this time he throws the flat without reading the defender at all. As soon as that defender flows, he needs to hit the slant sit right behind him for a first down to Jimmy Graham. Yes, you'd like it and expect your running back to be able to make someone miss in the open field and get 3 yards here, but the lack of read and the pre-snap decision to throw to an area of the field where you're outnumbered by the defense 3 to 2 isn't a good one.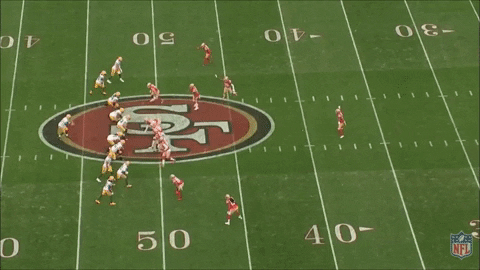 While drop footwork are largely all preference and is different for each quarterback, Aaron's drop isn't doing him any favors. A good amount of the time, he does a backpedal drop. While this is great for seeing the field throughout the drop, it also makes it more difficult to close your shoulder to the throw and to get your hips and feet set. As someone that already throws off platform and tends not to set his feet when he throws, this kind of drop can exacerbate that issue. Here's an example of just that on a miss behind Davante Adams on a quick out. You may love the choice to throw to Adams, but if you look at the bottom of the screen, LaFleur has the perfect play on to exploit the 49ers man coverage with a simple rub route and Allen Lazard wide open.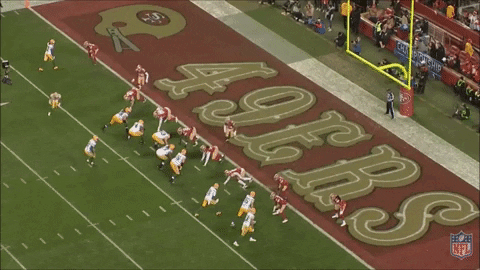 These might not seem like much but when it's in the open field, back hip throws like this towards the sideline can reduce the ability for the receiver to run in stride and get yards after the catch and also gives defenders an opportunity to jump the route for an interception. Here he is again throwing to his left and throwing behind the receivers on a quick outs using his backpedal drop and throwing off balance and off platform.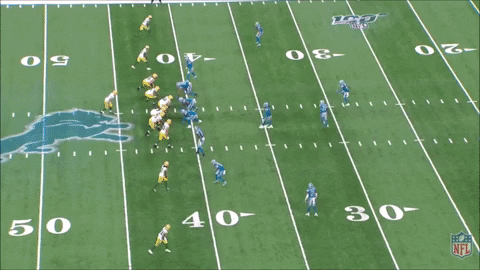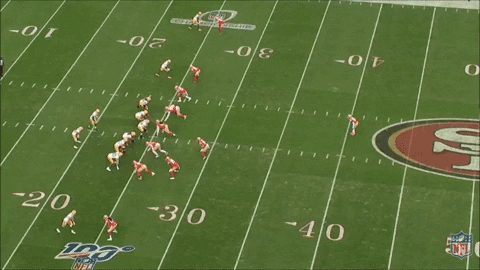 These same accuracy issues crop up on deep balls as well. While there is certainly PI on this play, this ball is also way out of bounds and uncatchable. Aaron has plenty of time to set his feet and deliver despite an unblocked man.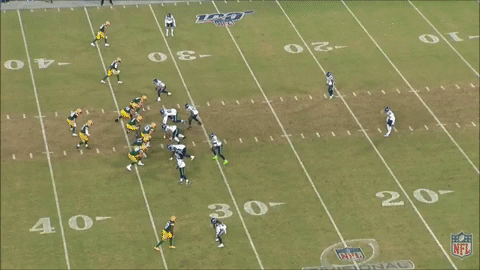 Rodgers has the arm talent to make these throws and mechanics and footwork aren't always necessary, they just help you be a more consistent thrower of the ball. When the momentum, platform, and throwing level are changing from throw to throw, it makes it incredibly difficult to routinely hit throws in the same area every time.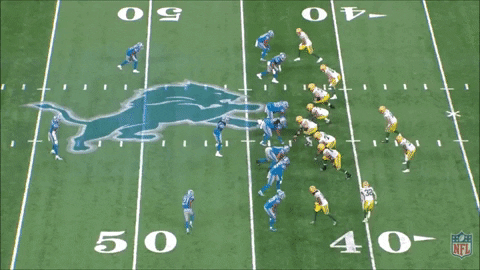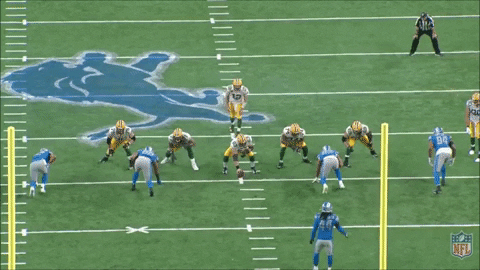 So is Aaron Rodgers done? Not by a long shot. Has he regressed and become more inconsistent? Yes. Aaron Rodgers is missing throws that we aren't used to seeing him miss and while his footwork and mechanics have never truly been conventional, they may now be impacting his consistency. When facing pure man coverage, almost every Packers receiver outside of Davante Adams struggled to consistently create separation without the aid of play design. Combined with a new offense, new timing, and his penchant for holding the ball to eliminate turnovers, and you have what feels like a totally different player when you watch him on TV. He clearly still has the tools and with a small cleanup of his fundamentals, another year in the system, a piece or two outside to give him weapons that he trusts, Aaron will be right back in the MVP conversation and the Packers will be a force to be reckoned with in the playoffs until he decides to hang it up.