OAKLAND, CA - SEPTEMBER 9: Oakland Raiders' Josh Jacobs (28) celebrates his 4-yard touchdown against the Denver Broncos in the fourth quarter of their NFL game at the Coliseum in Oakland, Calif., on Monday, Sept. 9, 2019. (Nhat V. Meyer/Bay Area News Group)
Josh Jacobs was a huge hit for the Raiders with the 24th overall pick. In 13 games for them this season he amassed 1,150 yards rushing on 242 carries for an average of 4.8 yards per carry – ranking him 5th in the league for those with over 200 carries. While not much of a passing threat out of the backfield, he proved to be an exceptional runner in Jon Gruden's run-heavy offense. When faced with short yardage situations, he got a first down 75% of the time.
He as extremely effective as a 1st and 2nd down back. While 86% of his attempts came when the Raiders were under center, the Raiders used a ton of outside zone and stretch concepts to get Jacobs pushing the edge before making a decisive cut to gain yards. Rarely did they run him right up the middle. Normally when you see the kind of personnel that the Raiders trot onto the field like two tight end sets or three running backs you think power downhill football. Almost the opposite is the case though and it fits Jacobs' skillset perfectly. He was patient yet decisive as the outside zone concepts developed and when he saw a gap, he would explode through. Jacobs also showed flashes of exceptional ability to make people miss in the backfield. A number of times on broken plays or run blitzes that were missed, he would find a way to escape and gain yards. While there is a ton of stuff to love about Jacobs in his first year, he did have a tendency to dance in the open field and at times he would get caught waiting so long for things to develop that he would get caught from the backside and get tackled for a loss.
We'll take a look here at Jacobs' rookie season, what he excelled at, what he struggled with, his fit in the Raiders scheme, and what to expect from him going into his sophomore campaign.
Let's start off with the Raiders use of outside zone. Jacobs is a one cut guy which fits perfectly with a zone blocking scheme. He has a great understanding of how to set up blocks and is patient enough to let the play develop before sticking his foot in the ground and getting up-field. You can take a look below to understand the general concept of outside zone. The entire offensive line will move one direction and generally leave the backside defender unblocked. There is no designated hole and linemen generally try to reach the first player to their playside before passing off that block to the offensive lineman that is away from the play or double-teaming with that offensive linemen to the linebacker. Jacobs, the running back, has an aiming point to get outside the offensive tackle. If the defense seals off the outside, he shifts his vision one hole in until he finds a lane and can take it.
Below you can see the Raiders run this out of 21 personnel (2 running backs and 1 tight end). With the fullback #45 leading the way to help the tight end on the right side if he needs help. The Raiders rarely ask their tight ends to win 1-on-1 with a defensive end and almost always find a way to work a double team with them whether it's with another tight end, a fullback, or offensive tackle. As you can see, Jacobs takes an initial track to get outside but the center #61 is beat pretty quickly by the nose tackle. Jacobs does an awesome job shuffle cutting to get around while maintaining his initial track. He understands that there is backside pursuit and the end has been left unblocked so he must maintain his track to the right. It might only be a 3-4 yard gain, but there is no wasted movement in his cut and he immediately hits the hole when it appears.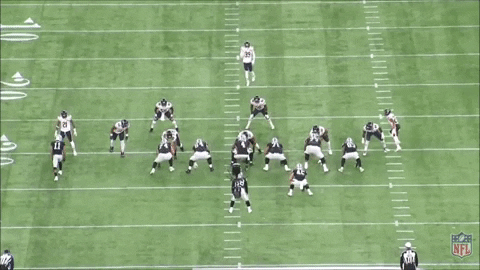 Here's another example of the stretch outside zone where the center again begins to lose ground. Jacobs once again cuts behind him and gets vertical for yardage very quickly and efficiently. Jacobs does an exceptional job of setting up cutbacks as we'll see in a moment. By pressing all the way to the rear end of the center, he is forcing linebackers to pursue as if he is going to go outside. When this happens, it allows his linemen to set up blocks and angles for him to exploit.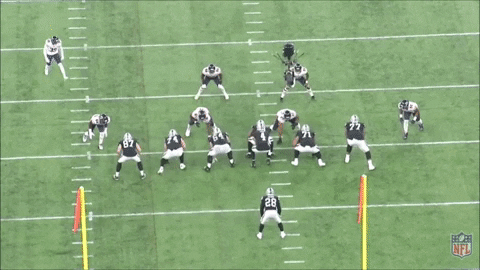 To help Jacobs with his ability to cutback, the Raiders run a ton of crunch action from their fullbacks and H backs who are lined up in the backfield. Below you can see the exact same blocking scheme for the Raiders except for the H #83 Darren Waller coming across the formation on a crunch kick-out block.
Waller does a really good job picking up the first enemy color because the left tackle gets beat inside by #94 Dean Lowry. Ideally he is able to get onto that block and the H can come all the way across to the unblocked man #55 Za'Darius Smith. As it is though, Waller is able to seal the cutback lane for Jacobs regardless and the rest is all Josh Jacobs. Jacobs pushes outside hard to set up his blockers to be able to climb and get up on linebackers before cutting back underneath the H crunch and getting into the open field. Jacobs' one-cut change of direction is special. Even when he's into the second level, he can stick his foot in the ground and get away from flowing defenders to give himself more room. He won't break your ankles, but he will use your momentum against you and give himself space to work.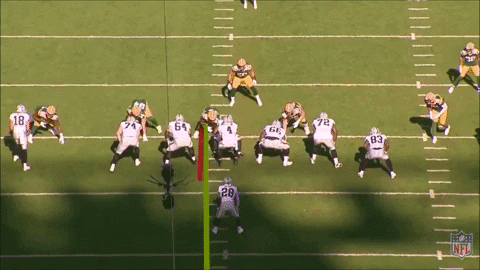 Here's another great example of the use of the crunch block for the cutback. It's again an outside zone blocking scheme with Darren Waller #83 in a tight split coming across the formation to crunch and kick out Khalil Mack #52. Take a look here at both the linebackers and how they react to Jacobs pressing his playside run to the left. They both hop and get out of position which allows the linemen to get up to the second level and seal them off from making a play on Jacobs. Jacobs reads that playside is covered and cuts back underneath the flowing linebackers.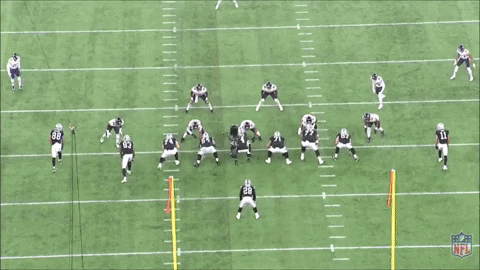 The Raiders will also use a quick hitting pin and pull quick pitch scheme to get Jacobs on the edge and allow him to read and set up blocks. They usually do it off of some type of jet or slow motion to pull eyes from the defense before snapping it and pitching it to Jacobs on the outside. The only thing that changes in the blocking scheme is that the receiver to the playside will pin the end inside and allow the playside tackle to loop around and get downfield.
Here again is the quick pitch with the design to get outside. The Bears do a good job of sealing it off but most of the defense has over-pursued and Jacobs is able to cut underneath and find a lane for the touchdown.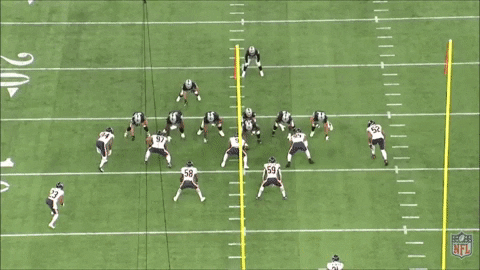 While Jacobs displays great patience setting up and waiting for holes to develop, this can sometimes cause him to get tackled by backside pursuit for negative yards or no gain. Here Jacobs has a clear lane off the center but stutter steps and tries to string it out before getting tackled by the unblocked end from the backside.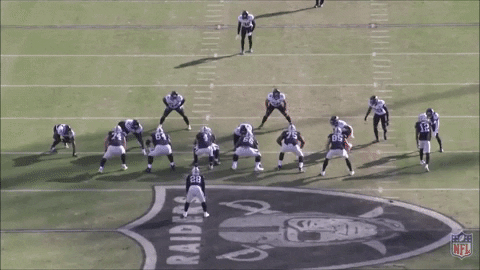 Jacobs again here slow plays while trying to set up blocks but gets tackled by aggressive backside pursuit from the linebacker position. If there's one way to stop Jacobs, this is it. If you can hold the point of attack, unblocked ends and linebackers can shoot in from the backside and tackle him behind the line of scrimmage.
Overall, Jacobs seems set up to succeed. While the Raiders don't have a super diverse run game, it is exceptionally effective and efficient and plays off of Jacobs' one-cut style of running. While primarily a 1st and 2nd down back, I expect he will start getting more 3rd down reps as he becomes more acquainted with NFL blitz pickups. He's a fine catcher and decent in pass protection but Gruden routinely picked Richard over him in 3rd down situations. The more he's on the field, the greater fantasy impact he has. While there may be injury concerns, Jacobs mostly does a good job of rolling off of contact and avoiding big hits which should reduce injuries in the future. There's a lot to love about Jacobs' running style and he is clearly the back of the future for the Raiders. Expect 250 + carries and 1,200 or yards from him to be the status quo in years to come.
If you liked this post make sure to subscribe here and let us know what you think. Make sure to follow us on Instagram @weekly_spiral and twitter @weeklyspiral for updates when we post and release our podcasts. You can find the Weekly Spiral podcast on Spotify or anywhere you listen. If you feel like donating to help us keep things running, you can visit our Patreon page here.