D.K. Metcalf, taken with the 64th overall pick out of Ole Miss, had all the straight-line measurables you could dream of. 228 pounds, 6'3", and a 4.33 40 yard dash will get anyone's attention. Out of the 2019 receiving class, he ranked in the 95th percentile for his 40 yard dash, 93rd percentile in his vertical jump, 98th percentile in his arm length, and 97th percentile in his broad jump. All incredibly impressive physical tools… as long as he isn't changing direction. In the 20 yard shuttle and 3-cone drill he ranked in just the 3rd percentile of receivers – putting him at the bottom of the barrel.
The question was, will his straight line speed be enough to overcome his lack of ability to change direction in the NFL. His 58 receptions for 900 yards and seven touchdowns say yes, but even with the stats, the predicted issues cropped up. He struggled to create separation on change of direction routes and had a limited route tree. While he progressively got better at running slants, comebacks, and curls, there is still a huge hole in his game that limits the number of targets and receptions he will get in the future. Can he make a living and be great in the NFL off of slants, fades, and posts? Absolutely. Calvin Johnson was almost unstoppable during his career running those exact same routes.
Through his rookie year, Metcalf struggled to use his large frame to create space for himself on a consistent basis, was surprisingly weak off the line of scrimmage, and struggled with change of direction. However, he attacked the ball in the air once he was into his route, could turn the hips of defenders with his speed, and began to fine-tune his route tree. Let's take a look at some of his strengths and weaknesses from his rookie campaign and project out to his future utility and potential in the Seahawks offense.
Metcalf generally runs two types of slants. Either he goes for a no-frills one where he tries to plant and explode on his last step or he runs them with foot-fire at the top. He's significantly better at the foot-fire slant because it keeps his large frame underneath him, allows him to stay balanced, and emphasizes his explosive straight line speed from a relatively static position. When he tries to stick his foot in the ground running full speed off the vertical stem on his other slant – or any other route, he tends to roll into the route or begin to cut off his inside foot because he simply doesn't have the lateral explosiveness or hip mobility to change direction at speed at this point in his career.
You can see him in the gif below where he starts to break off his inside foot. This takes away his power and makes it really difficult to create separation. In addition, this allows the defensive back to key into his hips and body lean and begin to jump the route before Metcalf has even come out of his break.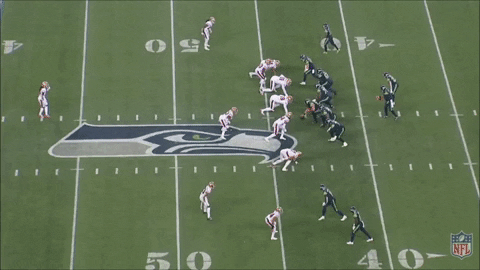 Compare this now to his foot-fire or stutter slant. You can see the explosion off his outside foot and the immediate separation he gains off it. He does a great job of stepping on Patrick Peterson's (#21) toes, ripping through the jam attempt, and getting inside.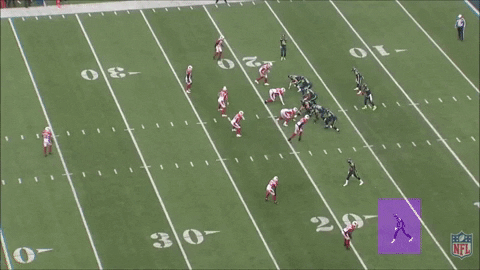 What this also allows Metcalf to do now, is to turn this foot-fire slant look into a fade. It helps him eat the cushion of the defensive back, makes them stop their feet, and keeps his hips pointed downfield where he is most explosive. This is consistently his most effective route running technique and he always seems to create separation off of it. Here he is showing the same foot-fire to Patrick Peterson before converting it to a fade and immediately gaining a step on the defensive back.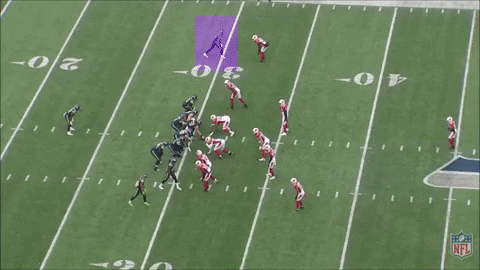 Here are some other examples of the foot-fire fade from his game against the Eagles and a similar slow play fade against the 49ers.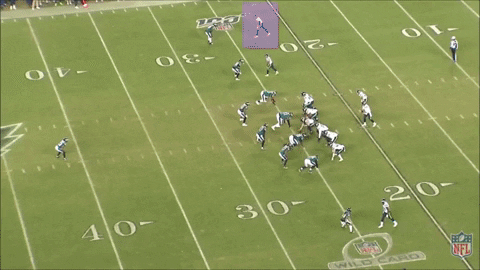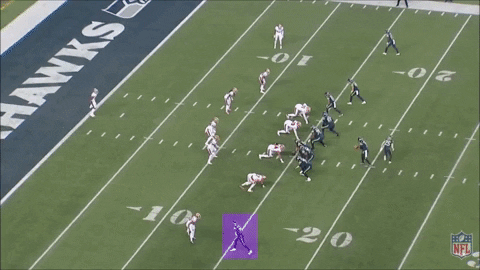 Now that Metcalf has established his slants and fades, he also does a pretty solid job of snapping off those fades into curls and comebacks. Because of his straight-line speed, a lot of defenders give him cushion and are quick to bail whenever he starts to sell deep. He does a good job of running hard and attacking the blind-spot of defenders before snapping his routes off for curls or comebacks. The blind-spot of a defender is exactly as it sounds. It's the spot where the defender cannot see the receiver because of their positioning. If a defender is turned inside towards the quarterback, there is a spot about 1-1.5 yard away from them in which a receiver can enter and be outside the peripheral vision of the defender. This allows the receiver to break at a time when they can't be seen and delays the reaction of the defender.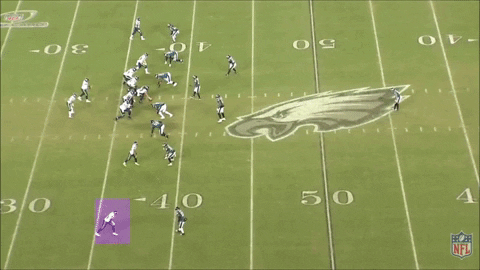 Especially in man, Metcalf has started to do a better job of getting the defender running full speed and positioning his body to box out defenders when he turns on his comebacks towards the sideline.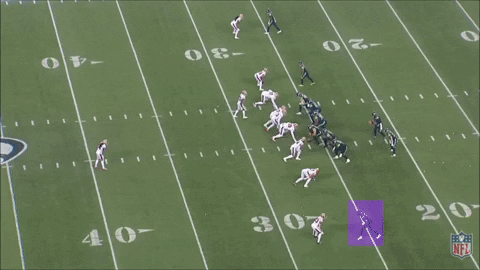 Now we can check out how Metcalf can combine all his routes into one here. He'll foot fire like he's running the slant, turn it into a fade, and then snap it off on a comeback.
While Metcalf has had some concentration issues and seven drops on the year, he generally does a really good job at high pointing and attacking the ball and has progressively gotten better at using his frame to help him win contested catches.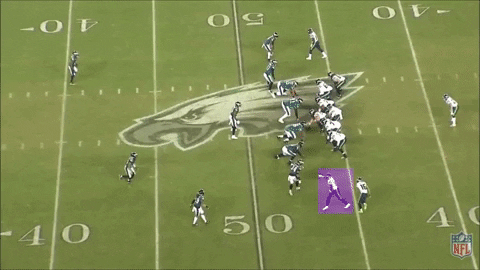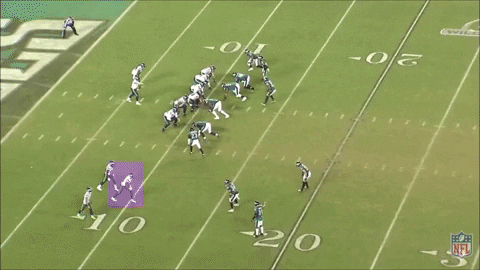 While he has started to carve out his signature routes, he has struggled to put together a full route tree and as a result, has been matchup and coverage reliant in his production. While in some cases this is good, I think they're also leaving a lot of meat on the bone as far as his usage – especially in the play-action game which the Seahawks only run 22% of the time. By using play-action more frequently, it can allow Metcalf to be schemed open and really put safeties in conflict with his speed. Anything to stop the feet of defenders benefits Metcalf. You can also run shallow drags with Metcalf off play-action which uses his vertical speed horizontally across the field to create separation. Here are a couple instances of play-action where Metcalf is able to create significant separation and forces defenders to turn their hips the wrong way.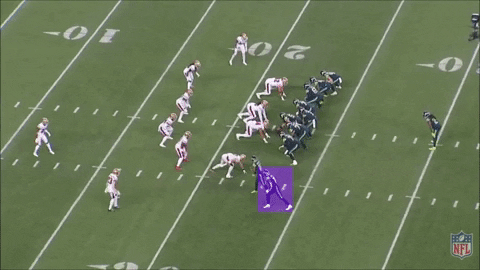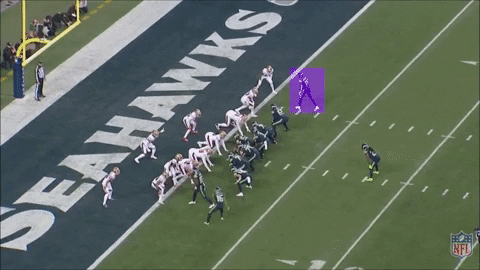 While the Seahawks could definitely use him in some more creative ways and scheme open more shots to him, he also struggles with some technique issues off the line. He especially has a tough time with physical corners and jams. You'd think with his size, he would win off of pure strength but defenders consistently get their hands in on him and disrupt his routes even when the defenders are consistently smaller.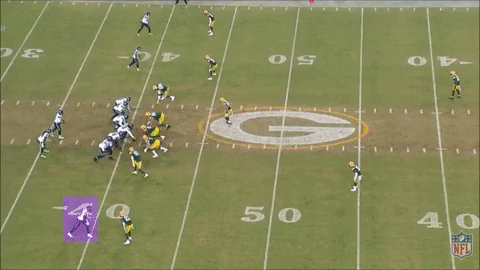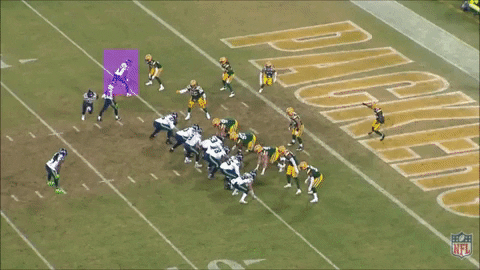 All-in-all, for a rookie receiver that was touted for his straight-line explosiveness and speed, Metcalf lived up to the bill. He can certainly beat you deep if you don't give him cushion or safety help over the top and has just enough of a route tree to be able to hold you accountable on the shorter stuff with curls, comebacks, and slants. He is certainly not a polished product though and I don't see him growing out of the mold he's currently in. A more dynamic play-action offense might benefit him but he just doesn't have the short area quickness to beat people with a variety of routes. I'd expect him to be very boom or bust from game-to-game with about 4-7 targets and 3-5 catches a game. It just depends what he ends up doing with those catches. That being said, in 7 of the 19 games he played in, he had over 90% of the offensive snaps so he's certainly going to be on the field more as he goes into his sophomore season which can lead to more targets, designed plays, and opportunities for him to take over the game. If Metcalf can clean up his drops, live off of slants, curls, posts, and fades, and build off his 2019 10.8 yards before catch number (number of yards the ball travelled through the air before being caught), he can be an excellent piece of the Seattle offense. With Wilson's penchant for the deep-ball he can become one of the premiere big-play receivers in the league.
If you liked this post make sure to subscribe here and let us know what you think. Make sure to follow us on Instagram @weekly_spiral and twitter @weeklyspiral for updates when we post and release our podcasts. You can find the Weekly Spiral podcast on Spotify or anywhere you listen. If you feel like donating to help us keep things running, you can visit our Patreon page here.