Six games, a 6-0 record, 1,384 yards, 9 touchdowns, a 67.86% completion percentage, and a 3 year, $63,000,000 contract from the Carolina Panthers. After a non-contact knee injury in a 2016 practice, Teddy Bridgewater bounced to the Jets and then to the Saints in backup roles trying to rejuvenate his career. Forced into the lineup in week 2 against the Rams when Drew Brees suffered an injury to his throwing thumb, he finally got a chance to earn himself a starting job and a new contract. His stats won't wow you but let's take a look at Bridgewater's film in 2019 and see exactly what the Panthers are getting out of their new QB1.
While new Carolina offensive coordinator Joe Brady ran a lot of horizontal stretches at LSU, all offenses need that vertical passing attack to loosen up zones and coverage underneath. That's not Teddy Bridgewater. While there is some hope for Panthers fans as Bridgewater steadily began to take more downfield shots as he got more games under his belt, he often struggled to get enough on the ball and would routinely turn down big shot plays that were huge gains or potential touchdowns. If he's going to be throwing deep, he's a guy that needs to throw in rhythm. He just doesn't have the arm strength to push the ball down the field on second reaction plays or without timing. You can see a couple gifs below where he does just that – throws with timing and accuracy downfield.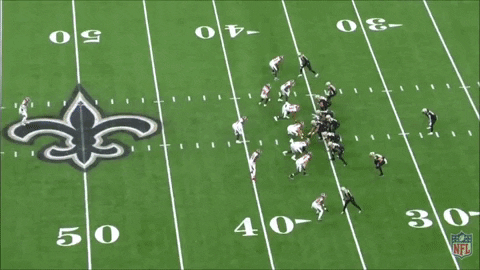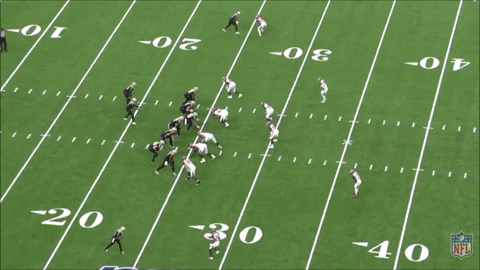 As he became more comfortable, Teddy Bridgewater also showed a great ability to read the leverage of defenders in man and throw with anticipation on back-shoulder throws. As we'll get into, he may struggle with the deep ball, but he can absolutely dice you up in the intermediate and short game.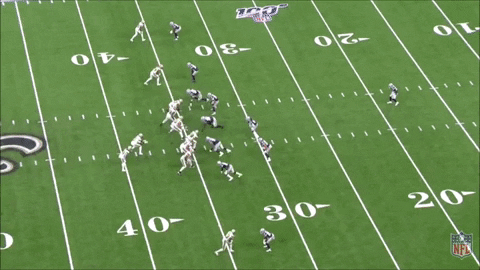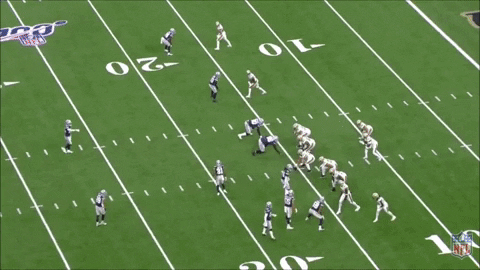 He's able to process and attack the leverage of underneath defenders very quickly which could fit perfectly with Joe Brady's horizontal attack and a receiving back like Christian McCaffrey. These quick hook concepts like below simply option off the leverage of the defender.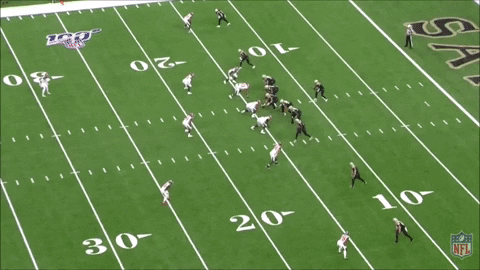 When #2 or slot receivers win leverage on intermediate routes, Teddy Bridgewater shows great accuracy and timing and can also buy time in the pocket. While he's not Lamar Jackson, he has the quick twitch to buy time and make throws on the move.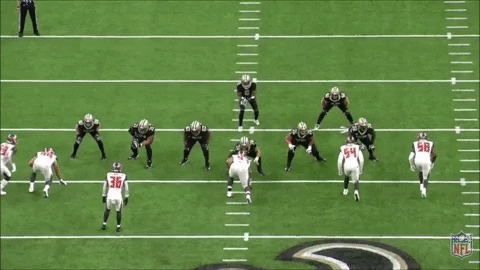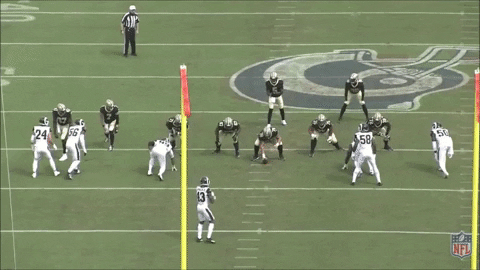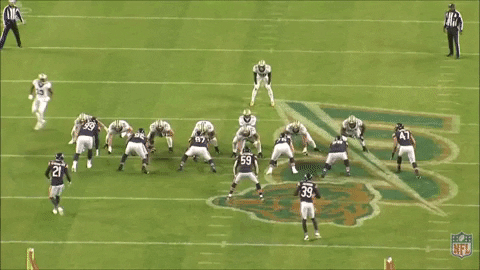 The issue becomes that even when he's taking these shots, receivers are waiting or coming back to the ball, mitigating potential touchdowns because they can't run after the catch or allowing defenders to close on the ball.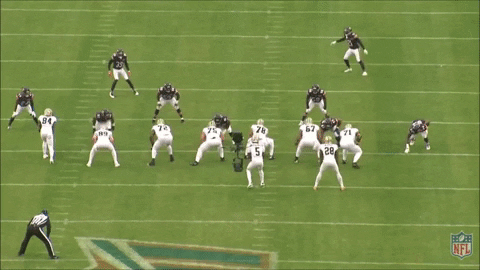 What should be touchdowns, are big gains, and sometimes, what should be big gains, aren't even thrown. A number of times he would see players downfield and double clutch or hold onto the ball too long to be able to make the throw, resulting in a sack or a check-down instead of game altering plays.
There's 1:53 left in the second half against the Jaguars in the gif below and Jacksonville is running cover 4 with all four DBs going to a quarter of the field. Sean Payton dials up a play to take advantage of a concept the Saints have run a lot of. The Saints run a sticks play where their receivers get to the sticks for a first down and turn around for the ball. Not super inventive, but Sean Payton calls that concept to one side of the field and then runs a deep post on the opposite side, baiting the cover 4 safety to come up on the hook and opening up a huge empty zone deep for the post. Teddy Bridgewater looks right at it, pumps, and takes a sack instead of letting the ball go and throwing to grass.
Turning down deep shots and open receivers happens a lot for Bridgewater. The Saints didn't run a ton of deep play concepts this year, but when they did, the quarterbacks weren't able to capitalize on them.
While his deep ball gives me concern, it isn't his only issue. His mechanics can be incredibly disjointed and messy at times. You would think with 3-4 years to work as a backup he would be able to fine-tune any mechanical issues, but the same ones continually pop up through his six games. Most notably, his last step in his drops can over-reach and cause him to dip significantly creating a lot of vertical movement. He can also be very bouncy and toesy in the pocket, leading to vertical inaccuracy. Additionally, he continually leaves his leg when following through on throws which can impact horizontal accuracy and proper hip rotation and power.
Take a look below at a few things mechanically for Bridgewater. At the top of his drop watch how much his shoulders and helmet dip as he plants to stop his momentum and drive forwards. Ideally, you want to minimize any vertical drop like this because it creates vertical inaccuracy with your entire body dipping or rising up as you're attempting to make a throw. Second, you can see that his hips and his feet aren't lined up to the throw, making it difficult to rotate his hips fully and to be horizontally accurate. Finally you can see his back leg staying behind after his throw. His feet are staggered at the end of his motion, indicating he didn't have full hip rotation. And now you can see the result. The ball is both high and horizontally inaccurate to the left.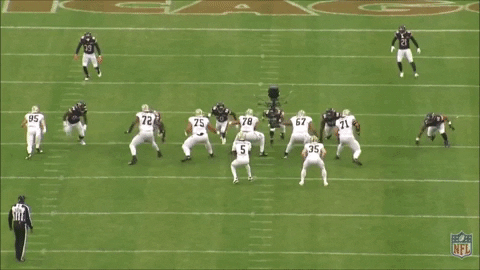 Similar things happen in the gifs below and it pops up a number of times in every game. Sometimes he gets away with it, sometimes he doesn't. Over time, it's incredibly hard to be consistent throwing the ball with these mechanical issues. It causes the ball to be high or on the back hip like in the gif below, making things much harder on receivers and minimizing the potential for big plays.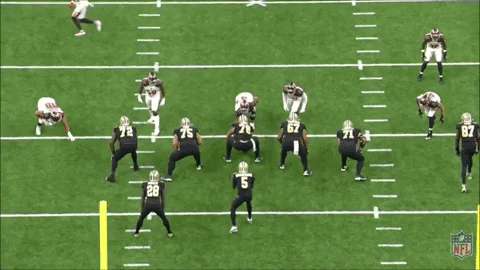 Routine passes often look like a chore and he can really struggle at times if people are in around his knees and feet.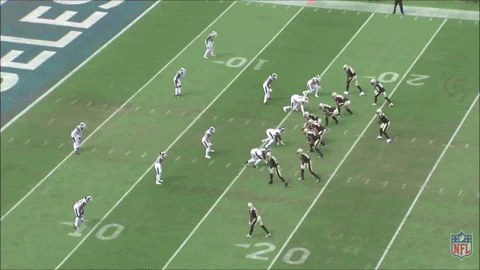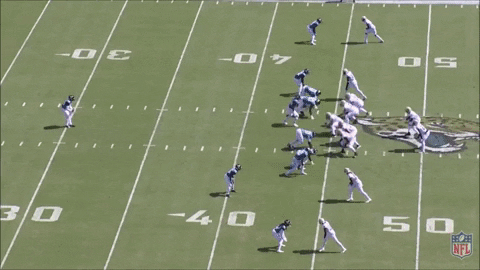 While all this is concerning, he did improve as the season went along. After-all, this is a guy that hasn't played meaningful snaps in over three years now. There will understandably be some rust to knock off. His steady improvement gives reason to hope and believe that he can play at a relatively high level. We can finish off on a positive note below where Bridgewater stays calm with pressure in his face, is able to quickly read leverage, and throw a perfect ball to the back of the end zone and give his guy a chance to make a play.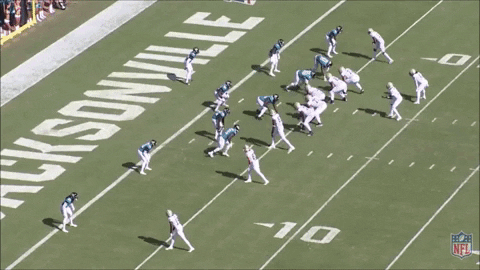 Bridgewater is by no means a perfect quarterback and while $63 million may feel like a huge contract and commitment, after year two, there's only a $5 million dead cap hit where the Panthers can part ways if needed. His potential to continue to grow at the age of 27 and the flashes of understanding leverage, quick decision-making, and his ability to be accurate in the intermediate and short areas of the field give the Panthers a serviceable quarterback while they reload for a division that now has two aging stars in Tom Brady and Drew Brees.
If you liked this post make sure to subscribe here and let us know what you think. Make sure to follow us on Instagram @weekly_spiral and twitter @weeklyspiral for updates when we post and release our podcasts. You can find the Weekly Spiral podcast on Spotify or anywhere you listen. If you feel like donating to help us keep things running, you can visit our Patreon page here.