The combination of Zach Ertz and Dallas Goedert was the lifeblood of the Philadelphia Eagles in the 2019-2020 NFL season. Together they combined for 146 receptions, 1,523 yards, 11 touchdowns, and averaged 10.5 yards per reception. Defensive backs aren't physical enough to get off their blocks or stay with them in coverage, they present a mismatch in the run game, and both are deadly on play-action. A lot of the time, the Eagles put them both next to each other on the same side of the formation which forced defenses to declare how they'd cover them. If you want to put two DB types over there, they'll run strong at their tight ends. If you want to stack up defensive ends and linebackers on them, they'll just run weak. Numerous times Dallas Goedert was able to handle the likes of Jadaveon Clowney and Demarcus Lawrence one-on-one in both the run game and in pass protection. The Eagles have something special in Goedert and while both tight ends can struggle to create separation at times, their physicality, strong hands, and ability to block make the Eagles offense go.
Note: If you prefer to watch a video breakdown, scroll to the bottom of this article.
It all starts in the run game. Both Ertz's and Dallas Goedert's ability to block set up big plays in play-action and screens. They are legitimate threats blocking and defenses have to respect their ability to do so. While Goedert is the better and more consistent blocker, Ertz is no slouch either. Here Goedert is one-on-one in pass pro against Demarcus Lawrence, the Cowboys best pass-rusher. He washes him down into the interior, moves his feet, and stays engaged.
Dallas Goedert also washed down on Jadaveon Clowney multiple times and took him completely out of plays.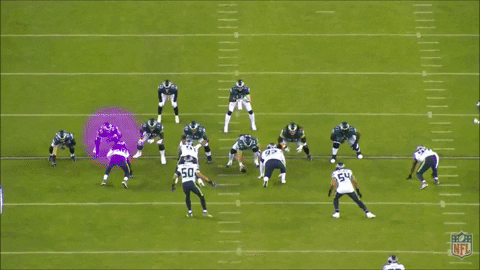 Now if you put a safety over him like the Seahawks did in the run game. He'll just drive him to the sideline. He churns his feet, maintains leverage, and uses his arm length to wash #30 Bradley McDougal all the way to the sideline and open up a hole for Boston Scott.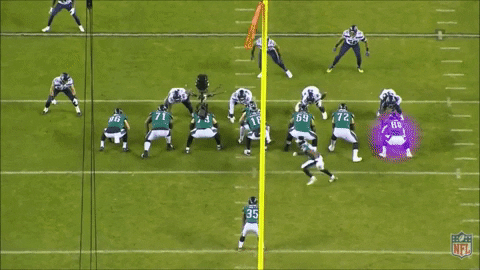 When the Eagles run a wing set with both tight ends on the same side, it can be tough for defenses to match up. Ertz drives out #30 the strong safety and Dallas Goedert climbs to #50 KJ Wright. Both create drive and are able to wall off their defenders, opening up lanes in the run game.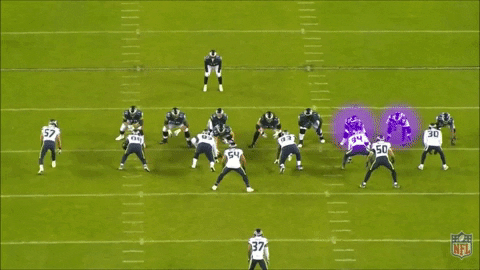 Now that we've established their impact in the run game, let's look at how the Eagles use them off of that in play-action and screens. You can see how below in the play-action out of a two tight end set against the Cowboys, who are running cover 3, the middle linebacker #54 flies to the run game and vacates space over the middle for Dallas Goedert who ends up being wide open. Ertz, operating on the backside of the play blocks to a delayed release which keeps the safety down low in the flats to cover him and opens up even more space behind for Goedert. The corner is run off by a deep curl on the outside, the strong safety flat defender comes up on Ertz, and there's a window open for Goedert as he comes across on a deep drag.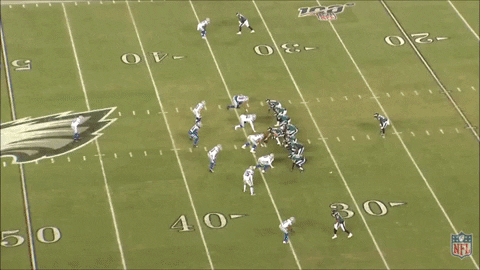 Here's another example of play-action with Ertz and Goedert, this time when they're both on the same side. The Eagles had been gashing them out of this formation in the run game all day and here, the defenders fly up to stop it. Ertz sifts right through and is open deep on a corner route while Goedert ends up getting the check-down in the flats. Ertz does a great job of releasing inside like he's trying to pin a linebacker or get an angle on a block which sells to the defense that it is a run.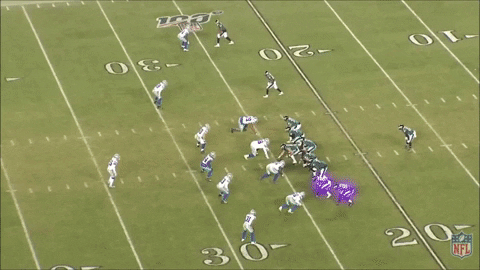 Since the Eagles often leave Goedert in on pass protection and even let him go one-on-one against elite pass rushers, now they can also screen to him out of those situations. Below, Goedert pass sets like he's staying in to block and then "whiffs" and turns around for the screen. While Goedert isn't thought of as being particularly athletic or a run after catch guy, he looks pretty agile in the screen game.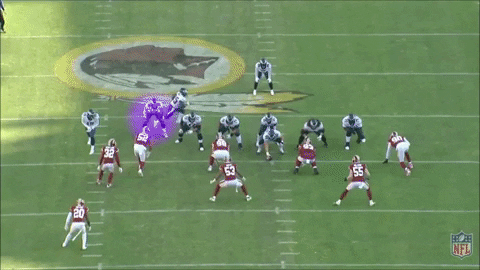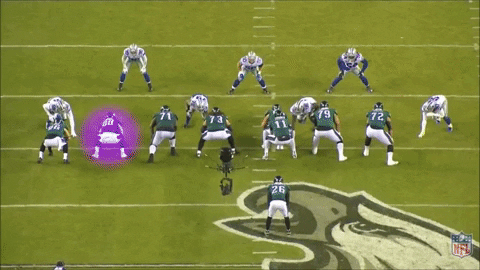 So they block, play-action, and screen well. Let's take a look at their actual route running. Goedert may be viewed as more of a generalist and is easily the better blocker, but his route running technique and ball skills are quickly catching up to that of Ertz. Ertz is more polished at this point with good hand fighting through his routes, physical running, and the creation of separation at the top with leaning and creating a chicken wing motion with his arm instead of full extension that would result in OPI. Below, Ertz does a good job of all three. He constantly removes the hand of the defender, gets in close, leans, and extends to create some separation at the top. He's not going to run away from anyone so he has to be technical in his route technique.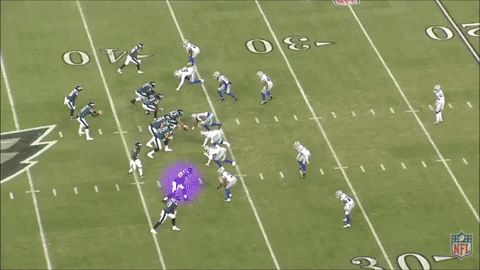 Below he again does a great job with his hands and eating up space until he's stepping on the defenders toes before snapping his route. Without being able to get hands on him and allowing cushion to be closed, the defender has no chance in sticking with him and preventing the reception.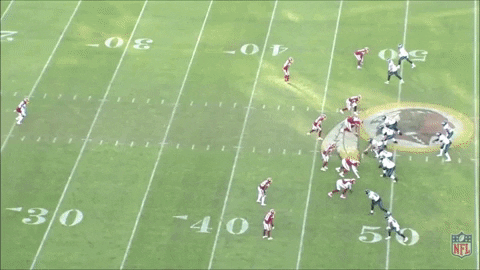 While, he does sometimes seek out contact unnecessarily which slows down his routes and can cause him to be unable to create separation against stronger defenders, sometimes he can just absolutely bully guys and run right into them and they bounce off.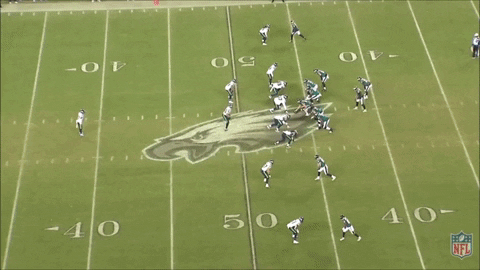 Whether it's a linebacker, safety, or corner, Ertz presents a matchup problem. Below he's one on one with a corner and easily beats him on a slant without even using his physicality.
As mentioned before, Goedert might not be quite as polished of a route runner, but his hands are just as good if not better than Ertz's.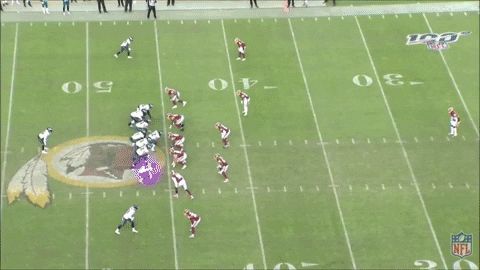 He'll high point the ball, isn't scared of contact, and has great eye discipline.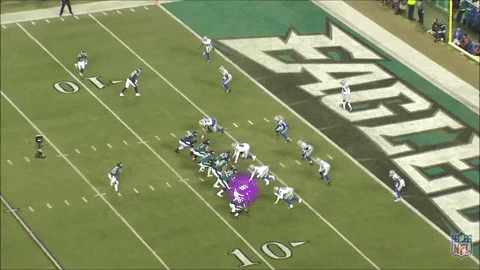 As the season progressed, his routes became more nuanced with more leaning and exploding off of cuts which helped him create separation.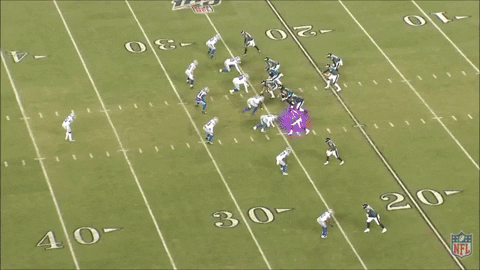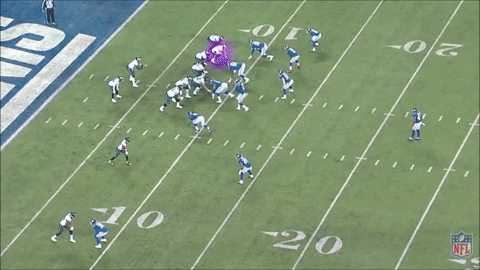 However, like Ertz, he also creates unnecessary contact at times and doesn't take advantage of his frame and leverage to create separation and instead just tries to overpower the defender.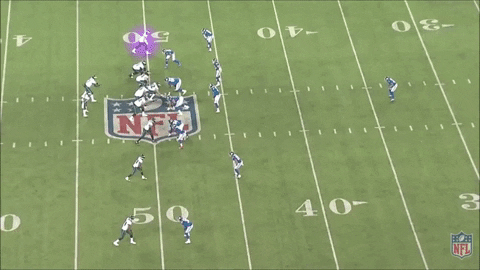 That being said, sometimes his length is so much greater than that of the defender that it doesn't even matter and he can sttill make the catch.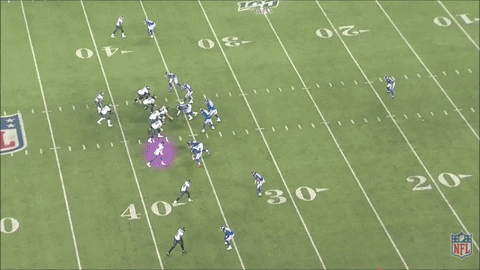 Together, Ertz and Goedert create issues for defenses. Both have the ability to attack the ball in the air, have surprising athleticism, and are capable blockers. The Eagles love to use 12 personnel and attack defenses with their two tight end sets. They mirror Ertz and Goedert off each other with high / low concepts, use them with effectiveness in the run game, scheme them open in play-action, and kill teams with screens that really stretch defenses and their ability to match up. While they have been specializing in different ways – Ertz in the passing game and Goedert as a blocker — Goedert has begun to encroach on the targets and snaps that Ertz typically gets. Goedert adds a little more flexibility in the formations, packages, and plays that the Eagles can call. If you're looking for a future super star, hop on the Dallas Goedert train right now. If the Eagles get a weapon or two outside at receiver, this tight end pair and offense could be unstoppable with a rising star in Miles Sanders and a franchise QB in Carson Wentz.
If you liked this post make sure to subscribe below and let us know what you think. If you feel like donating and want access to some early blog releases and exclusive breakdown content or to help us keep things running, you can visit our Patreon page here. Make sure to follow us on Instagram @weekly_spiral and twitter @weeklyspiral for updates when we post and release our podcasts. You can find the Weekly Spiral podcast on Spotify or anywhere you listen.