After missing the first three weeks of the 2019 NFL season, Sam Darnold came back and helped the Jets get to a 7-9 record with an offense that wasn't exactly chock full of talent. While he did struggle with some interceptions, he had a respectable 3,024 yards, 61.9% completion percentage, and gave the Jets offense some life. He did a great job of getting the ball out in rhythm, throwing the ball on the move, and has all the arm talent you could want. His base is incredibly consistent which is indicative of offseason work and focus. He doesn't get too tight, over-extend, and keeps his cleats in the ground allowing him to generate power and accuracy. However, he can tend to pull the string a little and lacks follow through on some of his throws which causes the ball to die or sail on him. He also had significant difficulties with post-snap rotations from defenses and struggled to adapt if coverages were different than he expected. This caused some panic throws when the play was broken or when he was running out of bounds. Despite some of these head scratchers, he has all the tools and makings of a quarterback that can make the Jets competitive in a division that is up for grabs.
Note: If you prefer to watch a video breakdown, scroll to the bottom of this article.
We'll start out with the most impressive part of Darnold's game. His ability to throw accurately on the move regardless of whether he's rolling left or right is a trait that few NFL quarterbacks have. In all the clips below he does a great job of getting his hips around, opening up his shoulders, keeping his eyes downfield, and delivering balls with various amounts of touch. He can drop the ball over linebackers or drive the ball into windows that allow his receivers to make a play on the ball.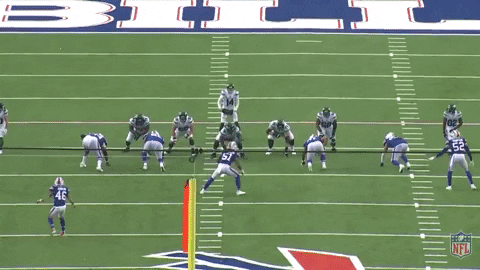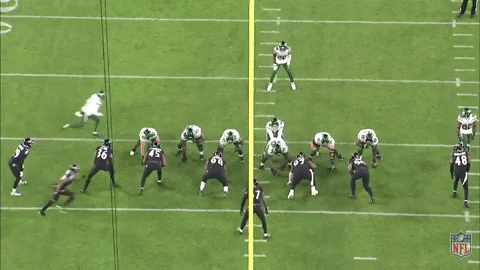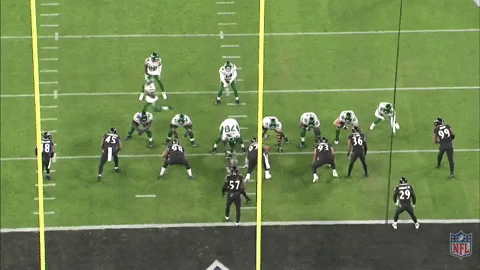 He also has the ability to read the leverage of defenders quickly and throw the ball decisively and in rhythm with his drop. He can exploit blitzes, get the ball in the hands of his receivers, and make defenses pay if they are misaligned or give him quick reads in the underneath passing game.
Below he moves the safety by looking to the top of the screen before coming back and recognizing poor leverage by both the linebacker and the corner covering the receiver at the bottom of the screen. He puts the ball up high and attacks the trailing defenders lack of vision.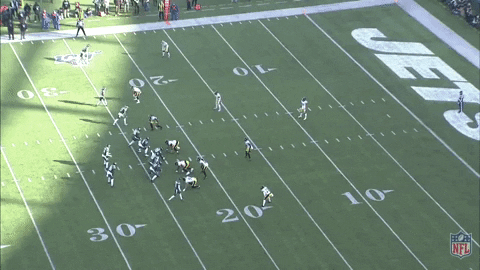 He is strong and steady in the pocket, reaches the top of his drop and drives the ball to receivers underneath. This is part of the reason why Sam Darnold is so successful in the no-huddle where he completes 71% of his throws and has only taken two sacks.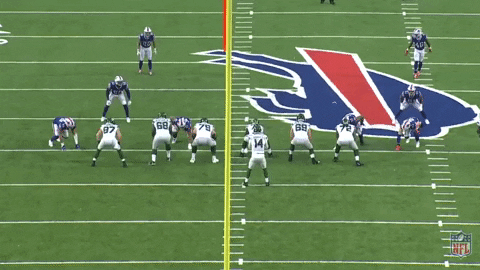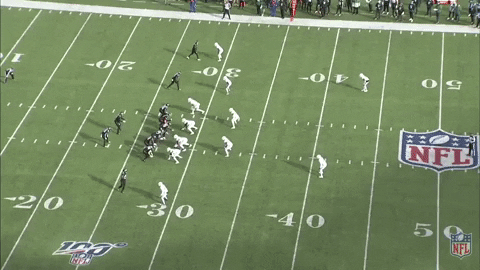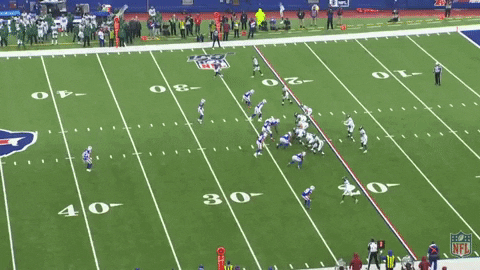 While he clearly shows the ability to make decisive, accurate throws, every once in awhile he'll also make some super questionable decisions. Sometimes the best play is a throw away. A lesson that Sam Darnold hasn't quite fully learned yet. I love the desire to make something happen and pull some magic out, but it has to be calculated risks and some of the decisions he makes look like just the opposite and show a lack of understanding of where defenders are.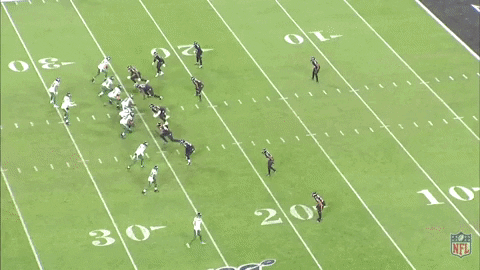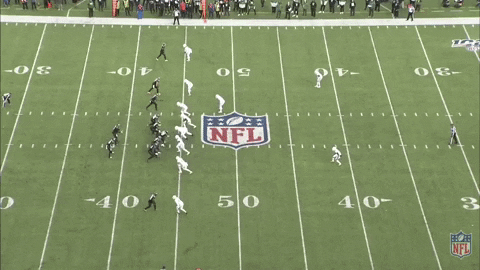 Mostly, this has to do with a lack of post-snap recognition of what defenses are doing. Multiple times he struggled to identify rotating safeties. Often in cover 3, especially on a blitz or when there aren't multiple receivers threatening one zone, defensive backs will transfer zones and fall back into the zone they are passing off to. Below you can see the corner at the bottom of the screen pass off the dig route to the centerfield player. That centerfield safety now comes down to guard the dig while the corner to the bottom of the screen falls back to deep middle to help with the post from the top of the screen. Sam Darnold doesn't look to the bottom of the screen and instead locks on the safety. When the safety comes down, he thinks he has a ton of clear field to hit the post with nobody deep middle. He doesn't recognize the framework and defensive rules in place and throws the ball up for what should have thrown an interception to the corner who drops into his new deep middle zone.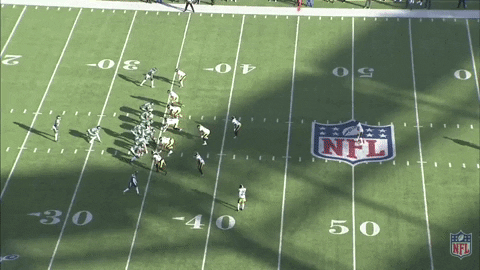 Below is an example of a lack of recognition pre-snap that the safety is on the hash shading to the single receiver side. He can't put this much air on the ball. His better bet would have been going to the bottom of the screen where there is no safety help and his receiver wins easily.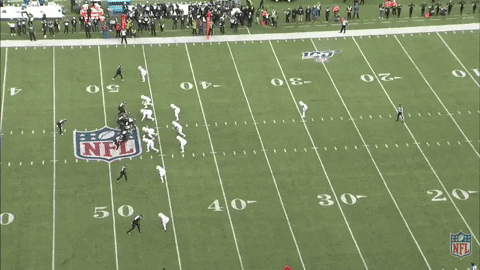 Recognizing and diagnosing these rotates and rules takes time for new quarterbacks to process. It's why rookie QBs often have a lot of difficulty have consistent success. My only concern with Darnold is that he's now going into year three and was still making some rookie errors in year two. As mentioned before, he has all the arm talent in the world but at times he can pull the string and lack follow through in his throwing motion. His feet and base are set, he just has balls die or sail on him because of his lack of follow through and this can also lead to a lack of touch as he tries to push balls with all arm. Take a look at a couple of the gifs below and note the fall back and almost recoil motion of his arm after.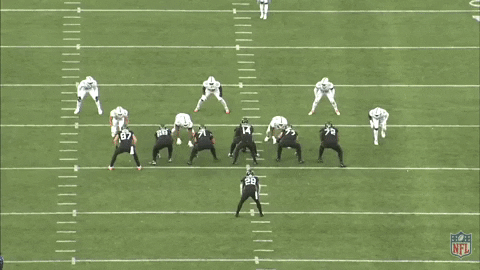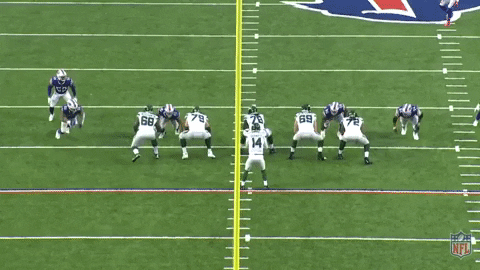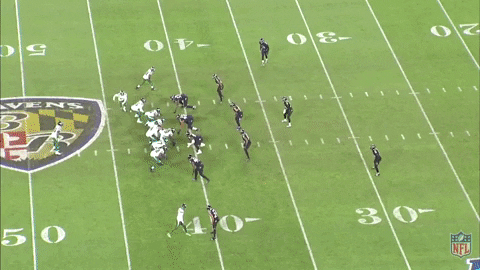 Sam Darnold has all the tools you could want for a franchise quarterback. With some instability at the head coaching position, a lack of talent outside, and a suspect offensive line that ranked 31st in allowing pressure within 2.5 seconds less on 27.5% of dropbacks, Darnold hasn't had the easiest path to start his career. The signs of greatness are there with decisive reads, great pocket movement and accuracy outside the pocket, and the ability to fit balls into tight windows. However, you'd also hope to see a little more progress in his decision making than he has shown so far. With 28 interceptions in his first two years, he needs to cut down on the poor decisions and work on faster recognition of post-snap adjustments. He's shown that he can take advantage of blitzes, read leverage, and has the accuracy to make teams pay in man coverage. Now he just needs to put it all together. The Jets are still a few pieces away but as that team builds around him – especially up front – Darnold could be absolutely lethal in a division that is up for grabs with the departure of Tom Brady.
If you liked this post make sure to subscribe below and let us know what you think. If you feel like donating and want access to some early blog releases and exclusive breakdown content or to help us keep things running, you can visit our Patreon page here. Make sure to follow us on Instagram @weekly_spiral and twitter @weeklyspiral for updates when we post and release our podcasts. You can find the Weekly Spiral podcast on Spotify or anywhere you listen.