After a slow first four years in the NFL where his highest yardage total in a season was 744 with only 4 touchdowns, DeVante Parker blew the doors off his 2019 campaign. The 27 year old out of Louisville racked up 1,202, 9 touchdowns, and averaged 16.7 yards a reception – good for 10th best in the league. His combination of route running ability, size, speed, and physicality at the point of the catch made it difficult for defensive backs to win contested catches and stay with him. He's fearless across the middle, will attack the ball in the air, shows really good understanding of route running technique, and consistently turns defenders around and creates space for himself.
DeVante Parker does an amazing job of attacking the ball in the air. He high points, has strong hands, and is truly exceptional at winning 50/50 balls downfield. He elevates, uses his hands, and shows incredible eye discipline. Tracking the ball all the way through the catch separates the elite pass catchers in the NFL. If their helmet and eyes follow the ball all the way through, they catch it almost 100% of the time. Take a look below at how Parker elevates and tracks the ball with his eyes all the way through the catch, and immediately protects the ball and pulls it away from defenders in the clips below.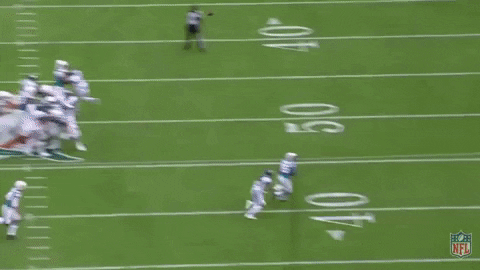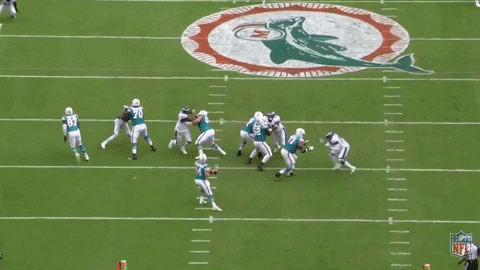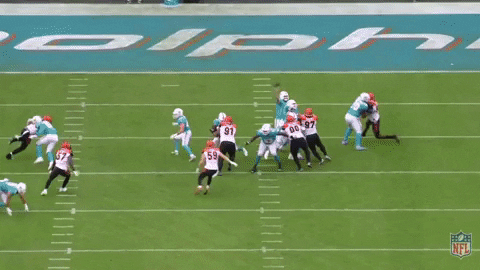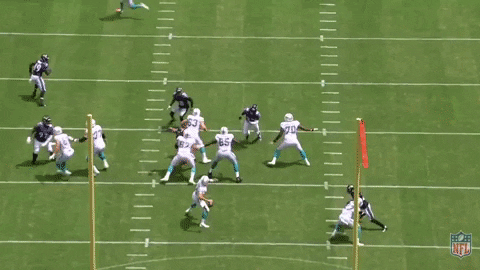 He has elite body control which allows him to win those jump balls, back shoulders, and contested catches. Now throw in his route running abilities which jump off the screen and you've got a guy that almost doubled his career yardage total in his 5th year. His ability to manipulate even the best corners by attacking their blind spot, forcing them to turn their hips with route stems, and setting up corners to guess incorrectly is elite. My favorite play of his from last year is a simple deep out on defensive player of the year Stephon Gilmore. The Dolphins put DeVante Parker in motion which gives him momentum to take an outside release and forces Gilmore to play a little further off than normal. With his goal to get to the sideline 10 yards downfield, Parker has leverage on Gilmore which immediately makes him opens up his hips to run with Parker. Parker then works back inside indicating he's going to the post or dig which again forces Gilmore to turn his hips and run with him to the inside. As soon as Gilmore turns his back to flip his hips, Parker attacks his blind-spot and cuts flat outside with Gilmore totally lost in coverage.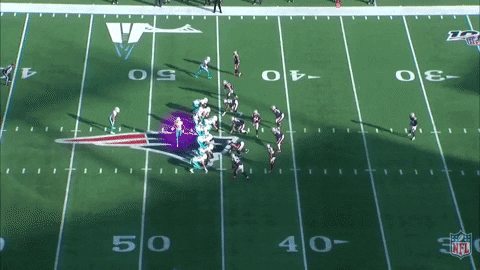 Parker shows great understanding of getting onto the defenders toes to close space and minimize the time that the corner has to react to his cuts. Below, he does some front foot skip that eats up a yard and closes the cushion while freezing the defender. Since his inside foot stays up on the skip, he's primed and ready to explode up and out on a fade release to the outside and quickly wins his route.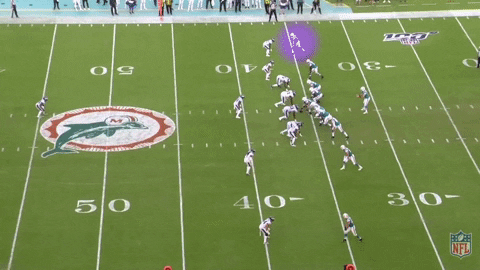 Whether he slow plays it or does a hard stem outside, he will routinely sell fade and come back to slants. When defenders are up close, it makes it incredibly hard to defend – especially with his frame and the way he attacks the ball in the air. The foot fire and initial fade steps close the distance and gets the corners out of position.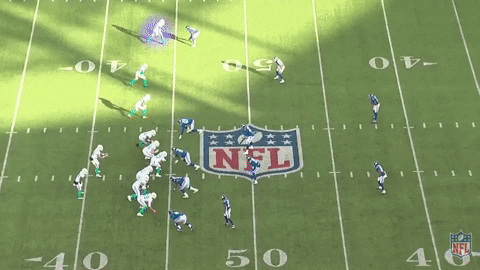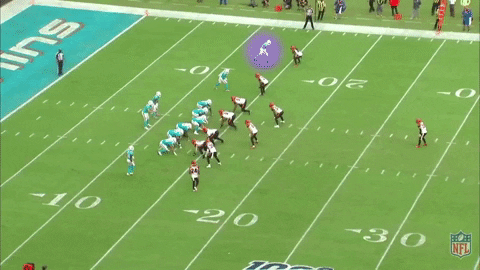 A principle of attacking man coverage as a receiver is to push their leverage. Whatever way the defender is shading you is the way they generally don't want you to go. By attacking that leverage, you are threatening the space they most want to protect. Parker uses this to his advantage on Gilmore below and sells a slant with Gilmore shading inside. He takes two steps in before turning it up to a fade on the outside. Parker wins on the route but if he has one weakness, it's that he can lack physicality when running his routes and can struggle with jams. Gilmore gets a punch on him and slows him down but he still is able to create separation and you can see the impact of the initial slant stem and how it opens up space for him to the outside.
While he's incredibly aggressive to the ball in the air, he can struggle to use his hands when releasing against press or against physical defenders. You'd like to see more active hand fighting to help create separation and prevent corners from slowing him down. He has the strength and frame to out-reach most corners and while he's gotten better, he still isn't quite all the way there yet.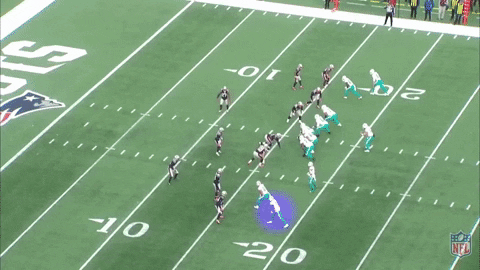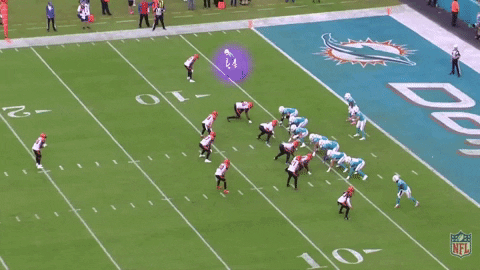 DeVante Parker has finally started to put all the physical tools together. He's using his frame to attack the ball in the air, demonstrates great route technique and understanding, and has translated it all into production on the field. It's rare to find guys that take 4 whole years to develop into true number one receivers, but Parker has all the makings of one. Maybe not as dominant as Michael Thomas, but if he continues to improve and polish and develop a connection with new Miami QB Tua Tagovailoa, Parker can become an absolutely dominant force in the AFC East.
If you liked this post make sure to subscribe below and let us know what you think. If you feel like donating and want access to some early blog releases and exclusive breakdown content or to help us keep things running, you can visit our Patreon page here. Make sure to follow us on Instagram @weekly_spiral and twitter @weeklyspiral for updates when we post and release our podcasts. You can find the Weekly Spiral podcast on Spotify or anywhere you listen.