Since Jon Gruden has come back to the Raiders for his second stint as the head coach, Derek Carr's completion percentage has shot up 8% where he's now completing 70% of his passes. Questions have popped up about whether he's the right fit for Gruden's offense or if the Raiders will soon move on from the quarterback. While Carr may have some issues, it's also important to understand the context within which he's playing. Often criticized for his lack of shots downfield, Carr is actually one of the most accurate deep throwers in the NFL. Since 2016, Carr is the 3rd most accurate in deep passes for targets 20+ yards downfield. Throwing the deep ball isn't so much the issue as is the frequency with which he throws it. As his career has gone on, his intended air yards has steadily decreased year after year. But is this by design and a manifestation of the personnel and scheme or is Carr simply not a gambler and more comfortable managing the game through checkdowns?
Note: If you prefer to watch a video breakdown, scroll to the bottom of this article.
Gruden's offense emphasizes ball control, a strong run game, high percentage throws, and getting positive yardage on every play with the occasional shot downfield. Derek Carr executes the underneath game incredibly well. He reads quickly and efficiently and can make accurate throws. It's not the most exciting, but it is effective. The Raiders ranked 7th in the league in time of possession and when you have a defense that isn't complete, holding onto the ball minimizes the possessions of the opponent and gives you a better chance to win.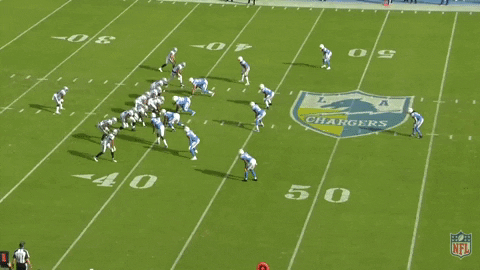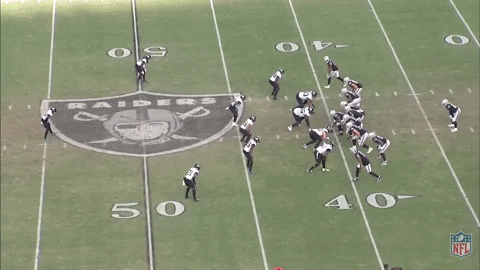 These rhythm and short and intermediate throws are where Derek Carr is at his best. He can drive the ball, shows good understanding of zone space, and can read decisively and efficiently. He understands how to move defenders with his eyes and where that will open up space on his next read. He is especially good at throwing short posts or post sits into zone coverage. He's patient enough to let defenders flow away from the area he needs to throw to and has the arm strength and touch to fit the ball into tight windows. You see his eyes manipulate safeties to open up areas and he very rarely throws his receivers into trouble – throwing back hip to slow them down or making them settle into a hole.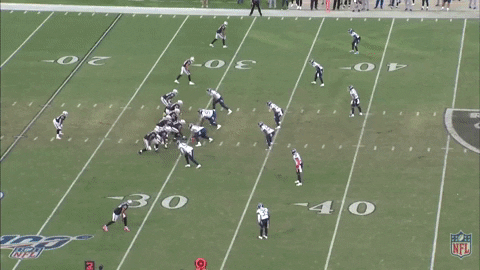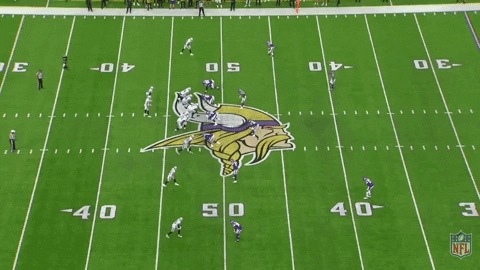 These are the main things that Derek Carr was asked to do in the Raiders offense this last year. That being said, he did have some issues.
If you're going to roll with the possession passing, you've got to be accurate. Short passes obviously help that cause and lead to Carr's 70.4% completion percentage in 2019. However, while the Raiders receivers definitely struggled with drops throughout the year, Carr was also inconsistent with his ball placement underneath at times which prevented yards after catch potential.
He has a big issue with pointing his toe and leaving his leg on his throwing motion which limits his hip rotation and ends up causing him to throw behind receivers. Whether it's a slant or a quick out, these kinds of throws pop up a few times a game and when you're throwing to running backs or trying to push an offense that needs yards after catch, that's a big issue. Without bringing his hips all the way around and using his leg to follow through, he gets a lot of horizontal inaccuracy. From a mechanics standpoint, you want to point your toe where the receiver will be and fight to get your hips pointed in that same direction after your follow through. This allows you to generate consistent power and accuracy that stems from your lower body and leads to more consistent throws.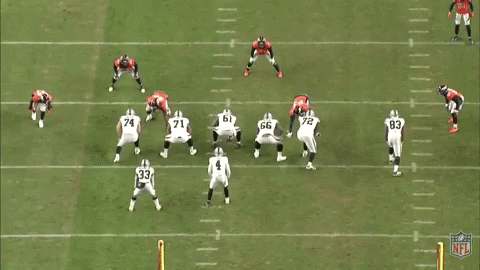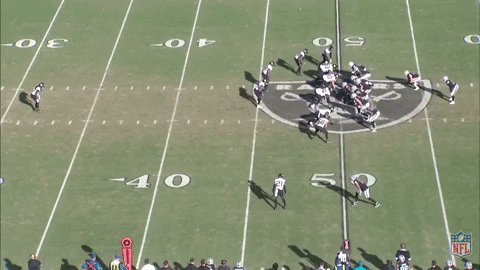 When faced with pressure, Derek Carr often quickly goes straight from his deep read to a checkdown in the flats or underneath instead of progressively going through his intermediate routes down to his outlets. As we talked about earlier, he can throw the deep ball perfectly fine, he just doesn't throw it often. Instead of going from the post to the curl here, he moves directly to the flare by the running back for a loss of yardage.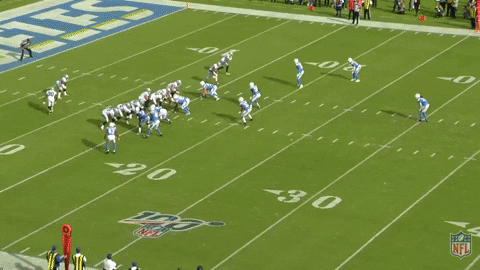 Here he misses the dig in the middle of the field once pressure starts to get near him and throws the checkdown underneath. These passes might steadily move the ball but it's really hard to march down the field 5 yards at a time in the NFL. The Broncos here are running cover 4. As the linebacker responsible for the flat leaves with the running back, that opens a huge space for the dig over the middle. Derek Carr is experiencing a collapsing pocket but there's a lack of anticipation here which happens frequently when he's under duress.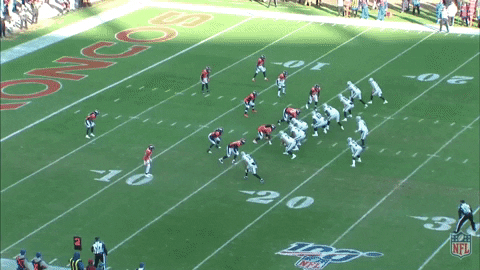 Here the Jaguars bring a ton of pressure which means you have man coverage outside. As soon as pressure appears, Carr immediately dumps the ball off to his running back for a loss of yards. If he read the linebacker running to cover the running back and climbed the pocket, he would have seen his receiver wide open on the crosser.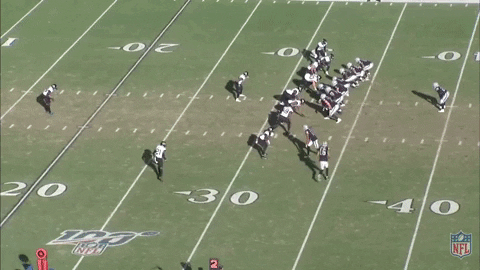 So, he has some faults with anticipation when under pressure but from a pure passing standpoint he has the tools. His mechanics are largely clean aside from his occasional lack of follow through. His base can get a little tight and he can get jittery and bouncy in the pocket but it largely doesn't impact his deep ball accuracy. He shows really good touch on balls down the field and lets receivers use their already established leverage. He puts good arc on the ball so it's easier to track, and allows for yards after the catch.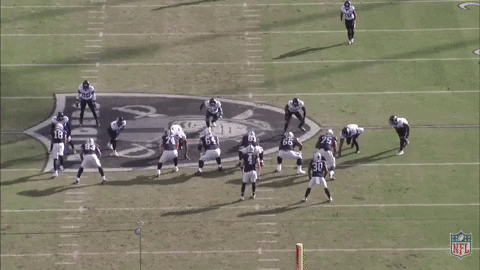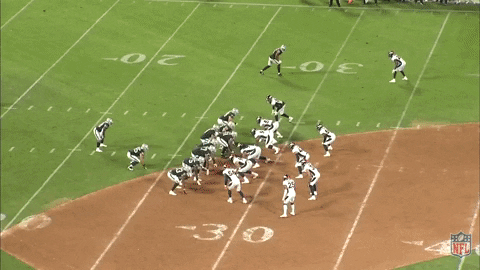 All-in-all, Derek Carr is running what Gruden is asking of him and running it well. The Raiders controlled the ball, were in a number of close games, and were competitive late into the year. Darren Waller and Hunter Renfrow emerged as legitimate weapons and Josh Jacobs was an Offensive Rookie of the Year candidate. Now throw in the addition of Henry Ruggs and some true speed on that offense and the Raiders are going to have the most talented skill positions that Carr has had to date. Carr can push the ball downfield and I fully expect to see more shots with the talent the Raiders have. It's time to open things up in Vegas. Gruden likes to dial it up a couple times a game, and now the personnel match the look of a more explosive and exciting offense that's ready to challenge for a playoff spot in 2020.
If you liked this post make sure to subscribe below and let us know what you think. If you feel like donating and want access to some early blog releases and exclusive breakdown content or to help us keep things running, you can visit our Patreon page here. Make sure to follow us on YouTube for video breakdowns and Instagram@weekly_spiral and twitter @weeklyspiral for updates when we post and release our podcasts. You can find the Weekly Spiral podcast on Spotify or anywhere you listen.