The Green Bay Packers struggled to find a reliable target outside of Davante Adams all season. They had four different players between 400 and 500 yards receiving including the aging Jimmy Graham and running back Aaron Jones. That leaves just two receivers who managed to get to the 400 yard mark for the Packers outside of Adams: Allen Lazard and Marquez Valdes-Scantling. Valdes-Scantling clearly grew out of favor with the coaches and had a total of 5 catches on 19 targets and just 36 yards after week 7. Allen Lazard on the other hand, started to come on strong towards the end of the year. While he only had 477 yards and 3 touchdowns, he showed good growth and started to carve out a role for himself as a reliable second receiving option in Green Bay.
Note: If you prefer to watch a video breakdown, scroll to the bottom of this article.
While he isn't the most explosive, his route technique and knowledge grew throughout the year. He started to look more polished, became a frequent target on RPOs, and was a really solid blocker. At 6'5″ and 227 lbs, he's got to be a guy that can win with his frame, strength, and attack the ball in the air. He won't win on pure athleticism so he has to match his physical tools with sound technique and smart play to have consistent success.
We'll start with his blocking because if you're going to play in Matt LaFleur's system, the bigger body you are and the more willing and capable of a blocker you are, the more chances you're going to have to be on the field and thus, the more opportunities you're going to have to make an impact in the passing game. His upper body and core and hip strength are really impressive and allow him to stay square on defenders. He's able to move his feet and despite his tall frame, he maintains good leverage. He can knock smaller corners off the ball and uses a wide and solid base that helps him maintain power and push while staying in front of defenders and avoiding holding calls.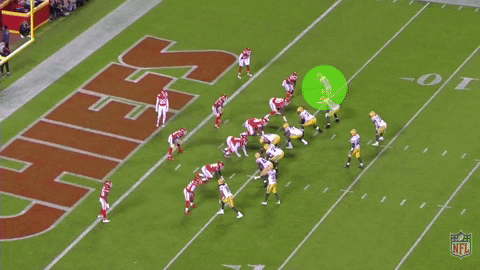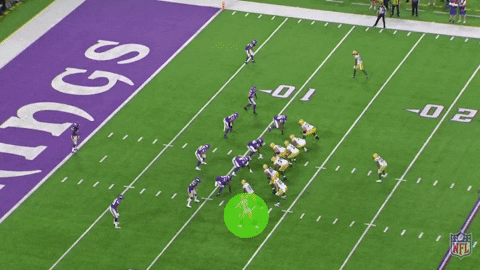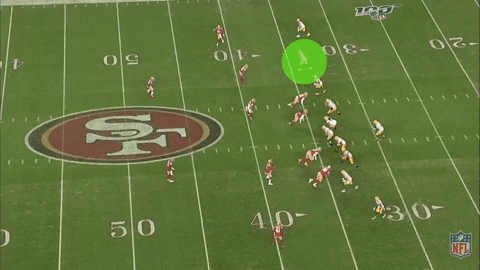 If you're an undrafted guy it always helps to show great effort. Lazard has committed to the blocking game, has been in the right place for Aaron Rodgers, and makes plays like these where he's sprinting down the field to help make a block.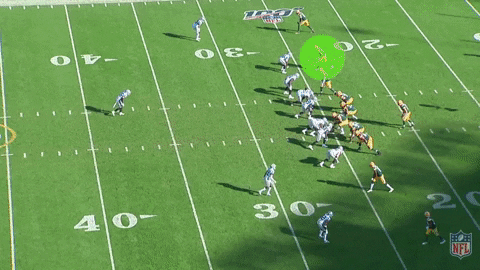 While his blocking is consistent and has gotten him more reps, he's isn't going to blow defenders away with his athleticism so he needs to use his large frame to win routes. As mentioned before, he has a size advantage on most DBs and he does a really good job of attacking the ball in the air and has started to use that frame to his advantage. He rarely lets the ball get into his body which allows him to win contested catches and enables him to maintain his stride for yards after the catch.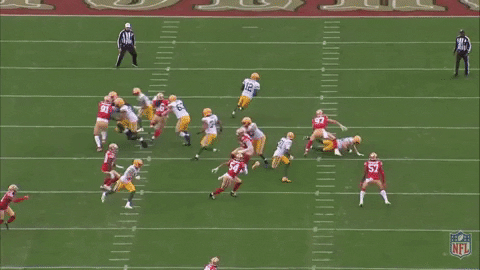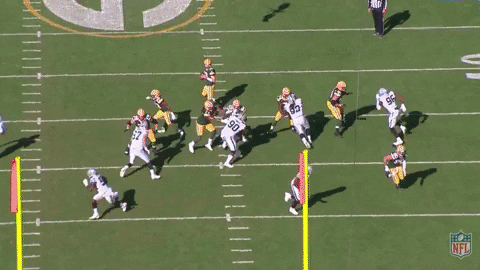 While he attacks the ball and has begun to use his frame, he can still struggle with jams and getting out of his breaks with physical defenders. He shows inconsistent hand usage when trying to defeat bumps and checks at the linebacker level and in press.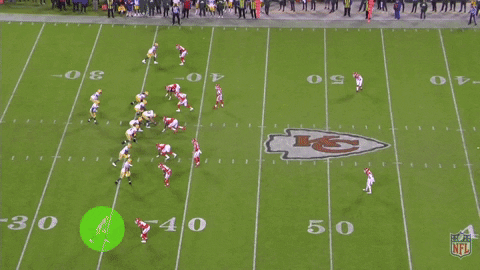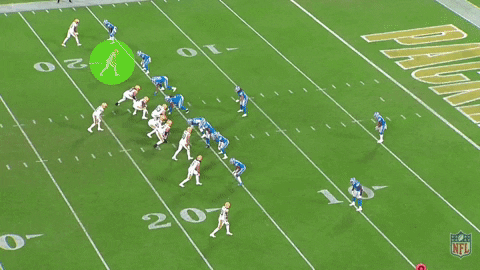 Instead of using his hands, he typically takes his shoulder away from the bump attempts. It can be subtle but it reduces the surface area the defender has to attack. With the smaller surface area, it's harder for the defender to get a powerful jam and allows for more fluid releases when the defender is less aggressive at the line.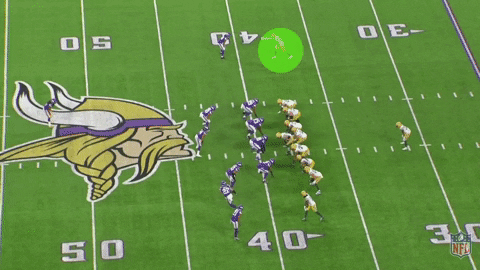 One area he's started to excel at are his slants. Earlier in the year he could get a little too wide on his initial outside stem and once he had the defensive back beat, they'd be in his slant path which would then throw off the timing of the route. He gets the corners hips to turn here but because he got too vertical, he has to flatten his slant to get to open space and he isn't open when Rodgers is looking which results in a throwaway.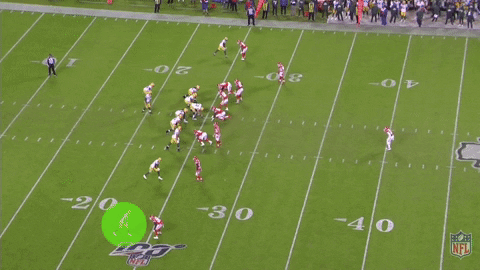 Compared to the last few games of the year, he looks much more polished with his releases and initial stems and pushes to the outside on his slants. He's more careful not to over-run his stem and leaves space so he can get underneath them once he's pushed up onto their toes and forces them to turn their hips. Especially when you have a corner walked up in man coverage, it's important to threaten them vertically on any route you run. The last thing they want is to get beat deep. To take advantage of that, you have to get up close to them and sell a vertical route which is what Allen Lazard has started to do really well. His initial track and stem of his route is as if he's running a fade down the sideline. Defenders have to respect that and once they turn their hips to the outside to run with him, it leaves space underneath for Allen Lazard to attack. It can be quick or more elongated based on the coverage and timing of the play but he has begun to put the pieces together to be able to get himself open and manipulate defenders in man coverage.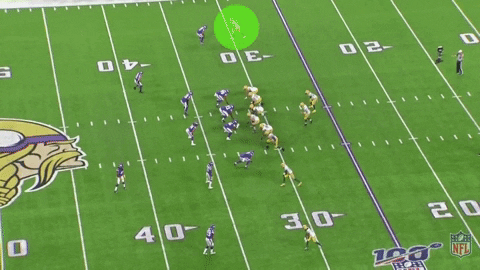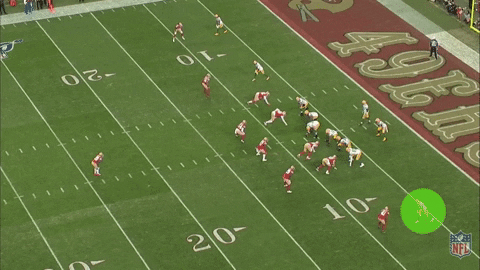 He's also begun to integrate other route techniques that aren't quite as polished but it does show that he's starting to translate technique to games. In zone coverage, if at all possible, you've got to attack defenders blind spot. When corners turn in towards the quarterback with their back to the sideline, there's a window a yard or two away from them where they lose visibility if the receiver gets up on them. You can see him attempt that exact technique but he shorts it a little and is still visible by the defensive back. The issue is that he takes a poor initial track towards the rotating safety and enters the blind spot late. The Packers are running a play-action shot here and the run action is going to the left. While it happens, a late out-breaking route away from a run action is a really long throw and the defensive back has eyes on the quarterback in case that happens. So to the sell from an inside stem back to a deep out, comeback, or corner when Rodgers is on the opposite hash is a pretty tough throw and allows the DB to have more time to break on it. Because of this, he doesn't need to immediately react to it. With Allen Lazard entering into and staying inside the corners vision until the very top of the route, Lazard is closing the window for the throw by bringing himself closer to the safety while simultaneously keeping himself within vision of the defensive back that's in cover 3. If he stems instead a little to the outside or runs on a line, he can widen the corner, stay away from the safety, and more feasibly enter the blind spot of the DB.
With Allen Lazard's lack of true deep-threat speed or explosive athleticism, he's got to be super polished with his route technique and a disciplined player that uses his body and size to win contested catches. He's started to do both of those things which is encouraging but he's definitely not there yet.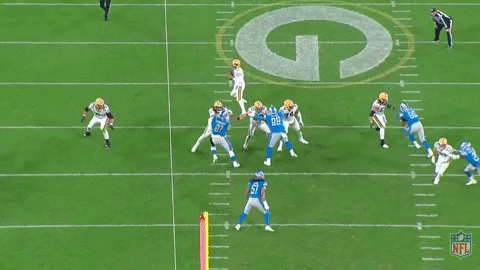 For an undrafted free agent in only his second year, Allen Lazard has shown promise. His tenacity in the blocking game will get him on the field and allow him to grow into a more precise and advanced route runner. As he develops into the system and hones his skill set while developing chemistry with Aaron Rodgers, he can serve as a solid #2 or #3 receiver. If the Packers end up running more 12 or 22 personnel with running backs and tight ends, you only have 2 or 3 receivers on the field anyways. Green Bay's need for receivers might be the hot topic of conversation, but Lazard is able to produce and has shown good chemistry with Aaron Rodgers. If he continues to develop alongside Devante Adams, the sky is the limit for a Packers offense that is otherwise full of top talent and is ready to push for a Super Bowl appearance.
If you liked this post make sure to subscribe below and let us know what you think. If you feel like donating and want access to some early blog releases and exclusive breakdown content or to help us keep things running, you can visit our Patreon page here. Make sure to follow us on Instagram @weekly_spiral and twitter @weeklyspiral for updates when we post and release our podcasts. You can find the Weekly Spiral podcast on Spotify or anywhere you listen.