Darren Waller has arrived. After overcoming difficulties in his personal life, he made sure the Raiders were rewarded for taking a chance on him by catching 90 passes and racking up over 1,100 yards. He had the 3rd most targets for tight ends at 117, the 2nd most receiving yards, and had the third best rate of yards per route run with 2.87. He's a physical monster. He can run with corners and is big and aggressive at the point of the catch. He's a tenacious blocker who can take on 1-on-1 assignments in pass pro and is more than willing to stick his nose into the run game. The Raiders offense would not be able to function at nearly the same rate as it did without him on the field. He's an incredibly versatile player and what may be worrisome for the rest of the league is that the former college receiver may only be at the tip of the iceberg as far as his potential.
Note: If you prefer to watch a video breakdown, scroll to the bottom of this article.
Darren Waller's work as a blocker is where it all starts. In pass protection, he shows surprising strength for a tight end and can be hard to root out on bull rushes and has good feet to protect against guys getting around the edge.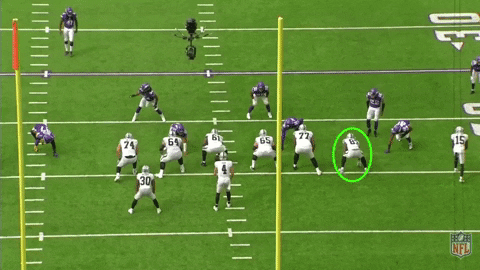 He has good hand usage and is constantly replacing and working to get into the chest of defenders. This allows him to maintain position, control the defensive end, and prevents holding calls which can pop up when guys grab outside on the shoulder pads.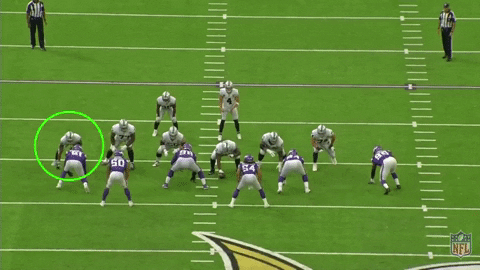 He understands pass blocking schemes and the Raiders even feel confident enough in his abilities to slide away from him at times and leave him in a true one-on-one with a defensive end. Here, the Packers are showing seven potential rushers but five guys on the line of scrimmage. The offensive line is sliding to the left towards the middle linebacker #50 Blake Martinez. That leaves five offensive linemen responsible for the five defenders to the left of Darren Waller. All protections want to maximize the number of 2 on 1s or 3 on 2s against the defensive line and slide protections help do that. As a consequence, though, Waller is left isolated against Preston Smith, who had 12 sacks on the year and is a legitimate pass rusher. Darren Waller is put in the hardest position possible because he is away from the slide. The running back is coming across to give help if needed but because Smith is lined up so wide, Waller has to kick outside to meet him. Smith has a lot of space for a two way go but the RB is responsible for any inside move. This frees up Waller to set more to the outside. Smith goes for the straight bull rush and you can see Waller constantly fighting for hand position. While losing ground, he is able to anchor enough to give Carr time to throw. Is it a perfect rep? No, but this is a tight end against one of the best defensive ends in the league right here and he holds his own just fine.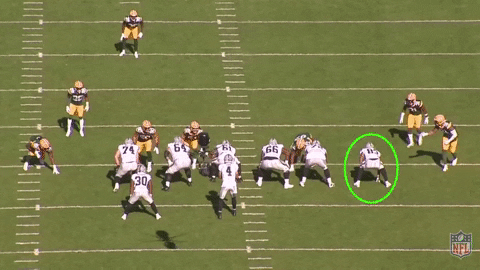 On some of their play-action plays where they're showing a split zone look, the Raiders will crunch Darren Waller across the formation to pick up the defensive end. Usually, they'll chip this end with a receiver or someone before he gets there, but he still eventually ends up in one-on-one situations against true pass rushers. The Raiders clearly have no qualms about him holding up in pass pro and it allows him to do a lot more things in that offense.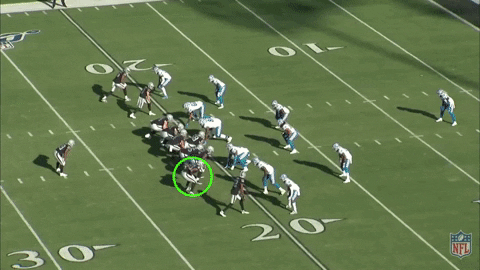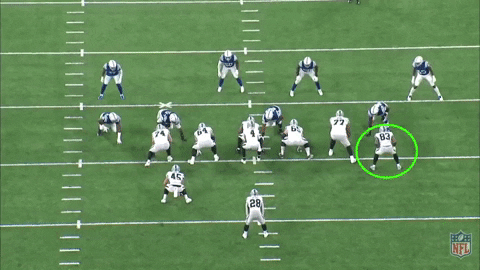 He did have some issues picking up stunts a couple times on the defensive line though. If the edge defender spikes inside, you've got to be aware that someone else is probably coming around outside and he was late with his eyes in picking that up. This isn't a great pass blocking rep for the left tackle either because he slides down to the linebacker which leaves Darren Waller alone with two defenders and he's late to pick up the inside stunt from the man lined up over Waller.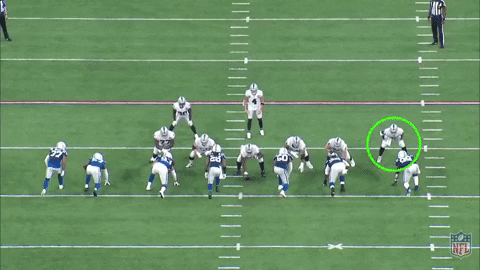 He can pass protect along with the best tight ends in the league but he's also very good in the run game. He moves his feet well, shows good strength, and takes good angles and adjustments when defenders move. The same crunch scheme we saw before is used a lot but instead of for pass pro, it's used to seal off the backside on split zone run plays. Split zone is just a zone running scheme but with the H back, Darren Waller, coming across the formation to seal off the backside end who is typically left unblocked. This allows for larger cutback lanes for the running back.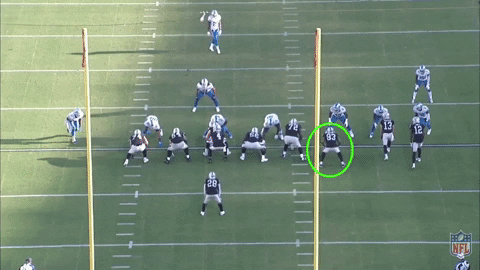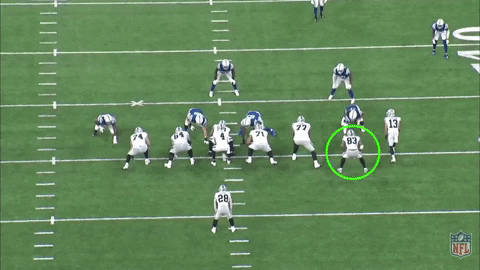 Just like he can pass protect, he can also block straight up on these run plays and work double teams with other tight-ends, handle frontside reach blocks, climb to the second level, and create movement at the line of scrimmage.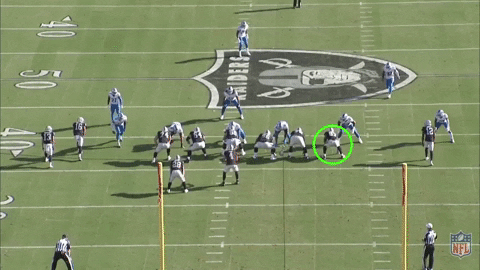 I'm talking about his blocking so much because one, the Raiders are a ball control team and believe in the run game and two, it really opens things up for him in the passing game. He's a legitimate threat in the run game and in pass pro so when he sells those on delayed releases or as part of the passing scheme, players have to respect that he will dominate them if they don't attack run first. He runs a lot of these delay release flats where he's lined up as if he'll handle the defensive end. He'll make good contact and then release into the flats. Often, it's enough to make linebackers drop away in coverage and he'll be sitting all alone for a yards after catch opportunity.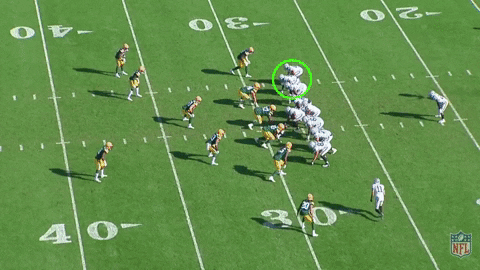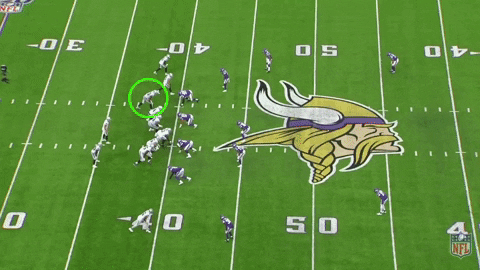 They also run him on those same crunch blocks that we saw for pass pro and split zone but now slip him into the flats after a hard play-action which gives him a ton of room to work with and keeps the defense honest.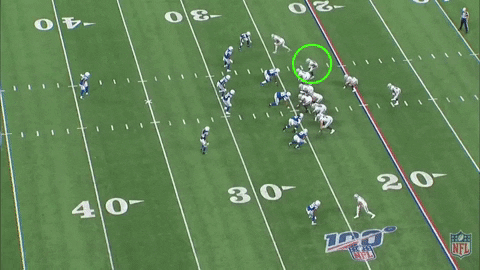 Honestly, he doesn't have to open himself up a whole lot. The scheme and his effectiveness as a blocker do that mostly on its own. The Raiders will split him out wide with relative frequency though and he's big, fast, and a matchup issue for a lot of teams. He's a natural hands catcher and has the speed to run with corners. A lot teams didn't even try to put a linebacker on him because it's such a clear mismatch.
Despite being a receiver at Georgia Tech, he really only has one consistent move. He loves to use foot fire at the top of his routes and he's incredibly good at removing defenders' hands when they try to jam him and slow him down. He's able to defeat jams incredibly fast and a lot of corners and safeties that guard him have a tough time slowing him down through his route. As soon as he feels contact from defenders whether it's at the line or during his route, he violently removes their hands so they can't slow him down or run with him while keying the quarterback.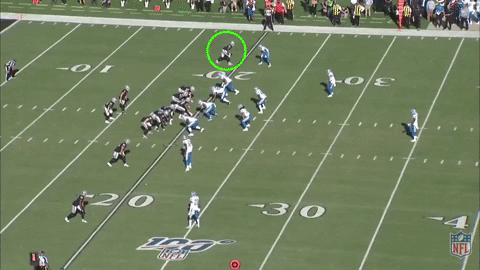 So if you jam him, you're ultimately just going to have to run with him because he's going to defeat it at the line of scrimmage, if you play off, he's going to work up onto your toes with his speed and give a foot fire before breaking off his route. It's his way of stopping defenders' feet while keeping himself and his hips pointed forwards or allowing him to breakdown and explode out of the cut instead of leaning into it at full speed.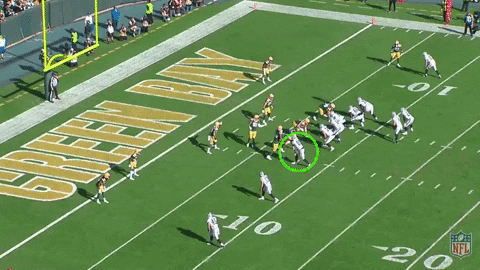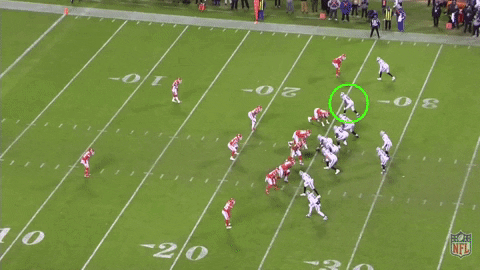 Here he shows one of his more polished routes that incorporate both his hand usage and foot fire but also add on a stacking technique into the route. On the snap, he receives an immediate jam attempt which he removes. He then fights to stack and get back on top of the defender by the top of his route. Once he's in that position, he's able to foot fire and the defender doesn't know which way he's going and it helps him get his feet under him for his break to the outside. He's physical, fast, and shows just enough route running nuance to open himself up when needed.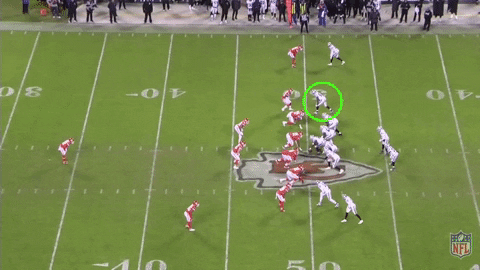 There shouldn't be any doubt of his physicality because of his blocking but if you're a smaller DB and you get caught up with him, things are going to end badly for you.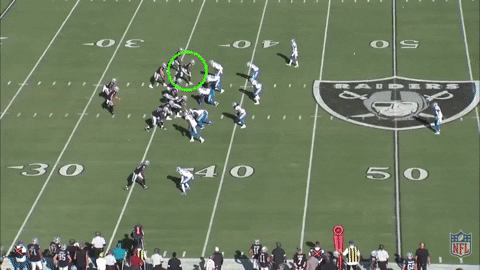 While the physical tools are definitely there and he has a few route tricks to work with, they're far from being an every down thing. He can sometimes mistime his foot fire steps. The foot fire only really works if you're up onto the defenders' toes. With too much space, they're not threatened by you vertically and have space to break on whichever direction the route is going.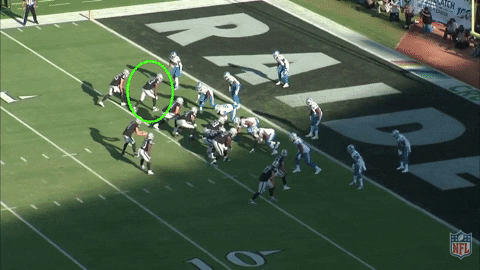 When he doesn't use that foot fire, he'll often show some body lean as he rounds into his routes which gives defenders easy keys to break on. He may be strong enough to create separation but he can also initiate it unnecessarily. He's fast enough that if he's not contacted he'll run right by you so fixing these things are the next step in his growth.
Darren Waller is so fast and physical that he really doesn't need any more tools other than his occasional foot fire and some route stemming. He blocks well, he can get open, and he consistently wins contested catches. The guy is a monster and soon we'll be talking about him in the same vein as Kittle and Kelce. The dude is that good. There are a few inconsistencies with his blocking and the Raiders would give him a running back to help chip most of the time but he adds so much versatility to that offense. He opens up the run game, provides a sure-handed outlet in Gruden's ball control offense, and can beat you deep with speed. He's everything you'd want from a tight end and with the weapons that Raiders now have, big things may be on the horizon in Las Vegas.
If you liked this post make sure to subscribe below and let us know what you think. If you feel like donating and want access to some early video releases and exclusive breakdown content or to help us keep things running, you can visit our Patreon page here. Subscribe to the YouTube channel here. Make sure to follow us on Instagram @weekly_spiral and twitter @weeklyspiral for updates when we post and release our podcasts. You can find the Weekly Spiral podcast on Spotify or anywhere you listen.