After a lackluster rookie season where Mike Gesicki had only 22 receptions for 202 yards, his sophomore year saw him earn the second most targets on the team with 89 and more than double his yardage total with 570 yards and 5 touchdowns. He showed progress in his route running and started to become a more physical receiver and was the 4th best TE at winning contested catches. While he is listed as a tight end, Gesicki is really just a big slot – one of the positions that more and more teams are adding to their arsenal. He can be impactful there but it does limit his versatility in the offense. Things may change with Chan Gailey as their new offensive coordinator, but in 2019 the Dolphins ran pass plays on 80% of the snaps where Gesicki was in. In part because he's a good pure receiver and in part because he was absolutely atrocious at blocking.
Note: If you prefer to watch a video breakdown, scroll to the bottom of this article.
Mike Gesicki shows flashes of good route running and when he can get up to speed, he's hard to keep up with as he does well on speed cuts and routes that don't require starting and stopping or huge change of direction. He can consistently torch linebackers in man but at times he struggled to out-physical smaller defensive backs when they covered him. His straight-line speed is impressive for guy as big as he is and as he works more release techniques and route nuance into his game, he's going to be tough to stop. Even this little stutter go where gives a small jab to the inside like he's running a slant can be enough to give him separation on linebackers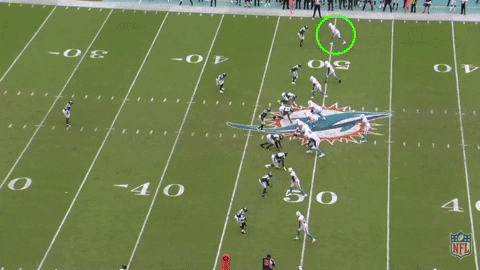 Through the season he showed a slow improvement at manipulating the leverage of defenders and working up onto their toes and then exploiting that leverage to get himself open. He gives some quick foot fire to hold defenders and is able to accelerate, lean and cut to the outside and create separation.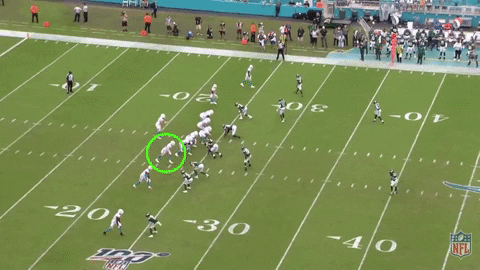 This foot fire stutter mid route once he gets onto defenders' toes is one of his best moves. It holds the defender and stops their feet while still allowing him to accelerate and use his straight-line speed. Here he even gives a head and shoulder nod which helps sell the slant and opens him up vertically.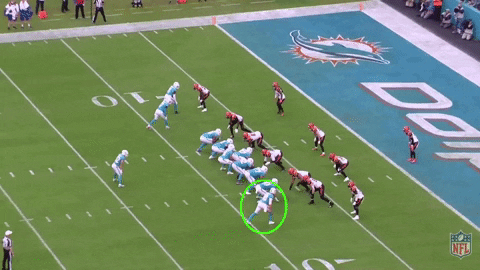 If you're flat footed or guess wrong as he gets to the top of his route he's too big and fast to slow down and he will 100% run right by you.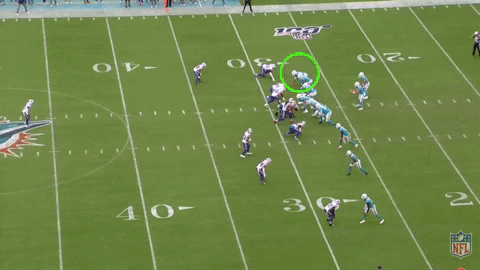 He also uses that speed to help him to stack defenders when they don't get their hands on him and try to run with him. Stacking means that you're getting directly on top of the defender in coverage. You're stacking on top and getting back on the line on which you originally started. This gives you a two way go at the top of the route and the defender is in a terrible position and often has to guess on your break. He does that here against the Eagles where he's taking a wide inside release to avoid the jam and then working to stack back on top as he cuts to the corner. This gives him leverage for any ball over the top and allows a bigger window for the quarterback because the defender is in trail position and can't look back for the ball.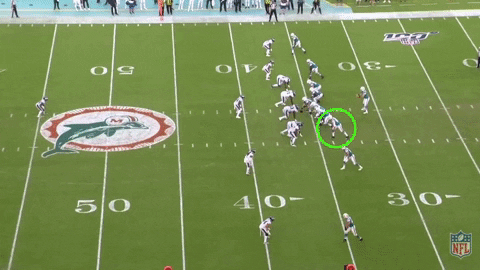 The problem is, he struggles with starting and stopping. So, on most of his routes he'll round into his cuts and use a speed cut technique to get to his landmark. It keeps him running full speed and doesn't make him break down and then speed back up. Especially against smaller or less athletic defenders, his speed cut is really effective and he can eat guys alive.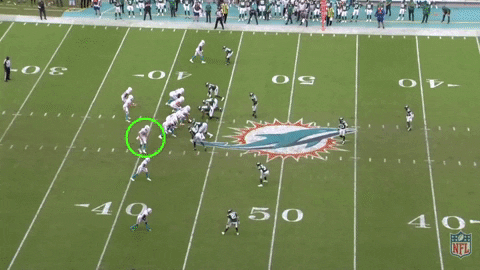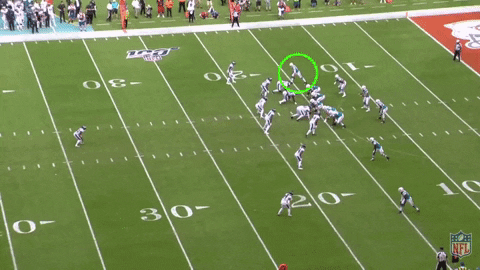 Since he struggles to start and stop, a lot of defenses started to jam and re-route him at any opportunity whether he was inline or split out and he was pretty awful at defeating it. He had really poor hand usage when defenders would attempt to jam and re-route him. Often, he ran right into the contact and when he gets slowed down, it's hard for him to start back up.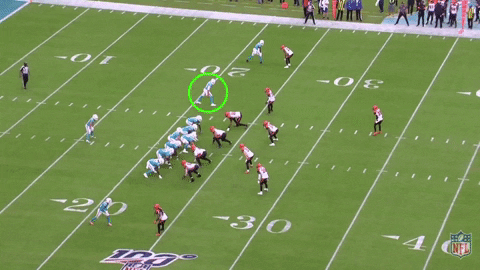 It really is tough to watch sometimes. For being such a big guy and for managing to win so many contested catches, he really is not physical in his route running. When he can get clean releases, he's fine, but when teams bump and run with him he starts to really struggle.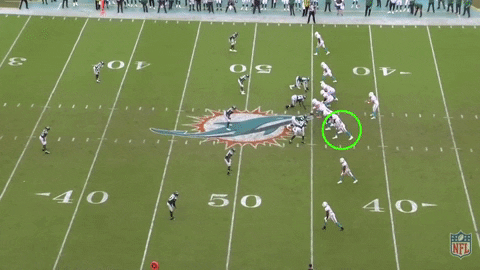 He really gets slowed down and without being able to threaten with his straight-line speed or speed cuts, he doesn't get much separation.
Because he isn't overly physical, he can also have some issues matching up with corners. They're fast enough to keep up with him and if he isn't going to overpower them, then he loses his advantage outside of being able to win a jump ball with his large frame.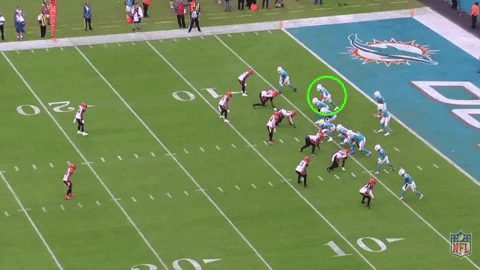 That being said, he is one of the best contested catch tight ends in the league. If you give him a 50/50 ball when he is covered or fighting for position, more often than not, he's going to catch it. And that's the power of having a guy with his speed and frame on the field. Sometimes even when he's not open, he's open.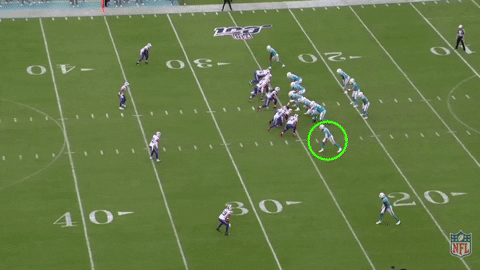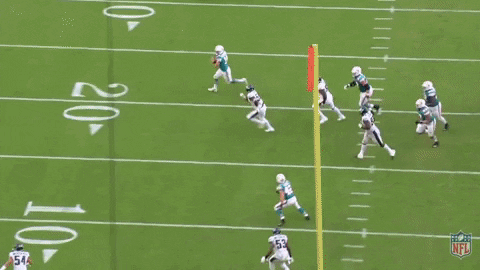 While winning contested catches is great, the lack of physicality really becomes an issue with blocking. His straight-line speed would be amazing on deep shots for play-action. The problem is… he can't block. So, he can't sell that he's in to block and keep the defense honest. As mentioned before, the Dolphins passed 80% of the time when he was in the game. And when they did ask him to block, it didn't go well. He plays with poor pad level, doesn't drive his feet, and gets blown off the ball – especially when he's playing in-line with his hand on the ground.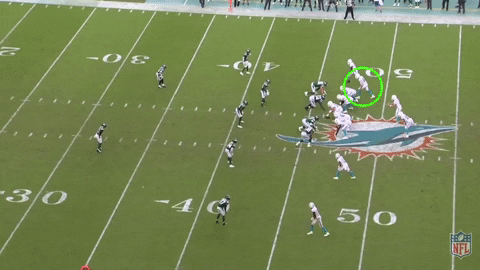 Even with corners he can have trouble because he'll take poor angles to the block or be unable to sustain long enough.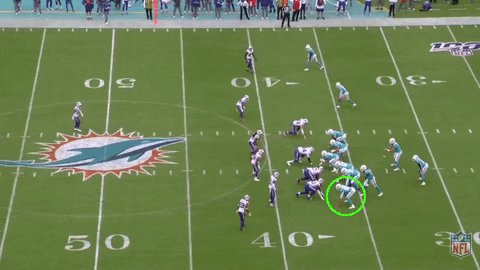 He can have a tendency to lunge at defenders and as mentioned before, that lack of foot movement and quickness gets him in trouble when he's trying to block just as it can in starting and stopping on his routes.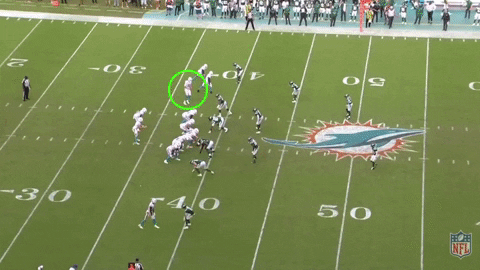 A sort of perfect encapsulation of him as an athlete is here where he runs right by the defensive back and wins on the route with a quick outside stem. It's a walk-in touchdown if he gets the ball. As a result, though, he's downfield for what would be a scoring block… and completely misplays it and allows the one defender that could make the tackle to make the tackle without Mike Gesicki even touching him.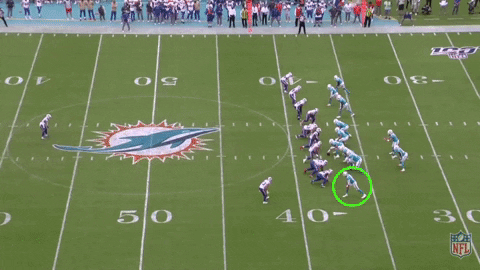 There are bits and pieces of his game that you look at and you think "this guy might be really good" he started to show more nuanced route running and releases like pulling his shoulder to avoid those jams that can give him trouble.
The Eagles and Jets respected him enough to line up Jamal Adams and Malcolm Jenkins on him through the bulk of their games and Mike Gesicki was able to win some routes on them – especially when they gave him cushion to protect against his speed.
Mike Gesicki has all the tools to be a great receiving tight end in the league. Even if the blocking never truly gets there, he has eerily similar combine stats and measurables as Jimmy Graham and he did just fine for years and was a huge weapon in New Orleans and early on in Seattle. What's exciting is his growth as a route runner and seeing him start to put together indications of physicality. The contested catches are the start. Using his body to create leverage and being more physical in his routes is the next step. Balance and consistency are what he needs and if Tua is down to give him more jump balls, the Dolphins may have a secret weapon behind DeVante Parker who can gash you over the middle, be too physical for corners, faster than linebackers, and bring some fireworks down to Miami.
If you liked this post make sure to subscribe below and let us know what you think. If you feel like donating and want access to some early blog releases and exclusive breakdown content or to help us keep things running, you can visit our Patreon page here. Make sure to follow us on Instagram @weekly_spiral and twitter @weeklyspiral for updates when we post and release our podcasts. You can find the Weekly Spiral podcast on Spotify or anywhere you listen.