IT'S 2021 NFL MOCK DRAFT SEASON!!!! Ok, maybe it's not quite yet but we're halfway through the season and we have an idea of how the draft order is going to look. In this exercise, we used Tankathon for the order and did not include any trades.
New York Jets- Trevor Lawrence, QB Clemson
The Jets need to rebuild this franchise BADLY. Luckily for them, they just so happen to have one of the best quarterback prospects of all time available to pick in Lawrence. I'm as big of a Sam Darnold fan as there is, but Adam Gase has ruined him completely and I think you can get a second-rounder in return if you decide to trade him. Not great, but good value. Let the new coach grow with Lawrence, who might just become a megastar with his talent and the fact he's playing in New York. You can turn this team around quicker than many would anticipate. Now, an interesting hypothetical: Does Lawrence pull an Eli Manning and flat out refuse to play for the Jets? I say no because he seems like a high character guy, but if 2020 has taught me anything, it's to expect the unexpected.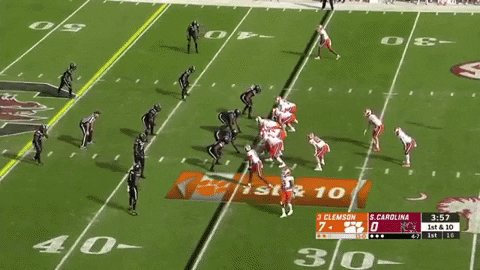 New York Giants- Penei Sewell, OT Oregon
If there's anybody that's going to be the second overall pick that is not a quarterback, it'll be Penei Sewell. Sewell might be one of the best offensive line prospects in the last decade or so and immediately becomes a starter at left tackle. Yes, the Giants did just draft Andrew Thomas last year but you can move him to the right side and have two possible dominant linemen to build your team around. Now, there is a good chance they draft a quarterback here and move on from Daniel Jones. However, it seems that the organization is behind him as the starter of the future. If that's the case, then he needs to be protected. Would I stick with Jones? No, but much smarter people than me are making these decisions.
Jacksonville Jaguars- Justin Fields, QB Ohio State
Many see Justin Fields as the consolation prize to Trevor Lawrence. Let's just make it clear right now, Fields shouldn't be seen as that as he is a bonafide stud. In most years, he's the top overall pick. But, this isn't most years. Fields still won't drop out of the top three. A phenomenal athlete, Fields is a perfect quarterback for today's NFL as he can move in the pocket and deliver an accurate ball. For the Jaguars, it seems like they aren't sold on Gardner Minshew as their guy. He has the potential I think to carve out a Ryan Fitzpatrick role for himself so there might be some trade value for him based on his age and contract. Still, an easy decision to move on from him if needed.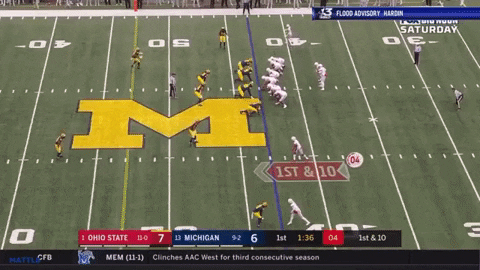 Miami Dolphins (via Houston)- Ja'Marr Chase, WR LSU
Just like last year, this year's wide receiver group is incredibly deep. There are probably seven or eight receivers who could possibly go in the first round, but Chase is by far the best in my opinion. Yes, both Alabama guys (Waddle and Smith) are impressing early, but they don't have the all-around polished game like Chase. As a sophomore, he had over 1700 yards receiver and 20 touchdowns. Yes, those are right and aren't from a video game. Anything you ask him to do, he can do it at a high level. Pair him with a young QB like Tua Tagovailoa and that's a deadly duo for the next decade. This is one of those dream draft fits that if it happens, could totally change the future of a franchise.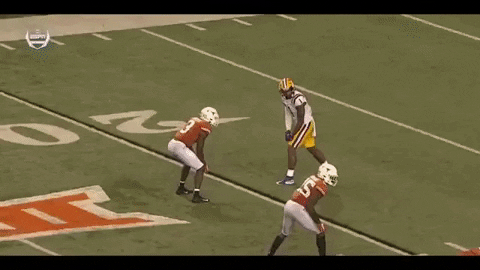 Dallas Cowboys- Patrick Surtain II, CB Alabama
The Dallas Cowboys have more problems than a math book right now, but a lot of those problems are on the defensive side. I don't see any way that defensive coordinator Mike Nolan keeps his job and who knows if Mike McCarthy will be around next year. But, at this point, they could really use a strong cornerback with high upside like Patrick Surtain II. Surtain II is a very good cornerback prospect and actually went second overall in Todd McShay's preseason mock draft. I don't know if he's a game-changer that'll become the best corner in his first few seasons like Jalen Ramsey, but he has a high floor and should be a multiple-time pro bowler that gets better every year like Stephon Gilmore. Also, I'm assuming that the Cowboys re-sign Dak. There's no reason to not lock him down, but knowing Jerry Jones, I guess anything is possible.
Atlanta Falcons- Gregory Rosseau, EDGE Miami
The Falcons might be in for a rebuild or they might look to retool. They are a tough team to predict because whoever their next coach is will have so much power and get to pick how they want to address the future of the franchise. Regardless of what happens, this team needs help on defense. In particular, the pass defense. Currently, they are at the bottom in passing yards allowed per game and have some decent young talent in the secondary, but need some help. One big way to help that secondary is getting pressure on the quarterback and in an edge class that has a decent amount of depth, there is only one true star and that is former Miami Hurricane, Gregory Rosseau. Rousseau is quite raw, only playing one season of college football, but dominated with 15.5 sacks in 2019. He lined up in several positions across the line and has the body type (6-7, 265 lbs) to become a star. He may take a year or two to produce like a top ten pick, but there's just too much upside at an important position to pass up.
Washington Football Team- Trey Lance, QB North Dakota State
There is almost no chance Trey Lance makes it out of the top five or six in my opinion, but no trades here! Washington needs a quarterback badly after raising the white flag on Dwayne Haskins. Enter Trey Lance, the biggest question mark in this year's draft. Blessed with all the talent and fortunate to have great success in a pro-style system, Lance comes from an FCS program and hasn't played the elite talents like the other quarterbacks in this class. Despite this, Lance does everything well and is a quarterback coach's dream. Washington might have to sit Lance out a season to develop but the long-term potential is there.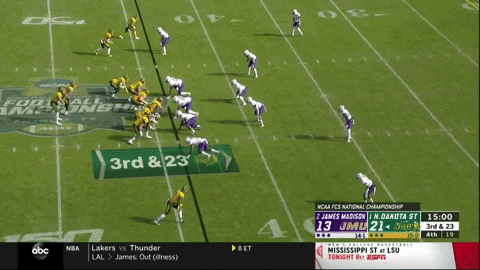 LA Chargers- Wyatt Davis, OL Ohio State
Wyatt Davis is an ass-kicker. That's the best way to describe him as every time you line up across from him, you know it's going to be a war for all four quarters. While guards might not be seen as a position of high importance in the draft, Davis is going to become one of the league's premier interior players very soon. The Chargers have their signal caller in Justin Herbert, great talent in Keenan Allen and Austin Ekeler, but need to find a quality offensive lineman or two. Davis is a positive step towards strengthening the trenches and finally getting some talent there for the Chargers. I considered a linebacker here, but getting an offensive lineman is a necessity.
New England Patriots- Jaylen Waddle, WR Alabama
Waddle was absolutely dominating the SEC until a nasty leg injury ended his season. He claims to be faster than former Alabama receiver Henry Ruggs, who ran a 4.27 40 last year. If that's true, then holy shit this guy might be the fastest guy in the NFL next year. Add that with good route running and strong hands and you have yourself a game-changer. I hope his leg injury doesn't have any setbacks and he's good to go for next season. The Patriots need offensive skill players, especially at receiver. Currently, they have Julian Edelman, N'Keal Harry, and a bunch of replacement players. Whoever is your quarterback next year needs playmakers and Waddle is exactly that.
MInnesota Vikings- Alex Leatherwood, OL Alabama
The Vikings need young talent in the worst way. They are stuck with Cousins based on his contract and right now they are kind of just depending on Dalvin Cook to win them games. What's one way to help their run game and also give time for Cousins to throw? Building a solid offensive line! Alex Leatherwood just so happens to be a tackle or guard prospect and plays in a premier conference in the SEC. While I think he can play tackle, which is where he plays at for Alabama, he's better in the run game than he is a pass protector at this point which might make teams want to kick him inside. For me, it doesn't matter. Just find a way to get him on the field.
Cincinnati Bengals- Samuel Cosmi, OT Texas
The Bengals need to find a way to protect Joe Burrow before he gets hurt. Seriously, you could argue they have the worst offensive line in the league. In a division that has elite pass rushers on every team, having good pass protection has to become a blueprint for your success. Cosmi does need some refinement, but he's athletic and has experience as a starter. He shows a mean streak when he's on the field and finishes every play he's involved in. Might be a case where you play him on the right side for a year or two before flipping him to the left.
Carolina Panthers- Dillon Radunz, OT North Dakota State
Matt Rhule seems to be building a contender in Carolina and have so far overachieved this season despite not having Christian McCaffrey for most of it. They took over what seemed like a massive rebuild and are remaining competitive this season, despite not having the talent like the other teams in their division. Right now they have Russell Okung lining up at left tackle and he's more of a temporary solution rather than a long-term guy. Many of you may have never heard of Radunz, but whenever you watch Trey Lance, you'll see how great his left tackle is. He's a mature player for playing FCS and while he might not have the upside like the previous offensive linemen, he has a high floor.
Detroit Lions- Micah Parsons, LB Penn State
If Parsons is on the board at this point, the Lions would sprint to the podium. The Lions swung and missed on Jarrad Davis in the first round, but Parsons is as good of a prospect as you'll find in this class. There's nothing he can't do and would immediately become one of the best players on this defense. Right now their defense ranks towards the bottom in passing and rushing yards with no immediate solution in sight. Parsons is a special athlete who can do just about everything. In reality, I don't see how he drops out of the top ten, but in this scenario, he falls right into the laps of a team in need of star power.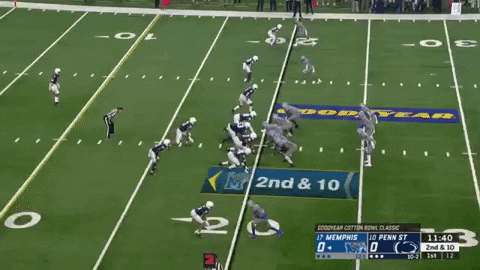 Denver Broncos- Caleb Farley, CB Virginia Tech
Farley has all the physical tools but lacks some refinement which is why I have him slightly below Surtain II. Farley reminds me a lot of Miami Dolphins CB Byron Jones in the sense they both have great size and athleticism for the position. Farley is still a work in progress and is new to the position, so the Broncos can rely on A.J. Bouye and Bryce Callahan next season as Farley continues to hone his craft. With the dynamic pass rush of Von Miller and Bradley Chubb, Vic Fangio's defense just needs corners who can cover for a few seconds, making Farley's job that much easier.
San Francisco 49ers- Shaun Wade, CB Ohio State
The next defensive star at Ohio State is Shaun Wade, who was once a top national recruit finally getting a chance to be "the guy" in Columbus. He was their slot corner last year and decided to come back for his junior year to prove he can play out on the boundary. As he continues to show that he can do that, teams can be patient with him knowing that that can put him in the slot year one and know he can do that at a high level. San Francisco has been decimated by injuries and will have a decent amount of free agents to try and lock down this offseason. Cornerback alone has three key guys (Richard Sherman, K'waun Williams, and Jason Verrett) and it's very unlikely they keep all three. Wade will inject some youth and skill to that position that they can develop into a starter.
Miami Dolphins- Creed Humphrey, IOL Oklahoma
Miami is trending in the right direction. For a team that at this point last season looked hopeless, they figure to be in the hunt for a wild card spot this year. Brian Flores is doing a good job of building that defense, mostly via free agency, and their offense looks solid despite not having the talent like other teams. One spot where I think they can help out a few facets of their game is an important but overlooked position, which is the center. The center is the quarterback of the offensive line and often the one making line audibles and calling out potential rushers. It just so happens that Creed Humphrey is an elite center prospect worthy of a high first-rounder selection. He's a multiple-year starter that's in a spread system, which is something we are seeing more of in the NFL. Help out Tua by giving him extra beef on the offensive line.
Las Vegas Raiders- Jay Tufele, DL USC
The Raiders are a tough team to predict here. Offensively, they are looking much improved and defensively have some young talent. Their secondary isn't performing well but they spent a first-round pick on Damon Arnette, a cornerback, last year. So, what else can help a secondary? A strong pass rush. They have Maxx Crosby and Clelin Ferrell, but need some pressure up the middle. Jay Tufele is a big fella in the middle of the defensive line and can wreak some havoc in a multiple ways. He doesn't have eye-popping stats, but he moves very well for a guy over 300 pounds and holds his own against the run. This is a high floor pick that will give the Raiders another stud on the line.
Chicago Bears- Kyle Trask, QB Florida
The Bears have one of the best defenses in the league, but right now their offense is just tough to watch. They've already given up on Mitch Trubisky and Nick Foles is a replacement-level player. Are they a QB away from being legit Super Bowl contenders? Maybe. They need another lineman or skill player, but a good quarterback can elevate the rest of the offense. Trask has helped his stock tremendously this year and has taken a Burrow-esque leap. No, he's not as good as Burrow but he has taken that leap to become a legit NFL prospect. I think he's ready to start right away and may not have the crazy upside like the top three, but is a safe option here.
Philadelphia Eagles- Dylan Moses, LB Alabama
Dylan Moses was a Youtube superstar before stepping foot on campus and has been a key player for the Crimson Tide's defense two of the last three years. He did tear his ACL in 2019 which may need extra medical pre-draft examination, but he looks to be back to full health this season. As of the Eagles, they are somehow on top of the awful NFC East and are picking this low for that reason despite their low win total. One of the main problems on this team is their linebackers, where I think they have the worst linebacker group in the NFL. Moses would come in as an immediate starter and provide a much-needed boost. 
Cleveland Browns- Kwity Paye, EDGE Michigan
The Browns defense is still a work in progress, but they do have one of the league's best players in Myles Garrett. The other pass rushers for the Browns haven't been as productive and starting edge rusher Olivier Vernon has zero sacks so far this season. I doubt he's back in 2021. So, it's time for the Browns to find Garrett a partner in crime and they do so here in freak athlete Kwity Paye. Paye hasn't had the crazy stats you'd like to see, but his athleticism is unmatched. Bruce Felman of the Athletic lists Kwity Paye has the #1 freak athlete in college football with his times in all agility drills being elite for a guy his size. His 40, 3 cone, shuttle, and vertical would have all been tops in the 2020 class for edge rushers and he's doing it at 275 pounds. That reminds me a lot of Ziggy Ansah as a prospect, a guy with immense talent that continues to learn how to be a football player.
Jacksonville Jaguars (via Rams)- Pat Friermuth, TE Penn State
Simply put, Pat Friermuth is a baller. His teammates have dubbed him "Baby Gronk" and the nickname fits him. He's already built like an NFL player and excels as a blocker and receiver. He doesn't have the crazy receiving yard totals due to the nature of the offense Penn State runs, but he has 16 career touchdowns to this point. The Jaguars grabbed Justin Fields as their QB of the future earlier and getting Friermuth would be a perfect compliment. D.J. Chark and James Robinson look like promising players and adding Friermuth to the mix would give Fields a safety blanket over the middle.
Indianapolis Colts- Zach Wilson, QB BYU
Philip Rivers obviously isn't the long term starter for the Colts, but it'll be interesting to see how they approach that position. Do they try to acquire Darnold or Haskins? Look to sign one as they have a ton of cap space? Or will they draft someone? I'm assuming the latter and the best QB on the board is Zach Wilson aka "The Mormon Manziel". He's exploded onto the national scene this season after struggling his first two seasons as a starter. He has the arm strength and athleticism that teams desire, plus excels when things break down around him. The Colts could bring back Rivers to mentor Wilson and help him learn the playbook.
Arizona Cardinals- Joseph Ossai, EDGE Texas
If you want to compete in the NFC West, you need to find ways to slow down the potent offenses. The Cardinals have one of the best sack artists in the league in Chandler Jones, but he tore his biceps and will be 31 next season. They need to continue to add to their talented defense, which is why they get Ossai here. Ossai is a workhorse who has a high motor, never giving up on a play. He's athletic enough to play 3-4 outside linebacker but will need some pass coverage coaching. He won't be drafted to play in coverage though, he'll be drafted to get to the quarterback.
Baltimore Ravens- Rashod Bateman, WR Minnesota
The Ravens are a team that really doesn't have a weakness. In fact, I think they have the league's best roster, but that might change in the near future as a big Lamar Jackson contract extension is probably coming. So, if you want to help out your franchise player you need to find guys who will make plays. They drafted Hollywood Brown in 2019, but he's a deep threat and to me doesn't really fit into Lamar's game. He wants guys who will get open in intermediate routes and can make plays after the catch. Bateman isn't fast like Brown, but he is a physical receiver who makes his money on breaking tackles.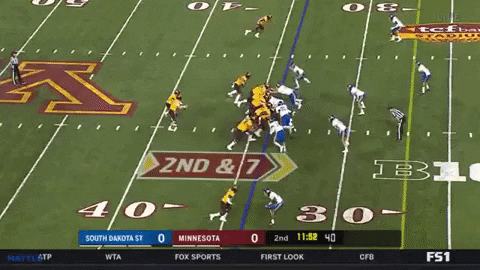 Green Bay Packers- Jeremiah Owusu-Koramoah, LB Notre Dame
I dream of a scenario where the Packers draft a wide receiver in the first round, but I also dream of winning the lotto. The Packers do have other needs though, in particular at middle linebacker. Their run defense is still weak and needs an athletic linebacker to play the run and still be able to cover tight ends. Owusu-Koramoah isn't a thumper and is a bit skinny, but he has great instincts and makes plays all over the field. If you can add another twenty pounds of muscle to his frame while keeping his agility, he'll be a steal at this spot for the Packers. A true three-down linebacker, he will make up with speed in what he lacks in size.
Tennessee Titans- Quincy Roche, EDGE Miami
The Titans went all in and got Jadeveon Clowney right before the season started, but he has zero sacks on the season. For the "But he gets pressures!" crowd, when you pay a guy thirteen million, you sure as hell better get some sacks. I don't see a scenario where he's back in Tennessee next year. Roche is a mature player, who is a bit undersized at 235 pounds, but uses that to his advantage with his quickness. He has experience with his hand in the dirt and standing up, which is perfect for the 3-4 defense the Titans run. I don't think he's the edge player with the most upside, but he's a solid player who should get between 7-10 sacks every year.
New Orleans Saints- Devonta Smith, WR Alabama
To be honest, I have NO idea what the Saints will do. They'll be about 80 million dollars over the cap for 2021, so will have to dump a bunch of contracts. It also looks like Drew Brees will retire after the season, but Sean Payton seems to love Taysom Hill, for reasons unknown and has Jameis Winston also in the building. With a team in such cap hell, I think they'll roll with one of those two or draft a young guy, but I think Payton favors a veteran as they want to win now. So, I'll give them the best player on the board, which is Devonta Smith. Smith doesn't wow you physically, but does the little things well. He's a good compliment to Michael Thomas, assuming he's still on the team next year, in the sense he is an excellent route runner and has strong hands. Smith may never become a star but will be a high-end WR2 for years.
Buffalo Bills- Kyle Pitts, TE Florida
Kyle Pitts is more receiver than tight end, but if he develops some blocking skill then watch out NFL. He's built kind of like New York Giants tight end Evan Engram but isn't nearly as athletic and is taller. However, he's a better all-around receiver than Engram was and is dangerous in the slot or split out wide. The Bills finally got Josh Allen a WR1 in Stefon Diggs, but a guy like Pitts can be used as a chess piece in what is become a great offense in Buffalo.
Tampa Bay Buccaneers- Marvin Wilson, DL Florida State
Marvin Wilson was a top-ten player coming into the year, but like most of the Florida State team, has been underwhelming so far in 2020. If you were a fan of Derrick Brown last year, you'll enjoy Wilson. He's a big-bodied defensive tackle who won't rack up the sacks, but often take up two blockers. The Bucs defense is one of the league's best, but Ndamukong Suh is a free agent and on the wrong side of 30. I think Wilson can play in a 3-4 or 4-3 defense and bring the fight to offensive linemen every snap. Pairing him with Vita Vea would give Tampa two large and athletic bodies in the middle of the line.
Kansas City Chiefs- Jaycee Horn, CB South Carolina
The son of Joe Horn has made quite the name for himself this season. He has all the measurables you desire in a corner and has the same swagger that his dad possessed. My favorite type of corner is the guy who will get in your face and play mind games with the offense, which is what Horn is. The Chiefs lack stability at the corner position and that or linebacker is what I was expecting them to address in the first round last year. You know your offense can put up points, so it's time to focus on building up the defense with your lack of cap space.
New York Jets (via Seattle)- Travis Etienne, RB Clemson
I'm sure Trevor Lawrence would love it if you could pair him with his college running back, who just so happens to be a first-round player. The Jets need talent so they could go almost in any direction and the pick would make sense. Etienne has developed into a pass catcher this year and has shown he can be a three-down player. He has the vision and wiggle you want in a runner, yet has shown he can carry the ball 20+ times a game with no problem. Rebuilding the Jets won't happen overnight, but if you get high character athletes like Etienne and Lawrence, you'll be in good shape.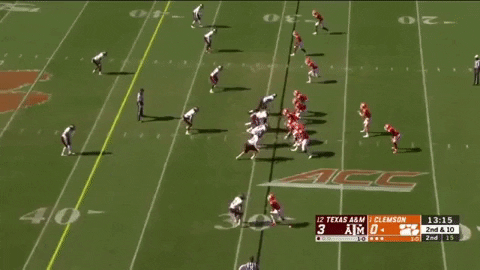 Pittsburgh Steelers- Trey Smith, IOL Tennessee
The Steelers have always been a team that prides themselves on being more physical than their opponent and that starts with the offensive line. DeCastro and Pouncey are two of the best in the league at their position, but the other three spots have some question marks. And while Trey Smith does have injury concerns, he is the prototypical Steelers player. A nasty interior lineman, who also has some experience at tackle. No one will out muscle him and he is built for the power run game. He did miss the 2018 season because of a blood clot issue in his lungs, which is very worrisome, so the team's doctors will have to pay extra attention to him.
If you liked this post make sure to subscribe below and let us know what you think. If you feel like donating and want access to some early blog releases and exclusive breakdown content or to help us keep things running, you can visit our Patreon page here. Make sure to follow us on Instagram @weekly_spiral and twitter @weeklyspiral for updates when we post and release our podcasts. You can find the Weekly Spiral podcast on Spotify or anywhere you listen.