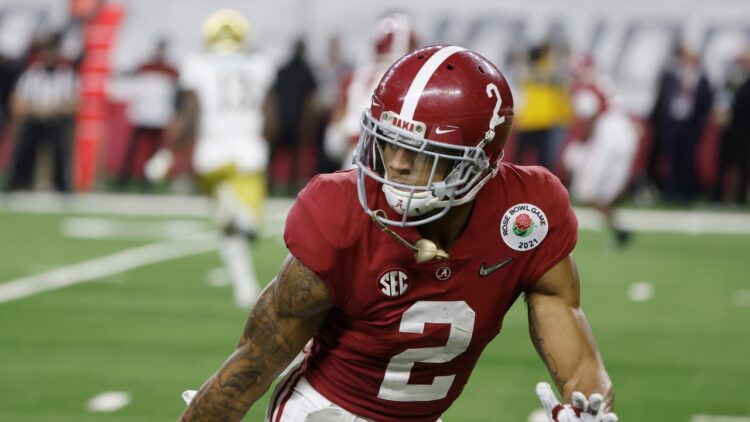 At the height of his career, Patrick Surtain Sr. was one of the best defensive backs in the league. For as great as his career was, he might not even be the best player in his own family after his son, Patrick Surtain II, is done playing. The 2020 SEC Defensive Player of the Year, the younger Surtain has dominated SEC defenses the past two seasons and is one of the few Alabama players as of late to say they started every season of their career. Surtain is my top cornerback in this class and figures to have a long and successful career.
READ MORE: Jaylen Waddle: The Flash
Positives
High IQ
You can see that Surtain is a second-generation player with the impressive IQ he shows out on the field. He has excellent timing on routes and reads the quarterback's eyes at all times. There are also moments where he knows the play before the snap. This allows him to blow up plays and kill drives.
As a blitzer, he disguises well and never shows his hand too early. Of course, you want your cornerback to be an athletic freak to keep up with speedy receivers. However, having a corner who knows the gamecan be just as impactful.
Physical in Coverage
Any receiver having to go up against Surtain is in for a long night. He never lets up and will be physical with you all game long. At the line of scrimmage, he slows down receivers and does an excellent job of re-routing them. Surtain does an excellent job of using his hands without holding.
READ MORE: Najee Harris: From the Bay to Bama
Sound Tackler
It'll be tough to throw screens or run at Surtain because he's an excellent tackler. He'll never turn away from contact and shows textbook technique. He does a particularly good job of shutting down check down passes to running backs and slowing down drives by making one-on-one tackles.
READ MORE: Dylan Moses: The Prodigal Son
Negatives
Speed
Surtain will have moments where he is overwhelmed by faster receivers due to his lack of speed. Since he keeps his eyes on the quarterback, he'll bite on pump fakes and allow a receiver to speed past him. Also, against shiftier guys he will try to trail them from behind and won't be able to keep up. Because of this, I think he is solely a boundary corner and won't be too effective in the slot. Being fast isn't the end-all and be-all as a corner, but it does leave you susceptible to big plays in a league that values speed more than ever.
Conclusion
Patrick Surtain and Caleb Farley are neck and neck for the top corner in the 2021 NFL draft. On one hand, you have Farley, an inexperienced, but uber-athletic corner. On the other hand, you have Surtain who is pro-ready but doesn't wow you physically. Personally, I value IQ and steady play which gives the nod to Surtain. I think he can step in as a rookie and play at a high level. A guy I would compare him to is former Alabama lockdown corner Marlon Humphrey. Should Surtain's career progress in that direction, he undoubtedly warrants a top ten selection.
READ MORE: Devonta Smith: Mr Heisman
If you liked this post make sure to subscribe below and let us know what you think. If you feel like donating and want access to some early blog releases and exclusive breakdown content or to help us keep things running, you can visit our Patreon page here. Make sure to follow us on Instagram @weekly_spiral and twitter @weeklyspiral for updates when we post and release our podcasts. You can find the Weekly Spiral podcast on Spotify or anywhere you listen.