Former New York Jet Sam Darnold has been traded to the Carolina Panthers. The Panthers gave up a 2021 sixth round pick as well as a second and fourth round pick in 2022. This tells us that the Panthers were ready to move on from Teddy Bridgewater after just one year in Carolina. Although Bridgewater was fifth in completion percentage at 69.1, he struggled with turnover-worthy plays. That is a concerning stat for a quarterback who plays like a game manager.
Read More: Carolina Panthers Team Needs: Run CMC
Is Darnold the guy?
With many mock draft experts believing the Panthers would trade up in this year's draft to secure their quarterback, the Darnold trade came as a bit of a surprise. This leads us to one big question. Why Sam? In his 3 years in the NFL he has a 13-25 record with 39 interceptions in 38 games. According to PFF, he has a 60.4 passing grade since 2018 which is last among all qualified quarterbacks. 
Darnold's film hasn't been inspiring, but it would be unfair to ignore the difficult situation he was in with Adam Gase as his head coach. Gase did not develop schemes that played to Darnold's strengths and failed to put talent on the field. The offensive line also allowed pressure in 2.5 seconds at the highest rate in the NFL last year. Panthers head coach Matt Rhule seems to have deemed the lack of support from a coaching and personnel standpoint as the reason for Darnold's failures.
Read More: Is Sam Darnold the Problem or the Answer?
Darnold vs Bridgewater
Teddy Bridgewater's stats show that he is an average starter in the NFL. However, he failed to close out games. The team was 0-8 in late game situations where they could tie or take the lead. Bridgewater threw interceptions in two situations and failed to convert the others by taking sacks or stalling drives with incompletions. In the last two seasons, Bridgewater is 2-10 in game winning situations. On the other hand, Darnold went 3-7 in game winning situations in his last two seasons. Darnold had more game winning drives with considerably less talent on offense. The sample size is small on both ends, but it gives us a picture of how Darnold can improve this team. 
Why it can work:
Joe Brady's System
Read More: How Panthers OC Joe Brady's Offense Uses Spread Concepts to Beat Defenses
Being paired with offensive coordinator Joe Brady may be the best thing to happen for Darnold. Brady says that his offensive philosophy is to find players strengths and use them to create mismatches. He will be key to Darnold's success. The strengths Brady can capitalize on will be Darnold's arm strength and his ability to throw on the run. Bridgewater's lack of arm strength led Brady to construct an offense focusing on crossing routes to utilize their receivers' speed. They used an aggressive spread attack that allowed them to run away from defenders and get open in space. Darnold's arm strength adds versatility to the offense and allows Brady to develop plays to attack defenses vertically. 
Darnold has also shown the ability to be accurate throwing on the run. He does have inconsistencies when there is pressure from blitzes, but Brady can utilize play action, RPOs, and boot plays to try to limit the pressure and slow down rushers. The talent on the Panthers is also an upgrade and is what will make the play action and RPOs effective. He reunites with Robbie Anderson and can utilize dynamic playmakers like Christian McCaffrey and D.J. Moore. Brady has already done a great job of getting them in space and barring any injuries they can lean on McCaffrey to take a significant amount of responsibility off of Darnold.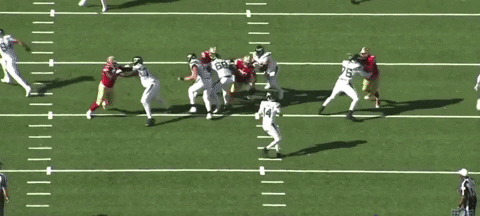 Coaching and Leadership
Sam now has a head coach in Matt Rhule who is known for motivating his players and keeping the locker room intact. Rhule will be great to help build Darnold's confidence and morale and has stated that adding Darnold was a significant piece in their rebuild process. That's a far cry from Adam Gase and the New York media.
Conclusion
The Panthers took a gamble, but are hoping they can receive a big reward. Darnold is still on his rookie contract and has a skillset the team can build on. His ability to move around the pocket, throw accurately on the run, and hurt defenses with his feet shows why the Panthers believe in his potential. Carolina can now add depth to the offensive line picking at eighth overall in the draft.  It is early, but the Panthers may be moving in the right direction to compete in a loaded NFC South.