Nick Saban is a heck of a coach. And he's got a heck of a coaching tree. His defensive scheme has trickled both up and down with high school teams now running variations of his match quarters system and more and more NFL teams basing out of two-safety shells. His influence on the game – especially at the college level – has been immeasurable. He has produced a laundry list of big-name coaches at both the college and NFL level. Guys like Kirby Smart, Jimbo Fisher, Jeremy Pruitt, Will Muschamp, Lane Kiffin, Jason Garrett, Dan Quinn, Mike Mularkey, Pat Shurmur, Steve Sarkisian, and many many more have coached under Saban. He is a fantastic recruiter and teacher.
Nick Saban's Cover 7 uses zone with man-match principles. At its simplest, the Saban defense creates rules to allow defenders to attach in man coverage based on depth of route and receiver alignment. What's more, no matter how many top tier players he loses to the NFL draft, his defenses keep on producing. It helps to have a string of 5-star recruits waiting in line, but that doesn't mitigate the fact that his defensive scheme is incredibly sound.
Saban has a ton of checks, adjustments, and calls based on unique formations and gameplans, but his base and core system is consistent. He uses two-safety shells and always works to have a +1 man advantage – as all defenses do. That means when there are three receivers to one side, he wants four defenders there to protect against it. A well-structured defense will always strive to have that man-advantage. So, let's dive into Saban's bread and butter and explain how it works.
The base of Cover 7
Apex
There are a couple of terms that will recur through the breakdown. These three terms are the most important: Apex defender, MEG, and MOD. The Apex defender is the first underneath defender inside of the cornerback. In a two-safety look, that means that there is one apex defender split out to the called strength (usually the passing strength) and one apex defender in the box. That box defender can be a linebacker, safety, or anyone else, but the apex defenders are both usually responsible for the #2 receivers. To keep things simple, even though there are a lot of other names for that box linebacker, we'll call them an Apex player.
MEG
We'll talk a lot about the Apex's responsibilities and they're a big part of the pass coverage for Saban's defense. MEG is a common term that tells the defensive players what type of coverage to run on a single receiver. MEG stands for Man Everywhere he Goes. So, no matter what, if a defender is in MEG, he is following that receiver regardless of where they go in the duration of the play.
MOD
MOD stands for Man On Demand and is the core of Saban's man-match system. In MOD coverage, the defender will only attach to the receiver if they run a route over five yards. If the receiver runs vertically five yards or less or goes inside within five yards, the corner will become a zone player and let that receiver transfer to another member of the defense. So, in a 2×2 set, which means there are two receivers on each side of the formation, if the #1 receiver outside runs inside and short, they will pass them off and look to bracket #2.
MOD is the base call for most of the quarters coverages that Nick Saban runs. When using MOD coverage, the Apex defender will take the first man to the flat. That includes the #1 receiver if they run a 5-yard hitch. Otherwise, they will have the #2 receiver if they run a quick out or bubble or the running back if they swing to the flat. However, they will always reroute #2 on their way to the flats if #2 runs vertically. Since the Apex defender is attaching to the flats and the corner could be attached to #1 vertically or dropping to their deep quarter, that leaves the safety to take #2 vertical.
If #2 doesn't run vertically into their zone and instead goes to the flats or runs a corner route outside, the safety will help bracket the #1 receiver or wait to collect anyone entering their zone. That leaves the inside linebacker to defend any #3 receiver that isn't covered by the corner, Apex, or safety. That's a lot to take in, so, simplistically, the apex defender has the first receiver to the flats and the corner and safety have the first vertical receiver to enter their deep quarter zone. The inside linebacker collects the #3 receiver and carries things vertically to alleviate stress on the deep defenders.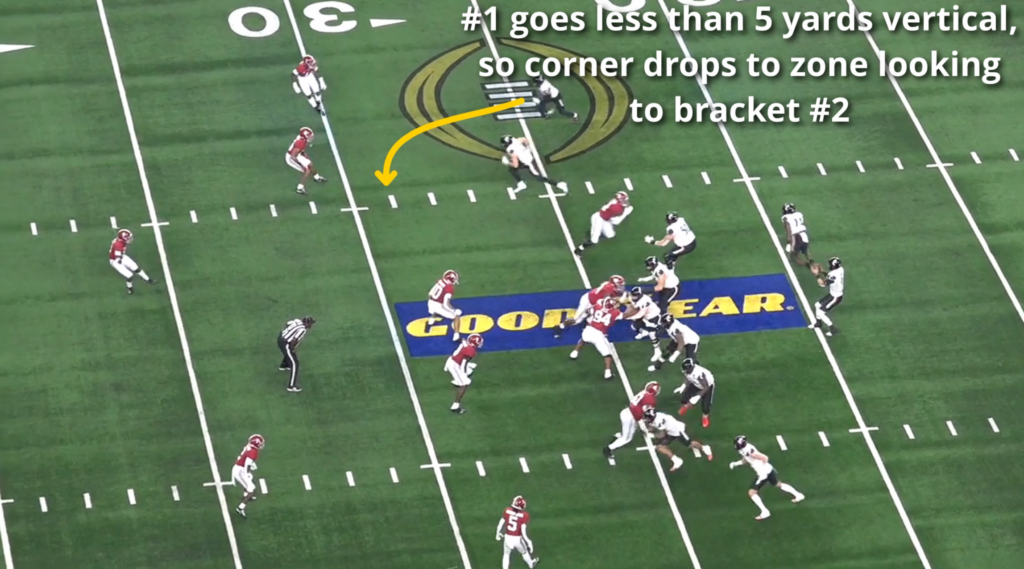 MOD is flexible enough to be called versus 3×1 sets or 2×2 sets. The base for everything in Saban's system is MOD coverage with a two-safety shell. Everything we'll talk about from here are variations in that scheme to give different looks, defend against different concepts, and create advantages for Alabama's defense. That means the defense may be in MOD coverage in its vanilla form to one side, and a triangle or box coverage variation to the other. Triangle coverage simply refers to three defenders over two receivers (creating a triangle) and box coverage is four defenders over three (creating a box). How those triangles and boxes are created are the different calls in Saban's system.
Cut
Cut is a coverage that Saban typically runs versus balanced 2×2 formations. In Cut, the cornerback traps the first receiver to go outside to the flats. It's essentially a variation of Cover 2 with pattern matching. Instead of the Apex having the first to the flats, it's the corner. In turn, the Apex will cover #2 if they go vertical. If #2 goes outside, they will look to bracket #1 from the outside. Using Cut allows Saban to prevent quick throws outside that may out-leverage the Apex defender. It can also can bait quarterbacks into making a throw right into a waiting corner.
Dealing with the backside of 3×1 sets
Defensive schemes really make their money in how they choose to defend 3×1 formations. They have to decide how to cover three receivers that can overload zones or create rubs and picks while still being able to defend against the single receiver on the backside. Saban has a number of solutions for 3×1 sets based on matchups and alignment.
MEG
We'll start with some of the ways that Saban defends the backside of 3×1 sets. The simplest is to have a MEG call for that player and let the corner take him one-on-one.
Dog
When Alabama needs help on the backside, Saban's most common calls are either Dog, Cone, or Tuff. Dog creates what is essentially a Cover 2 Man look. The corner will still be in man coverage on the single receiver, but he will play with a trail technique because he has help over the top with the weak safety. That allows him to be in better position for curls or comebacks because he doesn't have to worry about being beat over the top.
Cone
Cone is very similar to Dog, except with an inversion of the leverage from the corner. Instead of playing like pure man coverage where he takes away the inside, the corner will take outside leverage and create a high-low and inside-out bracket in combination with the safety. The safety will help protect the inside, and the corner can squeeze him to that direction for help. If that receiver runs a dig for example, Alabama will have the safety come down on it with inside leverage.
Tuff
Tuff, on the other hand, is a more unique way to defend the single receiver and involves the safety spinning down. The safety rotates down to take the curl/flat zone and attach to whoever is first to flats. That includes taking away the slant window from the #1 or covering a flare from a running back. Saban will either have his corner in MEG coverage, or have him invert and cover the deep 1/2 which creates a quarter-quarter-half or Cover 6 look.
Covering the frontside of 3×1 formations
Stubbie
To finish up, we'll cover two of the more common ways Saban defends the three-receiver side. In Stubbie, the corner will have press alignment and be MEG on #1. The Apex will be man on #2 except when #3 goes to the flats. If #3 is out, they will take them man-to-man. If #2 runs under and in, they will drop into zone and collect anyone in the hook/curl. The inside linebacker now will take the first player that goes under and in and match that crossing route. If #3 goes vertical, they will carry them to the safety.
The safety will take #3 vertical or bracket #2. The rules in trips can be hard to follow, so essentially the #1 receiver is removed in man coverage, and then it's just MOD coverage on the #2 and #3 receivers inside. That #1 receiver is usually the longest and hardest throw and is least likely to get targeted, so Saban is comfortable leaving them in single coverage.
Stump
Lastly, we have Stump. Stump is very similar to Stubbie. The only difference is that when the corner sees a quick hitch from the #1, they will give a Smash call to the Apex defender. That lets the corner slough off and get underneath the corner or vertical route from #2 or #3 and for the Apex defender to cover the hitch. It's essentially just MOD coverage out of trips and allows Alabama to defend against a specific route combination.
Final toughts
There are a ton more variations and adjustments that Saban makes, but those are the core principles he uses. He ties man coverage into zone schemes which allows his players to create tighter coverage without the downsides of zone overloads or rub routes vs pure man coverage. Saban is a master at teaching his rules and making sure his defenses are disciplined despite the turnover he experiences in personnel and coaching staff. His defenses continue to produce and help make him one of the best to ever do it.
Processing…
Success! You're on the list.
Whoops! There was an error and we couldn't process your subscription. Please reload the page and try again.