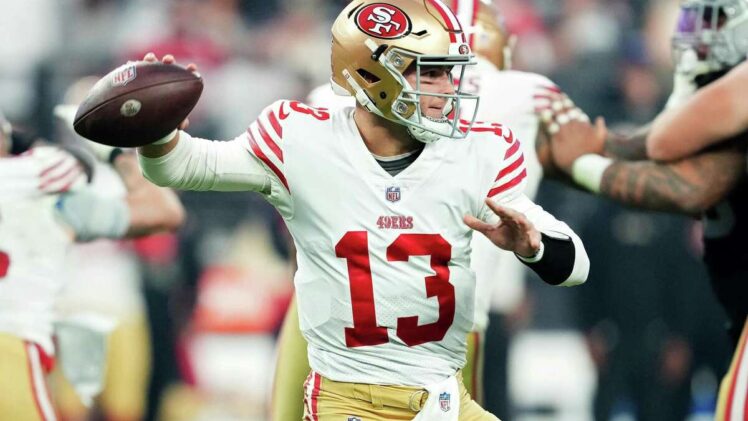 Brock Purdy is the 3rd quarterback to get under center for the 49ers this season. He has won four straight starts and has San Francisco sitting at the #2 seed in the NFC playoffs. While there are some rookie moments, there are also flashes to be excited about. He's finding ways to create with his legs and has been decisive in the rollout and quick game. He's in the bottom 10 quarterbacks in the league in intended air yards, but he's running the offense well and doing enough to move the 49ers forward.
Rhythm and Quick Game
As with most quarterbacks, Purdy is at his best when he is decisive and on rhythm. Shanahan has done a great job of using concepts that get the ball out his hands quickly and give him clear half-field reads. Purdy has started to develop and settle in to handle more involved concepts, but the quick game has been essential for him and his ball placement has been above average.
Reads
Here, the 49ers are running a quick game concept to the top of the field with a double post to the bottom. On the snap, the Commanders rotate their single safety down into the high hole to give a Tampa 2 look with their corners bailing to deep half. As Purdy checks reads quick game concepts, he spies that the safety has walked down, which leaves the middle of the field wide open. He stands and delivers a strike downfield before the deep half defender to the top can rally to make a play on the ball.
When Purdy is protected, he makes really good decisions and is an accurate thrower. He doesn't have the biggest arm, but he does understand leverage, timing, has good anticipation, and is athletic enough to make plays down the field. To be able to play at the NFL level, you have to be able to create on your own when plays break down. That's a big reason why San Francisco went and got Trey Lance, and it's one of the facets that Jimmy G lacks. Purdy won't gash you in the run game, but he will do enough in the pocket and keep his eyes up to take advantage of off-schedule plays and opportunities.
Pass Pro and Blitzes
Where a lot of young quarterbacks struggle to develop, is with pass protection and getting to their hot reads. Purdy is about halfway there. He has definitely gotten fooled with slot blitzes and new looks from defenses, but he has mostly been able to diagnose where pressure is coming from and where his outlet is to get positive yardage.
Rookie Mistakes
Along with the protection issues and diagnosing blitzes pre-snap, Purdy can have a tendency to stare things down. When combined with coverage rotations and disguised looks, Purdy has gotten fooled a number of times on dropback throws. When he's rolling out or keying a single defender, he's more than capable of moving the offense.
Purdy might not be a finished product, but he's got the 49ers cruising into the playoffs. He's making the plays that are available to him and showing progress week-to-week.