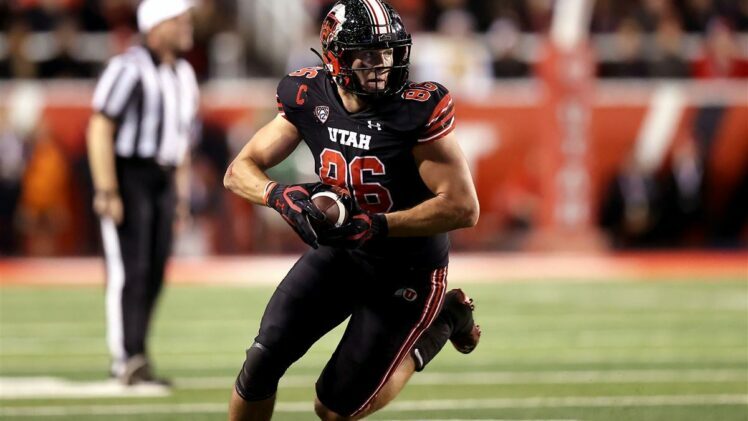 The 2023 tight end class might not have the absolute top tier, blue chip player, but there is a lot of depth in the group. Look for most of these players to come off the board on day two with one or two selected in the first round.
Dalton Kincaid, Utah
Kincaid is an excellent receiver with all the tools to produce in the NFL. He is outstanding tracking the ball and has shown the ability to win one-on-one. His functional strength limits him as a blocker. He would often get overpowered at the college level. That may be cause for concern depending on how teams want to use him.
Michael Mayer, Notre Dame
Michael Mayer has the tools to be a higher-echelon receiving tight end in the NFL. He has natural hands and the skillset to move the chains at the next level. He has some great contested catch ability, but is limited when trying to create separation. His body control and route running should allow him to make an immediate impact with a relatively low ceiling. Tight ends typically take time to develop in NFL systems, but Mayer is likely the most pro-ready of this crop of tight ends and could quickly earn snaps.
Luke Musgrave, Oregon State
Luke Musgrave might have only started a handful of games, but he is a tremendous athlete and has a good combination of size and speed. He's versatile enough to line up inline or split out. He can gash teams across the field and provides a vertical threat. While he won't move people when blocking, he does have the athleticism to climb to the second level, wall off defenders, and work effectively in a zone blocking scheme.
Sam Laporta, Iowa
Laporta is more of a conventional inline tight end that has tenacity in the blocking game. He can struggle to sustain blocks once engaged at times and hasn't consistently come down with contested catches, but he is excellent after the catch and can make people miss. He might be a little limited physically, but he's got the attitude and physicality.
Tucker Craft, South Dakota State
Kraft is an exceptional redzone threat with the ability to play physically at the catch point. He has an enormous catch radius and he's a powerful run blocker, though he has limited experience in pass protection. His technique is a little sloppy blocking at times and he will round his routes. He has mostly relied on athleticism to create production. He's likely to go later on in the draft around rounds three to four.