Tyreek Hill, one of the fastest if not the fastest players in the NFL has the ability to open everything up in the Kansas City offense. When Hill broke his collar bone early in the season, the Chiefs averaged five points less per game and somewhat surprisingly, their rushing average dropped from 103 yards a game to just 83 yards per game. With Hill's speed and big play capabilities, he forces defenses to stay out of the box in the run game and often demands double teams. The Chiefs use him in RPOs to hold safeties and linebackers, run him deep to clear out route space underneath for Kelce and other receivers, and use his speed in the running game to attack the edge and force defenses to flow and over-pursue.
Despite missing four games with the collar bone injury and the majority of a fifth game with a hamstring pull, Hill still accounted for 58 receptions, 860 yards, and 7 receiving touchdowns. Let's take a look at how Andy Reid uses Tyreek Hill to help create explosive plays, open up the run game, and allow the rest of the offense to operate with more space.
We'll start by looking at how Reid uses Tyreek to open up the run game. The schemes aren't wild or innovative, but are extremely effective. His ability to break open a game is respected by every defense he plays and as a result, he often demands double teams or extra attention. Here you can see a simple bubble concept off of a short motion while running outside zone the other way. You can see five separate defenders all take steps towards his direction and some even crash and commit to stopping the bubble. That's five defenders on three offensive players running the bubble. This gives the man-advantage back to the offense on the run with linebackers and safeties now out of position to offer help.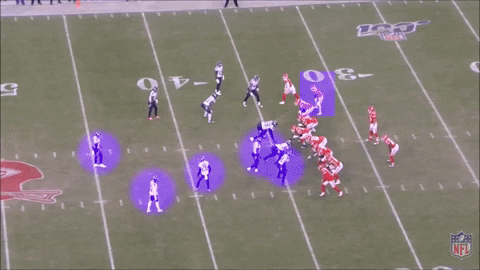 Here again is a bubble with Tyreek Hill out of a stacked trips formation tight to the ball. This bubble action takes four defenders out of the play and allows for more space in the run game. This is a big reason why the run game was hurt when Hill went out. Without that threat of speed, the defense dedicates less people to stopping the pass option of the RPO.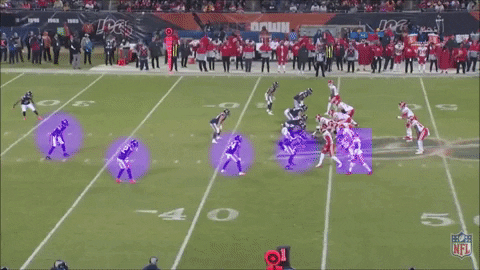 These RPOs are a staple of the Chiefs run game and consistently take away safeties and apex defenders who would normally help in the run game. As soon as these players start to crash on the run instead of guarding the pass, Mahomes would pull the ball and throw these bubbles or slants instead of handing it off. Theoretically, the defense can't be right and the offense gains a man advantage either way.
The Chiefs also love to use Tyreek Hill on jet motions or orbit motions to pull defenders out of position in the run game. With his speed, defenses have to honor the threat of the outside run because if they don't, he can turn the corner and get huge gains.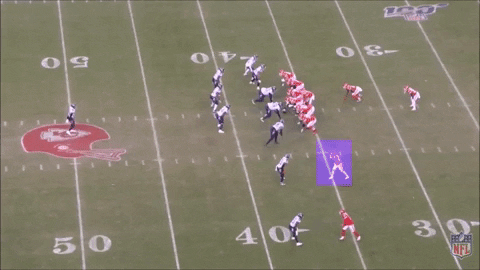 This action forces defenders to wait and diagnose, move out of position, or fill incorrectly. It also sets them up for play-action screens, or the eventual give to Hill once they stop flowing with the outside run action.
Here Hill is actually getting the jet sweep and winning the edge for decent yardage. If you hesitate for even a second, Hill is too fast to catch up to. Reid loves to run these sweeps and run plays from tight condensed formations which forces the defenses to stack the box and allows more space on the edges.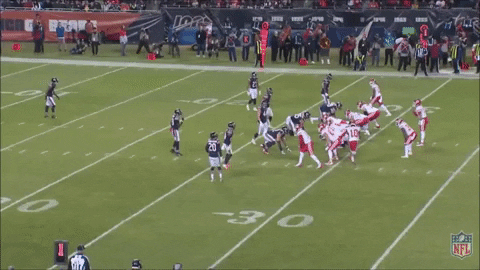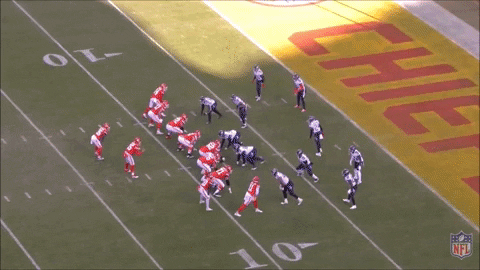 Reid isn't afraid to take a page out of other coach's books either. The below play is the same one that the 49ers ran with Deebo for a touchdown against Seattle late in the regular season.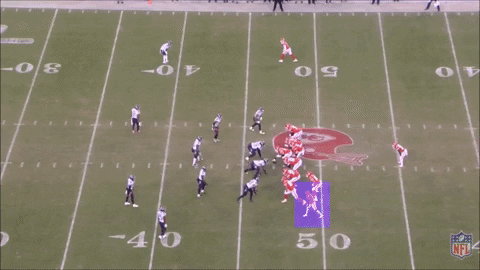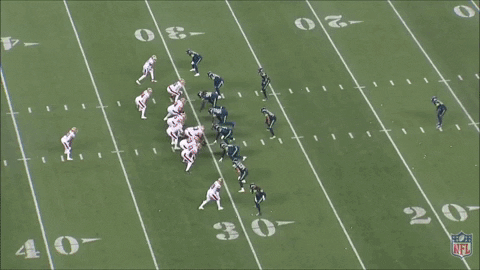 Now that we've established how Hill impacts the run game of the Chiefs and opens up lanes, let's take a look at his impact on the passing game – even when he isn't the one catching the ball. While incomplete, you can see in the play below how much attention Hill demands. The Bears are bracketing him inside and out in double coverage which opens up windows down the sideline and in the middle of the field. If Mahomes is able to drive this ball on a line to the fade down the sideline or check it down to Kelce in the middle of the field, there is a ton of space to work with because Hill has pulled three defenders with him in coverage.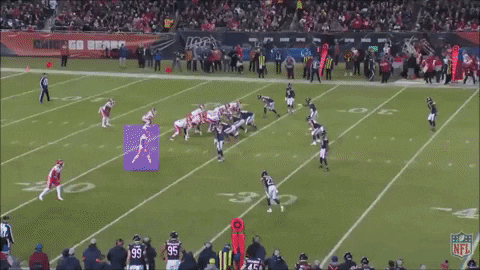 You can see here again how the speed of the Chiefs receiving corps allows space underneath to open up. By running them deep, there's a huge hole left underneath for Kelce to exploit.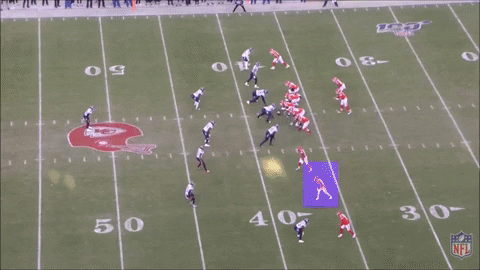 Since Hill is relatively small, he can have trouble with jams or physical corners. The problem is that if you miss, it can be very difficult to recover. As a result, the chiefs will often use him in stacked formations or motion him into plays to allow him to get a clean release. As soon as you don't respect his speed or allow him to run free, you're in trouble as a defender – especially without a safety to help.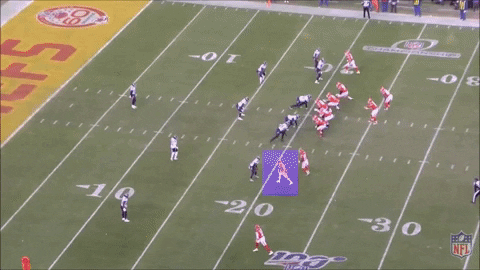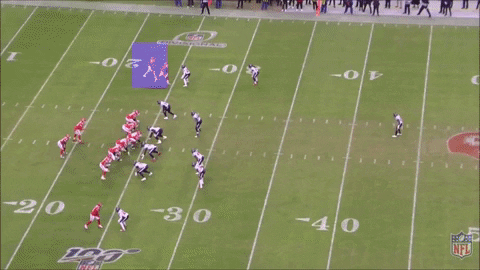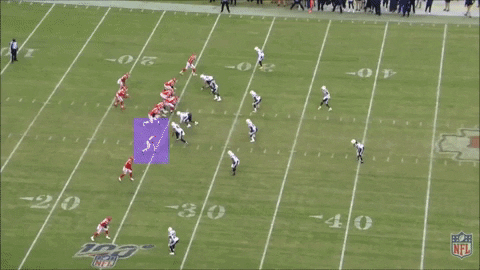 Kansas City also creates some rub routes for Hill to force defenders to either flow with him or transfer him off in zones which can be difficult with someone of his speed. If he gets matched up on a linebacker, there's no way they can cover him in the open field.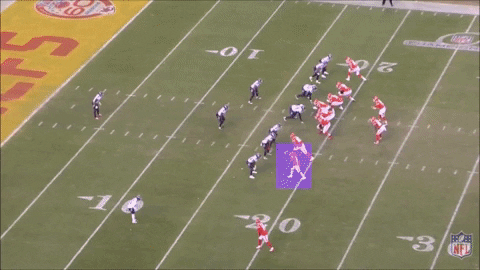 The Chiefs run Hill on these rubs or horizontal shallow drags a lot that allow him to use his speed across the field instead of vertically. This also pulls defenders up and can allow space behind it to open up. A common coverage to combat these shallow drags is to have a jump call and rotate safeties on diagnosis with the playside safety coming down to attack the shallow and the backside safety rotating back to deep middle. It looks like that's what's happening here with the #3 slot defender over Hill trying to rotate back but not getting enough depth. The corner that would normally carry the #2 slot receiver at the top of the screen falls down, the middle field safety flies down to the shallow drag by Hill, the rotating safety stays too flat, and the middle of the field is wide open for a touchdown.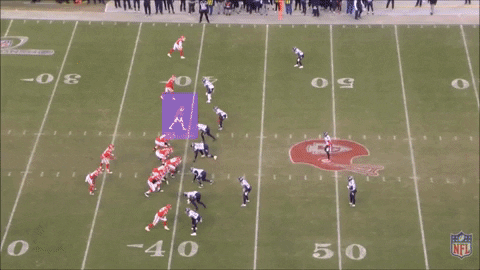 While Hill may not be touching the ball on every play, he is making an impact regardless. He's pulling defenders out of the run game, clearing out space for routes underneath, forcing defenses to adjust and defend his motions, and if they take one false step, Mahomes is good enough to find Hill on a deep shot to change the game.
If you liked this post make sure to subscribe here and let us know what you think. Make sure to follow us on Instagram @weekly_spiral and twitter @weeklyspiral for updates when we post and release our podcasts. You can find the Weekly Spiral podcast on Spotify or anywhere you listen. If you feel like donating to help us keep things running, you can visit our Patreon page here.
Follow My Blog
Get new content delivered directly to your inbox.
[jetpack_subscription_form show_only_email_and_button="true" custom_background_button_color="undefined" custom_text_button_color="undefined" submit_button_text="Subscribe" submit_button_classes="undefined" show_subscribers_total="false" ]