Daniel Jones, selected by the Giants with the 6th overall pick in the 2019 NFL draft only had to wait two weeks before getting the starting job against Tampa Bay in week three of the 2019 NFL season. While at times struggling with interceptions and fumbles (18 in 13 games), Jones put up a respectable 3,027 yards, 24 touchdowns, and 12 interceptions. Known for his deep ball accuracy coming out of college, his mechanics were very inconsistent in his first season in the NFL. While he's certainly not afraid to give his receivers a chance downfield, he completed only 30.4% of his deep ball attempts which ranked him 28th out of all QBs (Player Profiler, 2020)
When throwing on rhythm with clear reads, running play-action, or moving out of the pocket, he's shown exceptional arm talent, quickness in his release, and decisiveness. His QB rating when running play-action jumps up to 112.0 from his normal drop back rating of 82.9. Perhaps most illustrative of his effectiveness when throwing quickly and decisively is his completion percentage and interception rate when throwing within 2.5 seconds. When under 2.5 seconds he has a 67.07% completion rate and 13 touchdowns to 4 interceptions. When holding the ball longer than 2.5 seconds, his completion rate dropped to just 55.71% and he threw 11 touchdowns to 8 interceptions.
When his first read doesn't develop, he can tend to pat the ball and his mechanics can get shaky. While only throwing 12 interceptions, he had 29 total interceptable passes on the season in addition to his 18 lost fumbles (Player Profiler, 2020). That being said, he suffered from a number of drops from his receivers and the Giants' premier players being in and out of the lineup due to injury.
As the season progressed, Jones was able to move through progressions more quickly but would still tend to hold the ball longer than necessary to confirm that receivers were open. His footwork was clean and he consistently threw from a good base and had a lot of other encouraging flashes when he threw decisively and on time. Granted he will be in a different system next year under new Head Coach Joe Judge, but let's take a look at what Daniel Jones does well and what he may need to clean up going into his first full year as a starter for the New York Giants.
We'll start with some of Daniel Jones' rhythm throws, his footwork in the pocket, and his decisiveness on the underneath throws and while moving out of the pocket. Daniel Jones absolutely loves hook flat concepts. He's incredibly decisive and efficient in his footwork and release when reading these concepts. These plays put the defender covering the flat in conflict and Daniel Jones reads off of their movement. If the defender covers the flat, he throws the hook and when the defender stays with the hook, he throws the flat. You can see how quickly the ball comes out with limited wasted movement and allows for an easy pickup of 9 yards.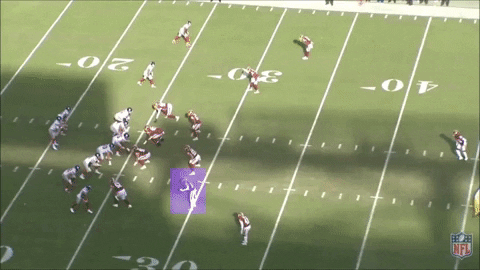 This general concept came up again and again in the Giants' offense. If the flat defender hesitates or takes a step to the flat, Jones immediately hits the hook behind him for a completion. It's a super simple and effective read and gets the ball out of Jones' hands very quickly.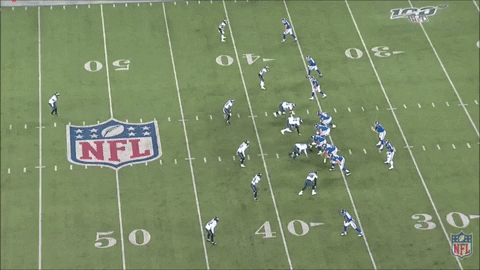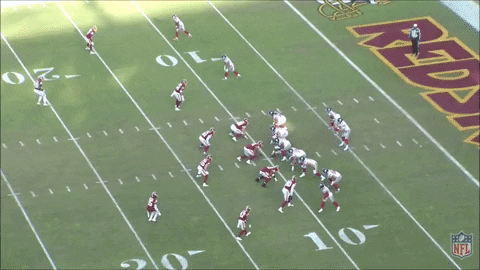 Whenever Jones can isolate one defender and read off of their decision he is much more decisive and as a result, much more accurate. Here's an example of Jones reading all verticals and keying off of the outside linebacker. As soon as the linebacker (highlighted) drops off the seam to pass it off to the safety, Jones drives the ball into the open window.
Here is yet another seam ball, this time off of a slightly different concept. As soon as the safety at the top of the screen (highlighted) goes with the deep dig from the #3 (inner most receiver), that opens up the window for the #2 receiver on the seam since nobody is now protecting the inside. All Jones has to do is read the safety and throw off of his movement.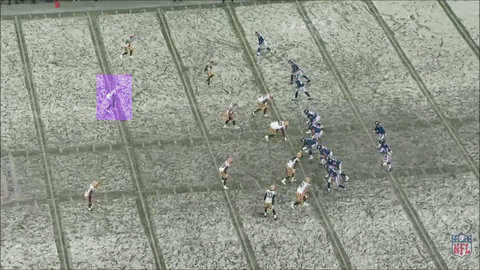 Below he does a great job of diagnosing the blitz and throwing to the now vacated zone. With the corner blitz, the outside linebacker has to fly to the zone that the corner is leaving which opens up yet another zone down the seam where that linebacker would have normally been. The Eagles here are actually trying to bait Jones into throwing an interception on those hook routes that he loves to throw by dropping both of their defensive tackles into that area. The Giants instead call up a play with all verticals and Jones sees this and hits the seam in rhythm for a big gain.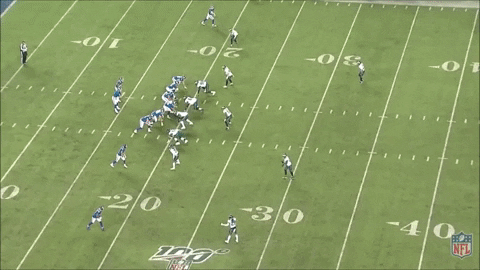 Jones also excels while throwing on the move and outside the pocket – especially if he can key off of one defender like we just talked about. Here, with pressure in his face, the Giants run a flood concept with three routes at three different depths on the field. The Packers are playing man so as soon as Jones comes out of his play-action fake, he looks to locate the defender who would cause danger to throwing the over route from the right side of the field. When he sees nobody underneath it, he knows he can confidently throw it with the receiver having beat #38 Tramon Williams across the field.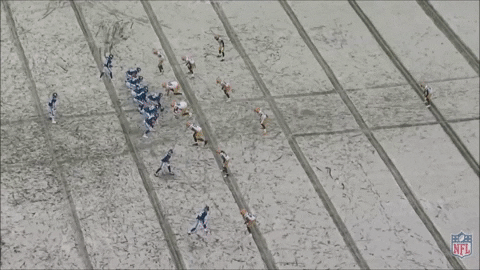 Here he escapes from the pocket and throws an absolutely perfect ball against a defender whose back is turned to him. In this scenario, the defender is only covering the width of his shoulder pads so Jones gives his receiver a great ball right over the head of the trailing defender.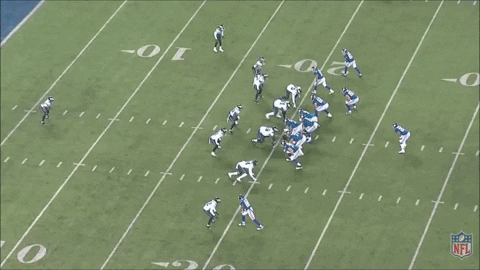 Here's yet another throw while moving in the pocket and under duress where he throws a perfect ball to a tightly covered receiver.
Despite Jones' ability to make all the throws when he's decisive and given simple reads, he also has a penchant for poor mechanics and holding the ball when he doesn't initially see something he expects or has to go to his second read. His bad mechanics especially show up on his deep balls. Despite being known for them in college, they are shockingly inconsistent at the NFL level. He routinely falls away from throws, over-strides, and dips his shoulders, causing a ton of vertical inaccuracy on his deep ball throws.
You can see below how he is falling away from his throw, is off balance, and dips his shoulders at the end. This causes the ball to sail on him, reduces the amount of power and control he can generate, and causes the ball to go incomplete.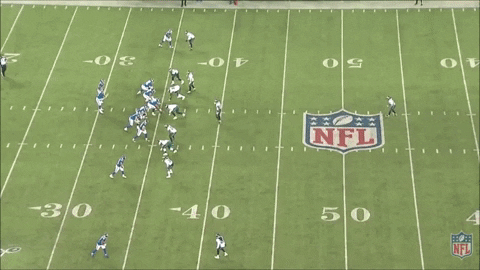 Here again he is leaning backwards when throwing deep and significantly underthrows a wide open receiver for a touchdown. If you watch a couple times you can see that he also pats the ball before throwing. On his first pat, he sees that the receiver is open. The ball needs to be out of his hands right then. The longer he holds it, the more time the safety has to close, the greater opportunity for a sack, and the more difficult and further the throw becomes.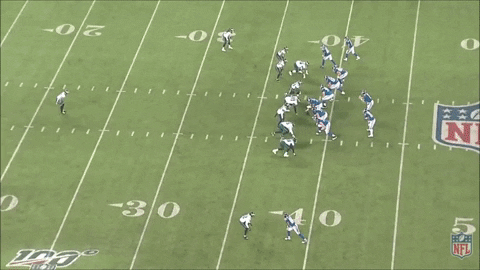 Here is another bad underthrow where he doesn't get his hips all the way through and is off-balance during his throw.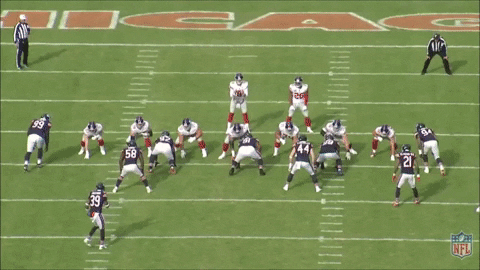 This last one is equal parts Daniel Jones and the receiver taking an inside track, but you can see the same issue of falling away from his throw and being off-balance.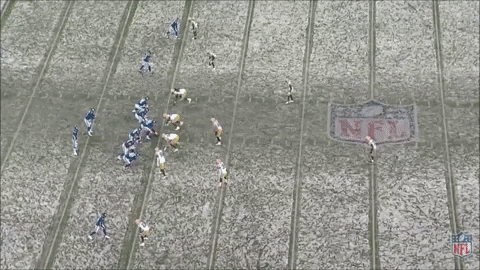 As mentioned before, he also tends to pat the ball when receivers are clearly open. Instead of throwing on time and with anticipation, he double clutches which reduces the speed at which he can release the ball and indicates indecisiveness on the read. Here you can see him clearly stare down the curl to the outside and pat the ball – allowing for the window to throw to close — before checking it down to a receiver in the flats for no gain.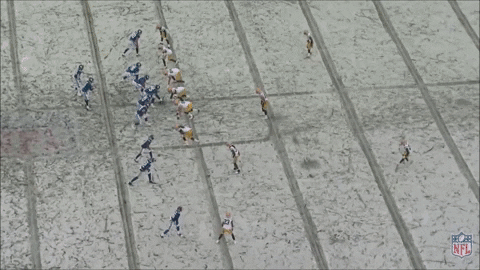 Even on completions he has this issue of double clutching and patting the ball. It's not the end of the world, it just causes him to be late on throws and has gotten him into trouble with interceptable balls.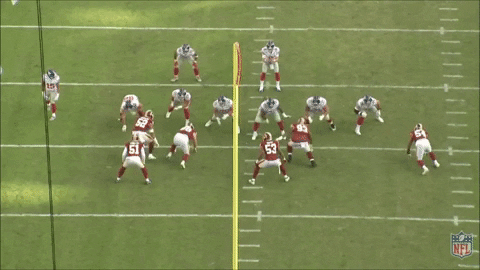 While Daniel Jones has definitely shown signs of being an above average quarterback with his ability to make impressive throws and make basic reads, he has also showed signs of being a rookie as well. His reads were simple and when the first option wasn't there he could often hold the ball too long, make bad decisions, or have shaky mechanics. However, on the flip side, when plays broke down and he had to move around in the pocket or escape, he seemed poised, at ease, and made some really impressive throws. He's got the tools to be good, but he especially needs to work on becoming more consistent with his deep-ball mechanics – which could have been influenced at the end of the year by his ankle injury. As he becomes more comfortable with NFL systems and plays and starts to be more decisive with his reads, he should blossom into a solid quarterback for the Giants. I'm not convinced that he will ever be considered an elite or upper tier quarterback in the league but with pieces around him he can succeed. If Joe Judge can get him into a scheme that matches his skills of moving around, throwing on play-action, and giving him clear reads, he can lead the Giants just as Eli did and take them on deep playoff runs.
If you liked this post make sure to subscribe here and let us know what you think. Make sure to follow us on Instagram @weekly_spiral and twitter @weeklyspiral for updates when we post and release our podcasts. You can find the Weekly Spiral podcast on Spotify or anywhere you listen. If you feel like donating to help us keep things running, you can visit our Patreon page here.