While the Cowboys may have underachieved this past season, Dak Prescott threw for highs in yards (4,902), yards per attempt (8.2), and touchdowns (30) in his contract year. He didn't get the long-term contract that he wanted, but he did get a one year, $33 million franchise tag while the Cowboys try to figure out a deal for the quarterback. His legs make him dynamic and he thrives in clean pockets with the ability to make all the throws you could ask for. He can throw deep outs from the opposite hash, has a solid deep ball, and when he throws in rhythm he can dice up defenses. While he has all the physical tools, at times he can lock onto receivers, take extra hitches that make him late on throws, and can struggle with over-striding in his throwing mechanics which causes some inaccuracy. Is he worth a big contract from Dallas? Let's check out the film and find out.
Note: If you prefer to watch a video breakdown, scroll to the bottom of this article.
Dak's legs definitely add an element to his game that not every quarterback has. He's a surprisingly powerful runner and can absolutely make defenses pay – especially in man coverage when they turn their backs to him.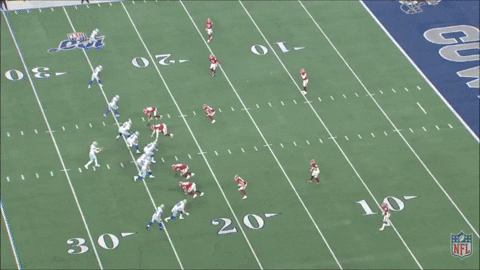 Although rare, the Cowboys even call zone reads and trust him to get chunks of yardage off of it. Here he's reading the defensive end. If he comess straight down the line of scrimmage, Dak Prescott will pull it and run around him to the outside. If #90 goes vertical and sits on the edge, Dak will hand the ball off to the running back. The left tackle does a great job of taking his zone steps and getting a piece of the linebacker #55 and Dak is able to take advantage of the space and get an explosive play on the ground.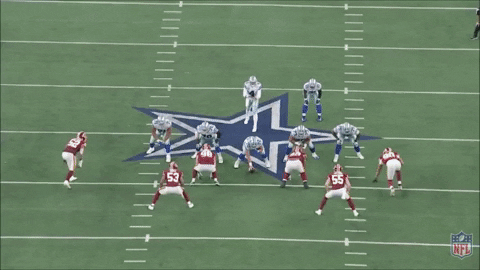 Combine his ability to run with his arm talent and you've got a pretty dynamic quarterback. Whether he's getting tackled or driving the ball in a clean pocket, he's capable of making some really impressive plays. He can create both in the passing game and in the run game by using his legs.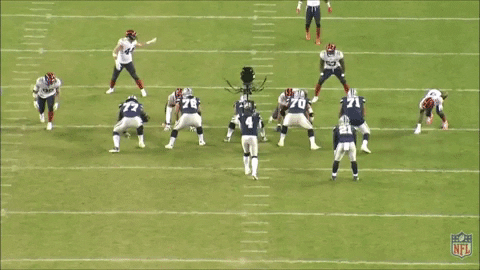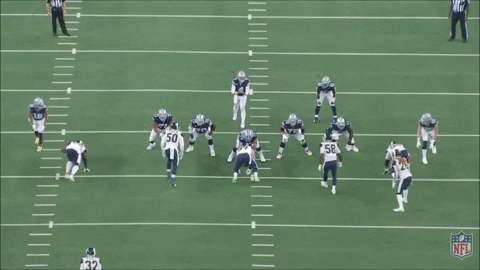 Below he shows anticipation and arm strength by throwing the deep out route to the sideline from the opposite hash.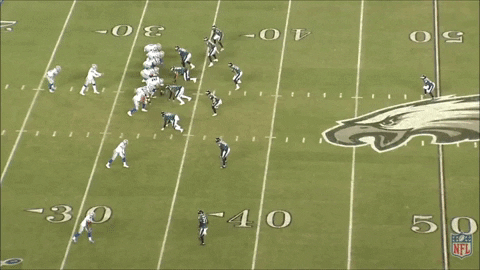 He also does a generally good job of diagnosing coverages and changing the velocity of his balls to fit them into windows. Below he reads Cover 2 and fits the ball into the honey hole down the sideline between the corner in the flats and the Cover 2 safety over the top.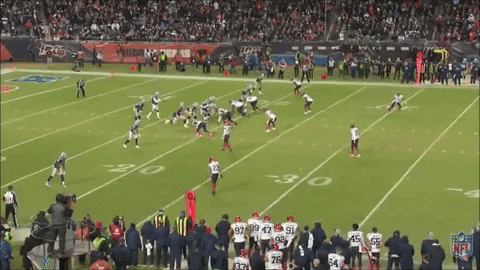 He also does a great job when throwing on rhythm with only one or two hitches. He becomes more accurate, is able to read defenses quickly, and find open areas in zone.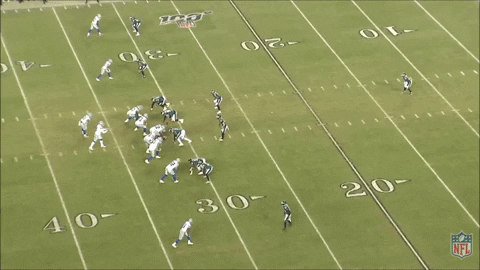 Dak Prescott has shown the ability to be a top tier quarterback. The issue is he can struggle with consistency. While in the previous gif of hitting the honey hole, he saw the rotating safety and threw an appropriate ball, in this next gif he does the opposite. He misses the safety rotation into Cover 2 from the Rams (top of the screen) and throws a ball that has too much air under it and really should be intercepted along the sideline.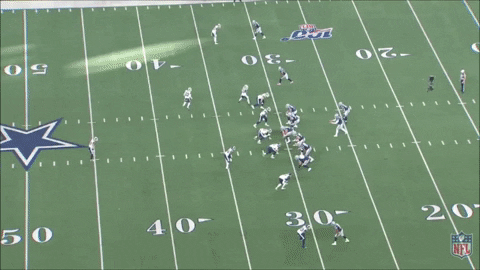 He also has a huge issue with over-striding on his throws. Over-striding creates a base that is too wide and happens when his lead foot extends out too far when he begins his throwing motion. This really limits his ability to rotate his hips, generate power, and throw accurately. You can try it at home yourself and over extend your non-dominant leg and try to get your hips to point forwards over your toes. You can't. Now if you tighten your base to just outside shoulder distance, you can get full rotation of your hips and get them pointed forwards. You can see below just how wide his base is on his throw, causing him to be unable to rotate his hips fully and leave his back foot as he throws which causes the ball to die on him and go into ground in front of the receiver.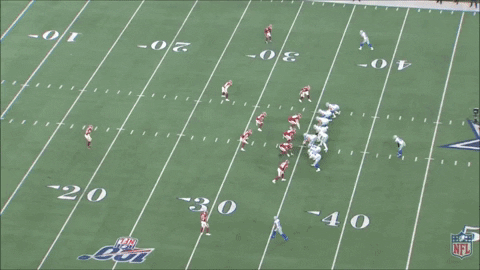 You can see from behind now what it looks like for him to be unable to get his hips fully into the throw. He can't bring his back leg all the way through on the follow through and is off balance and falling back onto his right foot after completing his throwing motion. All this causes the ball to be low and behind the receiver.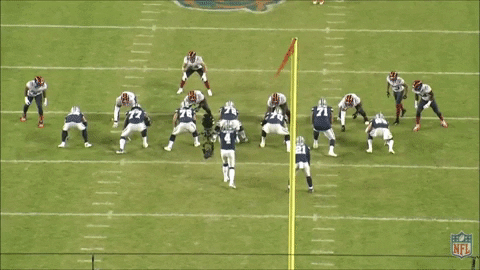 He can also have a tendency to stick on his first read a lot. I'm all for taking the shot below when you see man coverage on one of your best receivers in Amari Cooper, but the corner plays it well off the line and is in his hip pocket. Then Dak Prescott throws the ball out of bounds anyways. If he instead came off that read after Cooper didn't win the route immediately to find Randall Cobb #18 sitting right over the ball it's obviously a much more productive play.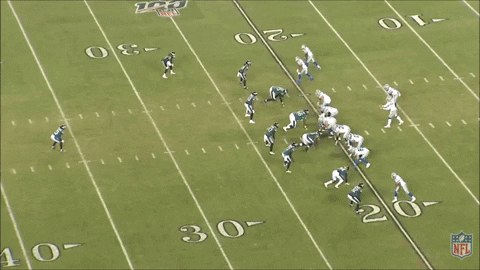 You can see it again below. The Eagles ran a ton of man coverage against the Cowboys in this game and Dallas had the perfect play dialed up for it out of a tight bunch formation. It works exactly as it was drawn up. Randall Cobb from the slot has his defender rubbed and he's open for a huge play down the sideline on a wheel route. That should be the primary read on the play. You're trying to create that natural rub and force defenders to navigate traffic and stay with their man. Instead, Dak Prescott stays on Amari Cooper the whole play on the intermediate crosser and misses both Cobb and Jason Witten wide open to the top of the screen and in the middle of the field.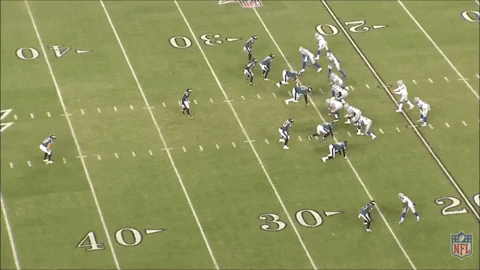 Dak has all the tools and has shown he can perform at a high level. He can put different velocity on the ball with touch and power, can make reads, has incredible athleticism and power for a QB and can really excel in a clean pocket. While issues pop up with his mechanics and missed reads, it'd be hard to find a free agent quarterback that would be better or even come close to offering the Cowboys what Dak can. With a new offensive system and a coach that helped shape Aaron Rodgers in Mike McCarthy, Dak may end up taking that next step and go from very good quarterback to one of the top tier quarterbacks in the league. Only time will tell but Dak is certainly not the issue in Dallas and has the tools to put the team on his back and push them into contention year after year.
If you liked this post make sure to subscribe below and let us know what you think. If you feel like donating and want access to some early blog releases and exclusive breakdown content or to help us keep things running, you can visit our Patreon page here. Make sure to follow us on Instagram @weekly_spiral and twitter @weeklyspiral for updates when we post and release our podcasts. You can find the Weekly Spiral podcast on Spotify or anywhere you listen.