DENVER, COLORADO - NOVEMBER 01: Quarterback Drew Lock #3 of the Denver Broncos looks to throw for a touchdown against the Los Angeles Chargers in the fourth quarter of the game at Empower Field At Mile High on November 01, 2020 in Denver, Colorado. (Photo by Matthew Stockman/Getty Images)
If you aren't strapped in already, it's time to buckle up for Drew Lock's wild ride. The Broncos are 6-3 in games that Lock has played in their entirety as the starter but he has just as many games this year with multiple interceptions as he does games where he's thrown a touchdown. It's important to remember through this all, that Drew Lock is still incredibly raw and has only played nine full games in his career but it's worth looking at his upside and potential areas of concern because Lock has the talent to elevate the Broncos to wins but he also has some mechanical and decision-making issues that can lead to game-changing mistakes.
Note: If you prefer to watch a video breakdown, scroll to the bottom of this article.
Drew Lock does not like pressure. Against blitzes, Lock has just a 47.7% completion percentage and has thrown three of his five interceptions on the year. When teams don't bring extra men, Lock has completed 62.6% of his throws and has thrown four touchdowns to two interceptions. This disparity can also be seen with his time spent in the pocket. On throws that happen within 2.5 seconds, his completion percentage goes up by 23%, his QB rating is 28 points higher, and he's attempting throws further downfield. All this is to say that Lock is at his best as a rhythm thrower. He has an unreal arm that allows him to hit receivers in stride and if he's throwing on time as receivers get out of their break, he's almost impossible to stop and the film and numbers both back it up.
When Drew Lock can key off of one defender, he plays much more decisively. The Broncos are running a drive concept here against the Patriots which creates a high-low read for Lock. You have a shallow drag from the #1 receiver, and a dig behind it from the #3. The Patriots play a lot of man coverage and you can see at the snap of the ball that Lock locates the blitz from the linebacker and then immediately goes to check if anyone is under the dig being run by his #3 receiver. With man coverage, there's nobody to get into the passing lane, and Lock is able to hit the top of his drop, drive off his back foot and deliver the ball in stride to his tight end.
Drew Lock is still young and can have some trouble diagnosing things so if you simplify his reads and let him play fast, he's going to play much more efficiently. The Broncos will use some motions or release the running back to help him read off of linebackers and throw off their movements. The Broncos here run a man in motion and pull the running back across the formation in pass protection which let's Lock read the flowing linebackers and attack the vacated space in the middle. Again, he gets to the top of his drop and is able to hit his receiver in stride.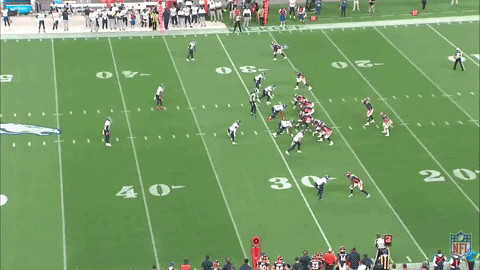 The Broncos are starting to figure this out too. After a rough first quarter against the Chargers, the Broncos started to dial up some simple reads for Lock and while they didn't manifest into points on those drives, Lock slowly become more decisive and accurate as his confidence built into the 3rd quarter. What's most encouraging is that Lock is growing and learning on the job.
In the first half, Denver called another high low concept with a quick hook at 6 yards and a dig wrapping in behind it. The read on this is to watch the linebacker with inside leverage. If he stays up on the hook at six yards, the quarterback should throw behind him as the dig is wrapping around him. If he drops underneath the dig, you throw the quick hook. Here, Lock misses the dig and instead checks it down late to the running back. If he throws with anticipation and waits a beat, the dig is open. Instead, he gets bouncy in the pocket, his base starts to deteriorate, and he throws an inaccurate check-down.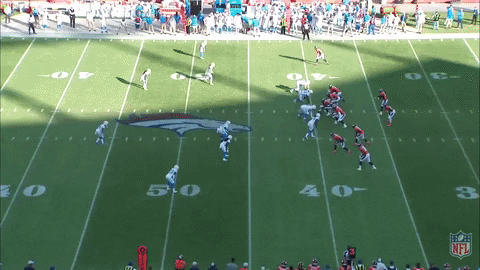 Fast forward to the 4th quarter now and the Broncos call the same concept to the top of the screen. This time, Lock is dialed in and has learned from his first rep earlier in the game. The linebacker steps up to the hook and Lock hits his back foot on rhythm and fires the ball to hit his receiver in stride for the score to pull the game to 27-24.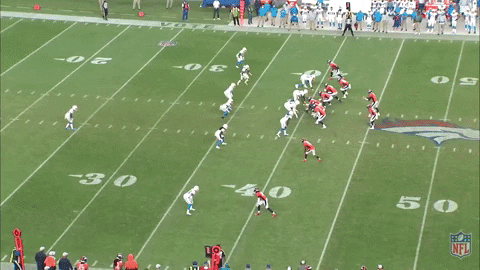 When he isn't on rhythm though, he has a huge issue with pocket movement. He will drift in the pocket and into pressure, bail from clean pockets and get into trouble, and his drop will often take him too deep which allows pass rushers to take easier angles to impact his throws. To top that all off, his mechanics when he moves tend to get sloppier and he has trouble getting consistent footwork and hip rotation. As we talked about before, when Lock throws after 2.5 seconds he is way less accurate and is more prone to mistakes.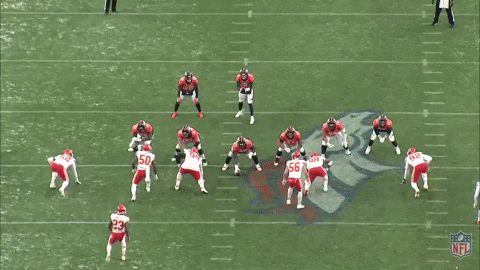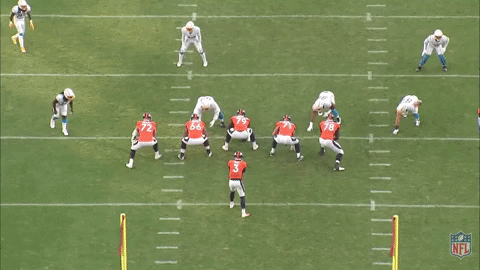 On a four-man pressure here, Lock drops his eyes and misses four separate receivers that are breaking open because of a stunt to his blindside. Lock is initially looking at the deep curl to the bottom of the screen and wants to take a deep shot over the top to the post which is coming across the field with the curl holding the corner from getting underneath it. The play works perfectly and if Lock stands strong in the pocket it's an easy big gain to the post and he can even throw the curl if he wants. But the movement on the line scares him out of the pocket and he immediately comes off those reads to check it down. To take the next step he's just got to be able to stand in and make throws and not be so skittish in the pocket. He's leaving tons of plays on the field because he's feeling pressure that isn't there.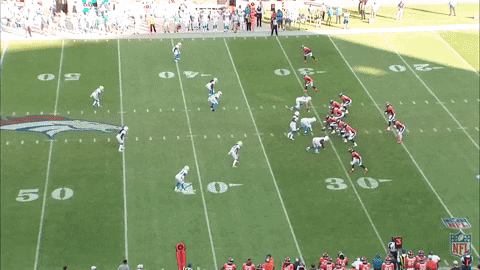 What makes it worse is Lock will often create some of this pressure himself by dropping too far back. Unless you're working a play-action bootleg, normal shot gun drop backs should be at about 8 yards behind the line of scrimmage. Lock's skip drop he takes after his initial punch step will often take him to 10-11 yards behind the line of scrimmage though. This makes the offensive tackles lives incredibly difficult because they can't wash edge rushers behind the pocket anymore since Lock is so deep. It also creates pressure in Lock's face and gets him out of rhythm on his throws which causes inconsistent footwork. He just flat out cannot handle pressure. On this play he misses a touchdown down the sideline because his drop is so deep he feels pressure and tries to check it down. If he climbs or drops to 8 yards, he can hitch and deliver a strike down the sideline for a touchdown. Instead he's falling away from his throw with pressure in his face which causes the ball to go high for an incompletion on a check-down.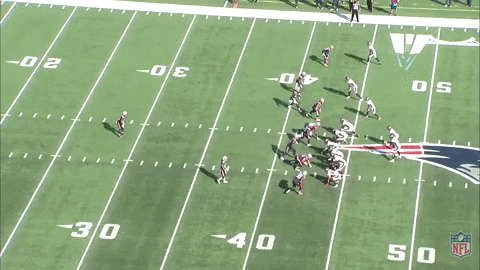 Lock takes a little longer to process things than you'd like and that's why you get some of his wild variability. When he takes longer to process, his feet get sloppy, he throws late, and gets himself and the team into trouble. He can lock onto receivers which pulls deep defenders that way and causes turnover worthy plays as he waits for things to open up instead of throwing with anticipation or getting to his next read.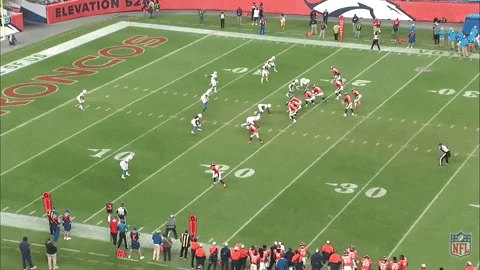 Things are slowing down for Lock though. He's starting to build comfortability with offensive coordinator Pat Shurmur, understand concepts and defender keys, and has made progress in the underneath game. To really unleash his potential though, he has to translate that to seeing the entire field and to being able to stand strong in the pocket. Even with those things, he still makes some amazing throws and the talent is clearly there. Drew Lock has the potential to carry a team on his back but he also makes a few decisions a game that put them in a disadvantageous position. One thing's for sure though, he makes the Broncos exciting and as he gets more and more experience, the Lock rollercoaster may have a lot more ups than downs and if things start to really click, we'll all be along for the ride.
If you liked this post make sure to subscribe below and let us know what you think. If you feel like donating and want access to some early blog releases and exclusive breakdown content or to help us keep things running, you can visit our Patreon page here. Make sure to follow us on Instagram @weekly_spiral and twitter @weeklyspiral for updates when we post and release our podcasts. You can find the Weekly Spiral podcast on Spotify or anywhere you listen.