Alabama Crimson Tide running back Jerome Ford (27) runs behind the protection of offensive lineman Evan Neal (73) during the first half of the 2019 Chick-fil-A Kickoff Game against the Duke Blue Devils Saturday, Aug. 31, 2019, at Mercedes-Benz Stadium in Atlanta, Ga. Alabama wins 42-3.
Everybody loves the big boys. Offensive linemen aren't the sexy picks, but they are often the ones who help build the foundation of your team. Last year we had Penei Sewell enter the preseason as a prospect with no chance of slipping outside the top-ten. We don't have that in 2022, but there are about five guys who I think can be high selections. Here are my top ten preseason offensive line prospects:
1. Evan Neal, Alabama
Neal is an offensive lineman who will scare the crap out of defenses. At 6'7″ and 360 pounds, Neal is a bully who uses his power to manhandle the opposition. After playing guard as a freshman and right tackle as a sophomore, Neal figures to move over to left tackle in 2021. This kind of versatility makes him very valuable to an offense. Of course, his stock will be dependent on how he handles the blindside. If he proves he can play at that spot, he's a top-ten pick. However, if he struggles then he could slide.
2. Charles Cross, Mississippi State
He may have only played one season, but Cross showed everything you need to see in a franchise left tackle. Due to Mississippi State's Air Raid offense, Cross has had a lot more experience in passing sets than most college tackles. As the top pure left tackle at this point, I wouldn't be shocked if Cross emerges as a top-five pick with another good season. All of the talent is there, he just has to build on his previous success.
3. Rasheed Walker, Penn State
Many expected Walker to declare for the 2021 draft based on the fact that he's already proven to be a reliable left tackle and because Penn State isn't expected to contend for a national or Big 10 title in 2021. Walker wanted to get his degree and will be the most experienced left tackle in this class. With 22 starts at the position in his first two years, scouts will have a good idea of the kind of player Walker will become. There are some inconsistencies in his film that should be figured out sooner rather than later.
4. Daniel Faalele, Minnesota
I know I just hyped up Evan Neal as being a massive human being, but somehow Faalele is even bigger. The Australian native stands at an astonishing 6'9″ and 400 pounds. That would make him easily the biggest player in the league. He opted out of the 2020 season which led many to believe he was done with college football, but he is back at Minnesota where he still has a lot to learn. He plays right tackle for the Golden Gophers and wins more with his size and strength than he does with actual football skill at this point.
5. Zion Nelson, Miami
Nelson is another guy with plenty of experience at left tackle and very good athleticism. A lightly recruited player out of high school, Nelson struggled as a freshman, but played very well down the stretch as a sophomore in 2020. He needs to continue to get stronger and build more muscle mass, but he should continue to get better. There will be inconsistencies next year and probably in his early pro career, but the long-term payoff will be worth it.
6. Cade Mays, Tennessee
The story of how Mays got to Tennessee is wild. After starting his career at Georgia, Mays played well in his first season at Rocky Top in 2020. Most of the Tennessee team left after yet another coaching change, but Mays decided to stick it out for his senior year. While the team might struggle, we should see Mays be a stalwart on the offensive line. He offers some guard/tackle versatility, but I think he's better off at guard at the next level. I would never expect him to be a superstar, but he should project as a solid starter for years to come.
7. Kenyon Green, Texas A&M
As a unit, the Texas A&M offensive line was one of the best in the country. They were able to keep Kellen Mond upright and opened up running lanes for Isaiah Spiller. Green held down the fort at left guard in 2020, but is expected to move to left tackle in 2021. How he plays this year will dictate his draft value. If he plays well, we could see him rise like Alijah Vera-Tucker, who was also a guy who started out at guard before playing left tackle in his last season. I worry about Green as an athlete, but he is a steady player who can make himself a lot of money.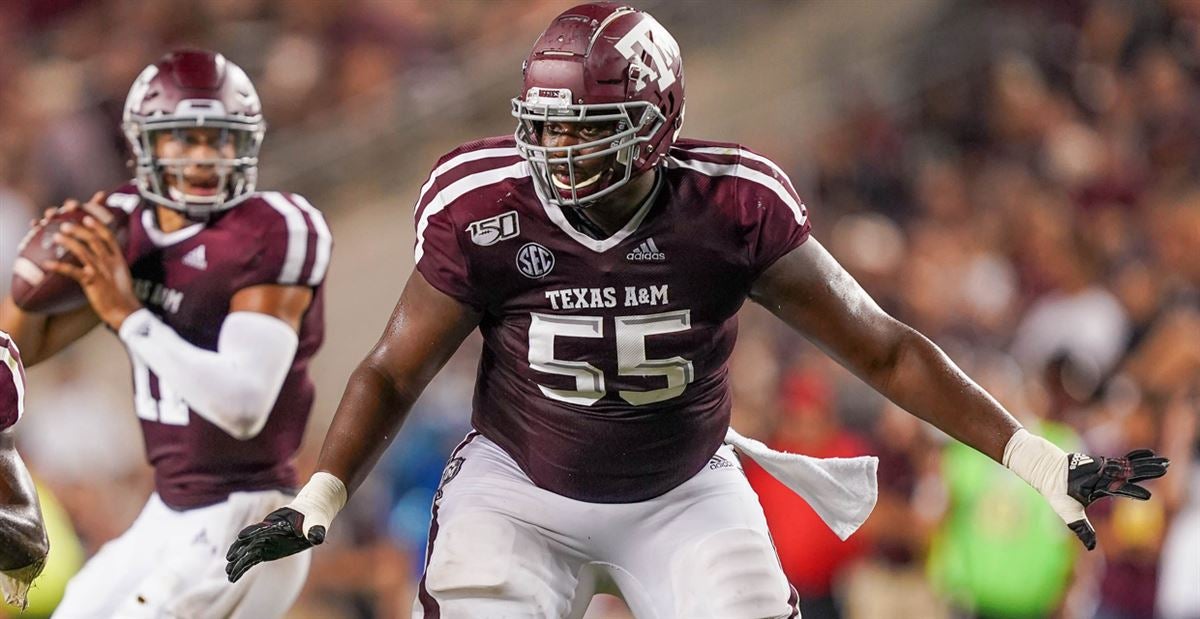 8. Wanya Morris, Oklahoma
One of the many Tennessee transfers, Morris moves to Oklahoma where he expects to start at left tackle. He had an up and down career with the Volunteers, but has the chance to make a name for himself on what should be a very good Sooners team. I think he projects best at right tackle and could kick inside to play guard in some schemes. Right tackle might seem like a knock on him, but if he can prove to play that position well, then there's hope for him being picked early.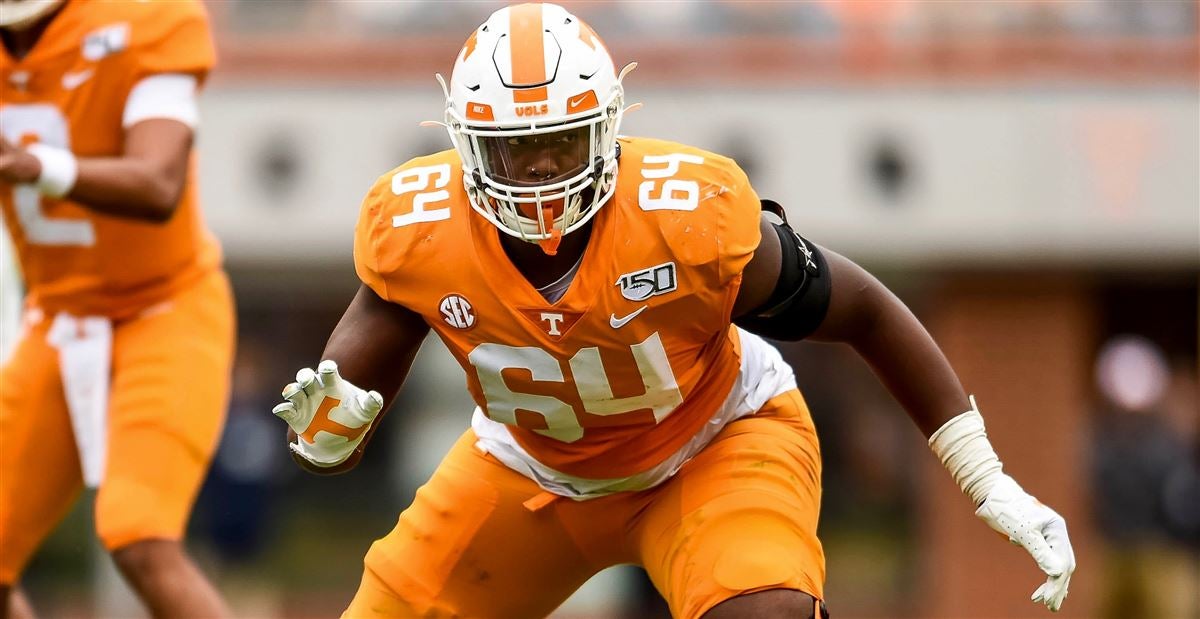 9. Thayer Munford, Ohio State
It seems like I've been seeing Munford's name as a possible early draft pick for years and here we are yet again. Munford is a really good collegiate player, but I don't think he ever becomes a high-end starter in the NFL. However, he does offer versatility and could be a candidate to play all five positions. I think he starts out as a left guard in the NFL, but if he dominates in 2021 then we can expect to see him played at tackle.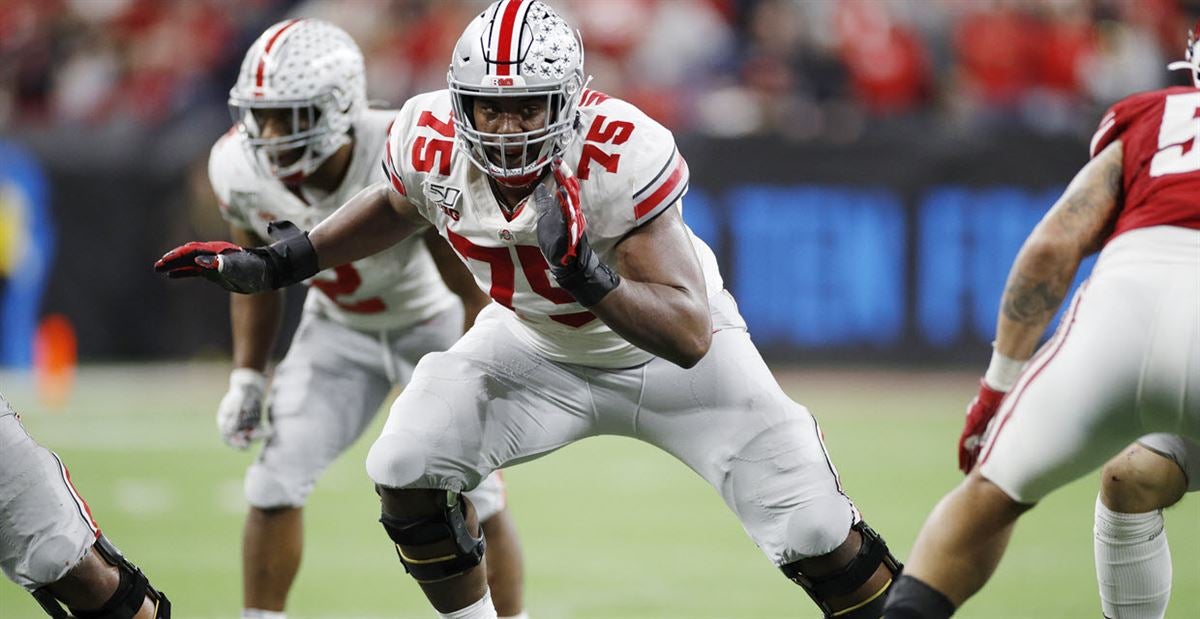 10. Tyler Linderbaum, Iowa
The best and only true center on this list is another guy who many thought would have declared for the 2021 draft. While Iowa might not always be at the top of the Big 10 standings, they produce good NFL players. I expect Linderbaum to be a solid pro for years to come. He will be able to start early and provide good leadership to any team.
Processing…
Success! You're on the list.
Whoops! There was an error and we couldn't process your subscription. Please reload the page and try again.
Honorable Mentions:
Jordan McFadden (Clemson), Sean Rhyan (UCLA), Nick Broehkler (Ole Miss), Abraham Lucas (Washington State), Obinna Eze (TCU)