The Packers offense is flying high thanks to Matt LaFleur and an MVP caliber year by Aaron Rodgers. The Packers run defense however, is very… average. They have a ton of draft capital and talent invested on the defensive side of the ball with Kenny Clark, Za'Darius Smith, Kevin King, Jaire Alexander, and Adrian Amos. In fact, four of their last five first round picks were on defense and all are starters right now. So why is the talent not matching the production?
Note: If you prefer to watch a video breakdown, scroll to the bottom of this article.
Part of the issue is that Mike Pettine, the Packers defensive coordinator, just does not care about stopping the run. His scheme and plan reflects that. He bases out of Nickel personnel and asks a lot of his defensive tackles while allowing his EDGE players in Za'Darius Smith to roam and freelance. That doesn't excuse poor run fits and putting defenders in places where they can't succeed, though.
If you imagine one of the best running backs this season in Dalvin Cook, he's averaging 5.2 yards per carry. Compare that to one of the worst quarterbacks this year in Mitchell Trubisky who is averaging 6.1 yards per attempt. Not even completions – per attempt. On a play-to-play basis, even if you have the best running back in football and the worst quarterback, it's still more valuable to attempt a pass than it is to run the ball. If we look at what the Packers are doing through the lens of wanting to stop the passing threat first, the scheme makes a little more sense.
Issues Up Front
Run defense all starts up front. Kenny Clark can really make the whole defense go and a lot of things start and stop with him. When he's playing well, he's a strong force that eats up double teams or dominates single blocks . A big problem with Pettine's run defense is that if you're going to base out of smaller personnel, it'll be much harder for them stand up to bigger blockers.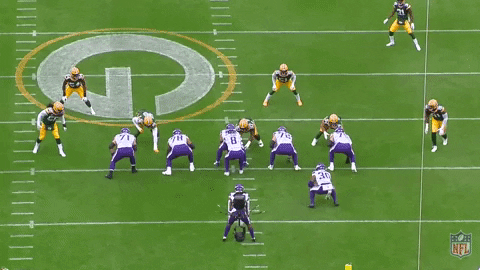 Kenny Clark also hasn't played up to his 2019 season. He's missed time from injury and has especially had trouble anchoring versus double teams. Aside from Kenny Clark, the rest of the Packers defensive tackles are inconsistent and none are reliable two gappers.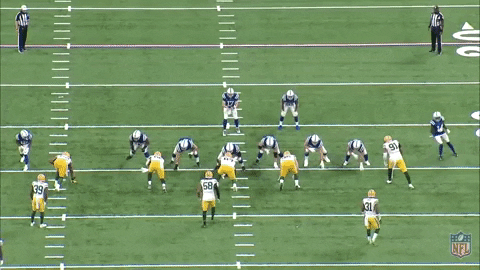 When your best defensive tackle is driven 4-5 yards downfield and you have linebackers that are already struggling and smaller sized, it makes it really difficult to plug gaps and scrape across traffic.
All the Packers linebackers have trouble fitting their gaps consistently but the defensive line isn't making their lives very easy. As Clark is driven downfield here, that puts the linebacker, Kamal Martin, in a bind. He has to pick which side of the double team to plug and he picks incorrectly. Martin is responsible for the B gap to his side. The other defensive linemen are controlling their gaps and Krys Barnes is sifting over the top to meet the fullback. With Clark driven back into his lap, Martin now loses sight of the running back Dalvin Cook as Cook does a good job of pressing the play-side. This forces Martin to go to the wrong side of the double team which opens up his original gap for Dalvin to run into for an explosive gain.
Problems with Contain
While Clark has been less of a force this season, Za'Darius and Preston Smith have also been undisciplined in holding the edge which has caused issues for the Packers run defense. With Za'Darius Smith, part of that is being allowed to freelance. The plays he does make can be incredibly impactful, but it does also impact run fits and playing disciplined for the Packers run defense. In the context of Pettine's philosophy though, he doesn't really care if you run the ball on him so he's willing to play that game and get those impact plays from Za'Darius even if it opens them up to being gashed at times.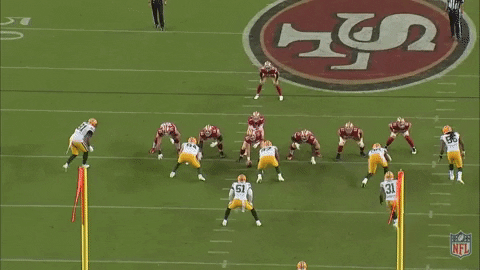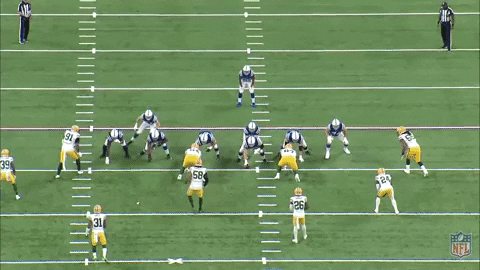 Linebacker Reads
So, nobody in the front four is playing very good football for the Packers run defense. Neither are the linebackers though. Often the linebackers will misalign or Pettine will put them in a position where they're going to be attacked in space. Here against the Bears, Kirksey is splitting the difference between the #3 receiver and the offensive tackle and is playing at Will linebacker. He has both run fit responsibility in the B gap and needs to flow to his coverage. Against an RPO team like the Bears, that makes him the read man. Trubisky is reading if he fills or if he drops to cover the bubble.
The thing is, it looks like Savage, the safety is operating with a trigger call on that bubble. So he will fly down to the bubble if he sees it. As a result, Kirksey doesn't really have to hold his coverage outside and can cut his split inside to be a quicker fill in the B gap. However, he plays right in the middle and leaves the B gap wide open. Savage has come down on the bubble, the two other linebackers are filling the same hole to the other side, and it's a huge gain for Montgomery to start off the game. Also of some note is the fact that Montgomery is actually running away from Kirskey. Montgomery isn't exactly the fastest guy and runs a 4.64 40. So if a relatively slow running back is running away from you, there is a problem.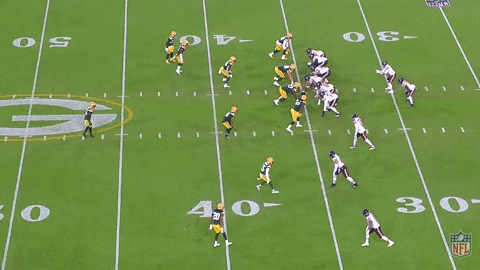 The Colts exploited that lack of speed by forcing him into coverage on a shallow drag by Michael Pittman. Kirksey just doesn't have the speed to run with guys and while he was supposed to be a guy that could cover better than Blake Martinez, he's not living up to that end of the bargain.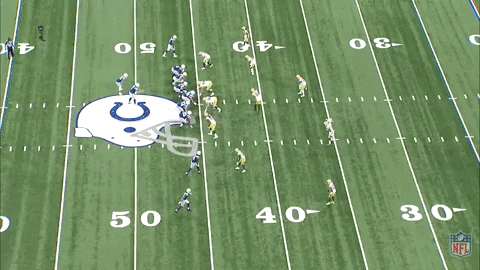 The Packers linebackers just aren't playing sound football. They show a lack of understanding about where things are going and who has what responsibility. Here on an outside zone by the Colts, the Packers again do a poor job of setting the edge. Rashan Gary shoots inside and Kevin King can't get off his block. Kirksey, instead of flowing over the top, plugs the A gap on the outside run. This is really the weak side linebackers job. This forces that weakside linebacker Kamal Martin to now try to race the running back to the edge instead of Kirksey who would have had leverage to beat him there.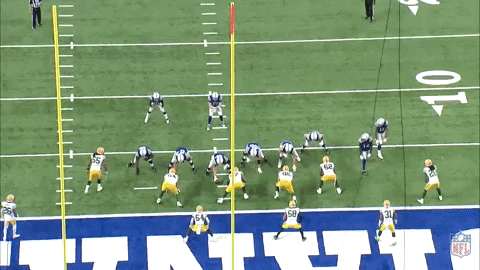 Then you throw in your smaller nickel linebackers in there like Raven Green or bring Darnell Savage into the box and they have trouble getting off blocks and making plays on bigger running backs.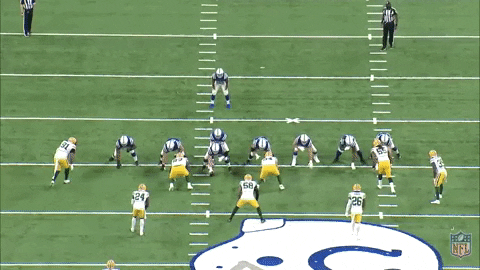 There's a routine lack of fitting in gaps by the linebackers and getting over aggressive which opens up holes outside. Combined with the Packers' struggle to hold the edge that leads to big gains. The defensive line doesn't force double teams long enough and the linebackers aren't good enough at reading plugging efficiently. Here Krys Barnes shoots the A gap and there is nobody left to fill the B gap. If he instead scrapes, he now is able to fill the B gap and his weak side linebacker could fill the A.
The Packers linebackers especially have trouble with crunch blocks and power. They don't flow and change their gaps to match the additional blockers coming to the other side of the ball. Against the Eagles, Christian Kirksey is late to flow with the pulling guard and then overshoots the hole. The defensive line is washed down and it leaves a huge gap for Jordan Howard to run through.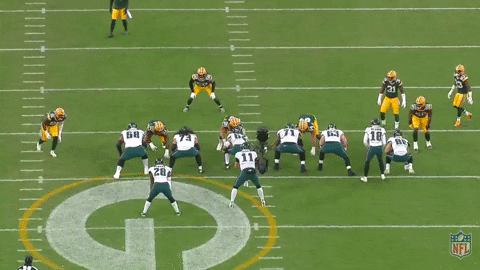 This issue pops up every game. The Vikings run split zone here and again a defensive lineman gets double teamed into the linebackers lap. The linebacker chooses the inside gap of the double team, and the running back easily cuts off of it and there's nobody there to tackle him.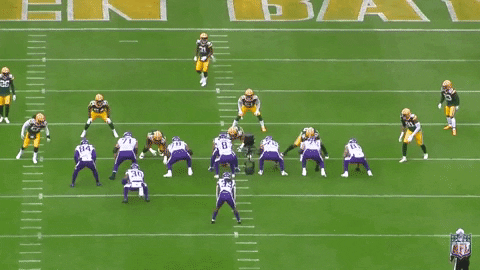 Conclusion
The Packers are not a strong run defending team. They have the players, but none of them are playing well up front. Ultimately, though, does it matter? I just laid out all these issues and they're still an above average run defense. Even with light boxes, linebackers reading poorly, and asking too much of your defensive tackles. Could it be better? Absolutely. Is it going to be the reason the Packers don't make it to the Super Bowl? Maybe. But if your team's one fatal flaw is having a slightly average run defense, you're doing some good things. It might not be sunshine and rainbows on that side of the ball but the Packers best run defense might be their offense scoring enough points to take teams out of running the ball. And that, the Packers can definitely do.
If you feel like donating and want access to some early breakdown releases, game picks, and exclusive breakdown content you can visit our Patreon page here. Suscribe to our YouTube page for our video breakdowns. Make sure to follow us on Instagram @weekly_spiral and Twitter @weeklyspiral for updates when we post and release our podcasts. You can find the Weekly Spiral podcast on Spotify or anywhere you listen.