As a freshman, Tua started the second half of the championship game against Georgia. He led them to a comeback victory in overtime with a 41-yard game-winning touchdown to Devonta Smith. Coming out of Alabama, he was on pace to set many new records in college. Unfortunately, he suffered numerous injuries including a dislocated hip in the middle of the 2019 season. There were many questions about his durability during the draft process. Would Tua be the same quarterback? Will he still be explosive? Despite the concerns, the Miami Dolphins drafted him with the 5th overall pick. Although the team improved, Tua struggled in his rookie year. Now that Dolphins' head coach Brian Flores has named Tagovailoa the starter, will he make that jump into stardom.
Tua's Confidence
Coming off a devastating hip injury, there were doubts that Tua Tagovailoa would be able to play football again. After he began the year as Ryan Fitzpatrick's backup, he started in week 8 against the Los Angeles Rams. While he did have issues with his mechanics, he did make solid decisions and led the team to a victory. Overall, Tua had a solid rookie season. He wasn't asked to stretch the field too much, but he made good decisions with the football. He showed plenty of flashes and should only improve now that he is the full time starter. With Fitzpatrick in Washington, Tua Tagovailoa is now the leader of this football team. All signs from training camp this offseason indicates that Tua is ready for a big season. Under Eric Studesville and George Godsey, Tua will be more aggressive in the passing game which will open up the offense.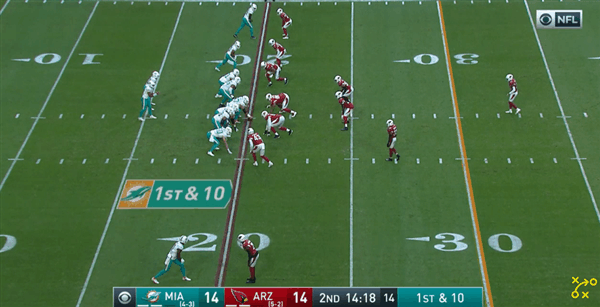 Top Level Defense
Last season the Miami Dolphins had a top six defense in the NFL. The defense also led the league in forced turnovers. With majority of the key pieces returning, the Dolphins will continue to dominate on that side of the ball. Given how opportunistic this defense is, it will give Tua more chances to put points on the board. Even in games where the offense struggles, the Dolphins defense is good enough to give them a chance to win. This will help with Tua's development because all the pressure won't be on his shoulders. Unlike other young quarterbacks in the league, he won't be forced to get into shootouts with other teams to have a chance to win.
Full Offseason
Due to COVID protocols, the NFL limited the majority of offseason program to virtual meetings. This was extremely hurtful to rookies and other young players because OTAs, minicamps, and training camps allows them to receive the necessary reps and coaching. This season, young players like Tua will have the opportunity to work with their receivers and coaches to develop chemistry. According to reports, Tua Tagovailoa has already shown improvement in his deep ball accuracy in training camp.
Tua's Weapons
During the offseason, the Dolphins' front office focused on improving the talent around Tua. This resulted in signing Will Fuller in free agency and drafting Tua's former teammate Jaylen Waddle. Both of those additions instantly brought more speed to the offense. This shows that the team is committed to giving Tua everything he needs to succeed. He didn't stretch the field much last season, so they got him two speed demons. With their #1 receiver Devante Parker coming back from injury this offense has the potential to be lethal.
Final Thoughts
During his rookie season, Tua was treated more as a game manager. His role was to play smart and decisive football while his defense and special teams kept the score low. While the defense will still be the Dolphins calling card, their offense will be much better and sharper this year. Tua having a full offseason program and better weapons will allow him to be more aggressive in attacking the defense. Expect to see more of the explosive plays that he showed during his time at Alabama. Tua Tagovailoa could be in for big season that will lead the Miami Dolphins to the playoffs.